Over the weekend we went to Breaux Vineyards to pick up my cellar club selections. As you may or may not remember the wines in the Cellar Club at Breaux are created just for the club members. That's what makes this wine club special. While at Breaux to pick up the wines, we decided to do a regular tasting with one of our favorite tasting associates, Sylvia. Many of the 2009 whites were recently released.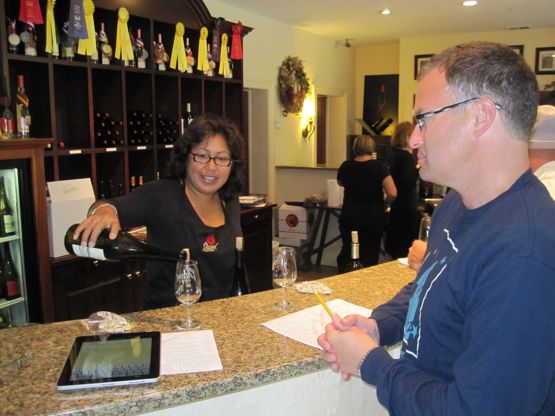 The Cellar Club selections included the 2009 Sauvignon Blanc Water Bent Barrels. We noted smoke, citrus, and nice acids. The water bent barrels make this a really nice wine. The Cellar Club selections also included the 2007 Merlot. Here we noted extracted fruit, integrated tannins, and smoke. You can drink this one now or save it for years to come.
Here's a rundown of the 2009 whites from the regular tasting and what we noted about each one. After tasting them all we decided we liked them all and couldn't decide on specific gold stars.
2009 Jolie Blonde-lemon, grapefruit, crisp, and dry
2009 Viognier-honeysuckle, peach, tart, citrus
2009 Madeleine's Chardonnay-pear, tropical fruit, pineapple, crisp
2009 Jennifer's Jambalaya-1% residual sugar, crisp, nice acids, lime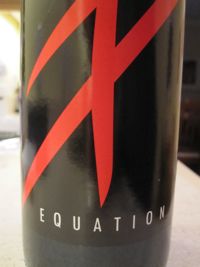 2009 Nebbiolo Ice-peach, creamy, nice texture
During our tasting with Sylvia, Bruce came in with fresh barber juice. In the winery they were in the process pushing down the fruit and Bruce secured a taste of the fresh juice for us. It was very sweet and fibrous.
On another note we have to mention the Equation. Every time we taste the Equation we note something different. This wine is definitely changing with time. We appreciate the changes each time we taste it. It just keeps getting better. We even left with a bottle this time! Plan a visit to Breaux Vineyards soon and check out all the new white wines and re-discover some of the reds again and of course, tell them Virginia Wine Time sent you!