Today's roundup features recent tasting at Tarara Winery and Pearmund Cellars. These were done within the past two weeks, but back to work schedules created a bit of a backlog. So here we go:
Tarara Winery: This time around we participated in the regular tasting as opposed to the premier tasting, and six wines for sampling. Of the white wines, we awarded our gold stars to the Charval 2009; in fact, we were shocked at ourselves, because Charval was never a favorite of ours in the past. However, this version was a crisper yet fruity pour that includes a blend of Chardonnay, Sauvignon Blanc, Viognier and Pinot Gris. Citrus notes abound with a nice acidity that makes it a pleasant sipper or a perfect mealtime companion if shellfish is on the menu. I also enjoyed the Rose 2008 with its notes of strawberries and crushed herbs. Salmon pink in color and quite dry, this is a Rose that should prove to be quite versatile with both summer and fall menus. The reds all seemed a bit tight, and of the three reds to sample, the Cabernet Franc seemed to spend the least amount of time on oak—15 months. All were aged in American oak, so the descriptors, "spicy" and "pepper" were scribbled frequently on our tasting sheet. These are all food wines, and our favorite was the Long Bomb Edition 1. A dense core suggested a bolder wine with aromas of violet and dark fruit. Tannins were "chewy." Long Bomb Edition 1 is a blend of Cabernet Franc, Merlot, and Cabernet Sauvignon, but purists may be disheartened to know that the fruit used in this blend is not from Virginia; however, Long Bomb Edition 2 does indeed include fruit grown exclusively in Virginia.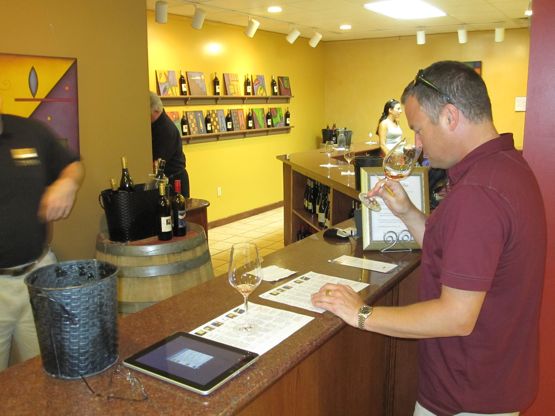 As we sipped and savored, we received tweets about the $10 tasting fee and whether or not we thought it too steep. To be honest, it is one of the highest fees for a regular tasting that we've encountered; however, the tasting pours were quite generous, the wines were all well-crafted, and the tasting associate was very knowledgeable. We've also noticed overall improvements in the quality of Tarara's wines thanks to talented winemaker Jordan Harris. Given those factors, I did not regret paying the tasting fee. In fact, we ended up staying a bit longer to enjoy a glass of the Charval 2009!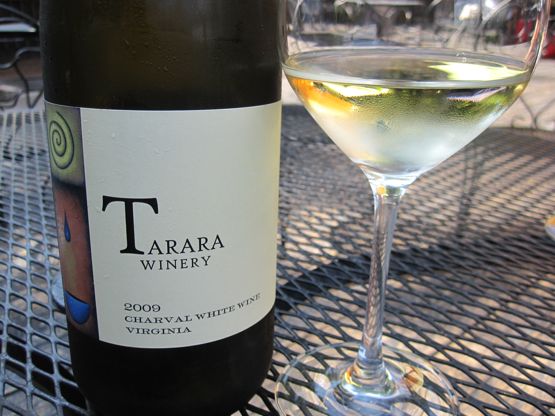 Pearmund Cellars: Lots to taste here, so we split a classic and a reserve tasting and were not bashful about spitting or dumping. Of the whites, I was most intrigued with the 2009 Petit Manseng, a brand new offering on the Pearmund lineup. Done in stainless steel, it presented aromas and flavors of apricot and pineapple. Pay attention to this variety as it is appearing more frequently in Virginia's tasting rooms. Paul's favorite was the 2009 Riesling. We enjoyed a sample of this one at the Iron Bridge Wine Co. in Warrenton, and the tasting here confirmed Paul's favorable opinion. Pear notes dominate while soft lime flavors refresh the palate. Nice with spicy foods and do try this one with stronger cheeses, too. Of the red wines, we both converged on the 2008 Ameritage which is a Bordeaux blend. Lush flavors of blackberry, cherry, plum and anise prevail with this one, and it should prove to be a perfect match with steaks.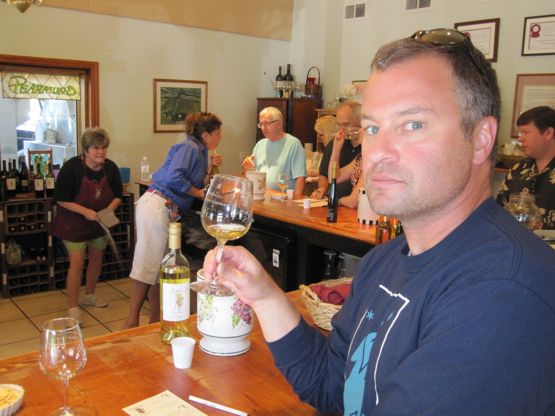 With summer fading away, plan fall trips to Tarara Winery and Pearmund Cellar. Be sure to mention that Virginia Wine Time sent you!