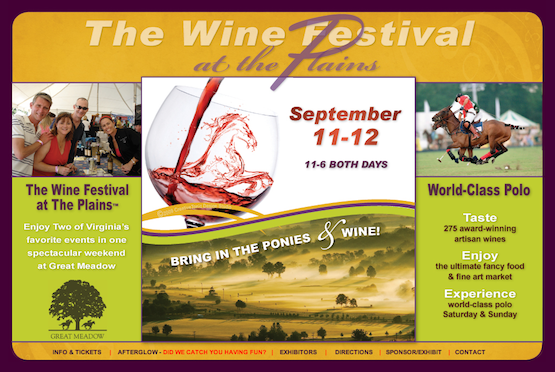 This Saturday and Sunday, September 11-12, Great Meadow will be the site of Virginia's most exciting new & improved wine festival of the season. This is no regular wine festival. The Wine Festival at The Plains is the See-And-Be-Seen event of the year. Championship Virginia wines and championship international polo, all in one double-header weekend at Virginia's most pristine spot for sipping some vino – Great Meadow Event Center in The Plains, Virginia.
The Award winning wineries featured at this event include several that never go to other wine festivals.
•The wine crowned Best Cab Sauv on the East Coast will be there
•The Reserve Norton that won Best of the East Coast will be there
•The Viognier that always wins the "Virginia versus the world" smackdown will be there
•Find Gold medal winners galore, including Cuvee Laurent, a red blend, 2 gold Petit Verdots, Left Bank, Chardonnays, Malbec, Cab Sauvs, Cab Francs etc., etc., etc.
•Taste some funky favorites – chocolate wine, strawberry wine, persimmon wine, honey mead, sangrias and that wine bottle with a pear growing in it will be there.
But wait, the polo is just as exciting! No, not the Salahi kind of gate crashing exciting. Just like the White House – The Salahi's have not been invited to this event!
The highlight of the season at Great Meadow will be the USPA Hall of Fame Challenge Cup held on Sunday. This is a professional 8 goal match where the best polo players in the country will be vying to have their name placed on the USPA Hall Of Fame Cup. The stakes are high. The Challenge Cup may be a player's only chance to have their name in Polo's Hall of Fame.
Know nothing about polo? Basically, it's guys (and rarely – girls), all on big horses, chasing a little ball and swinging big hammers as hooves thunder across 300 yards of perfectly manicured grass in the fall sunshine … nothing short of perfectly exhilarating fun! To make things even more interesting, this year's Hall of Fame Cup match will feature all the best pro polo guys … and a girl … Issy Wolf. She is the most watched rising star in polo world – a young world class polo contender out of UVA. This summer she has been featured in Washingtonian Magazine and Virginia Living Magazine as the name to watch in the polo world. Come cheer her on and watch her go up against the best players in the U.S.
Save $10 off the Gate Price online until Friday with Coupon Code WWP906 at www.winefestivalattheplains.com
Information provided by Virginia Wine Events.com