While staying in Warrenton to harvest grapes at Gray Ghost, we had dinner at the Iron Bridge Wine Co.
To begin we decided on a flight of VA wines with a cheese plate. Delaplane cellars Chardonnay, Pearmund Riesling, and the Gadino Petit Verdot were on the flight. Tasting the wines with the different items on the cheese plate was fun and adventurous. We selected the Gadino Petit Verdot to receive the gold star for the flight. However the gold star pairing had to be the blue cheese with the Pearmund Cellars Riesling. It just goes to show that opposites do attract.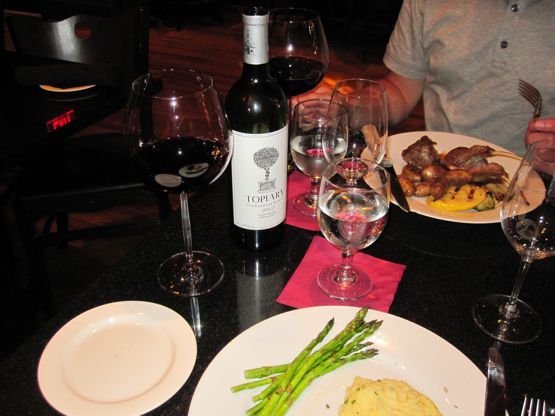 For dinner we had the 2007 Topiary. It's a blend of Cabernet Franc and merlot. Paul paired it with black angus beef meatloaf and Warren had New Zealand lamb chops. We noted dark plum, dark cherry, cassis, a hint of spice, and a solid dark garnet color. The Topiary paired well with our meals.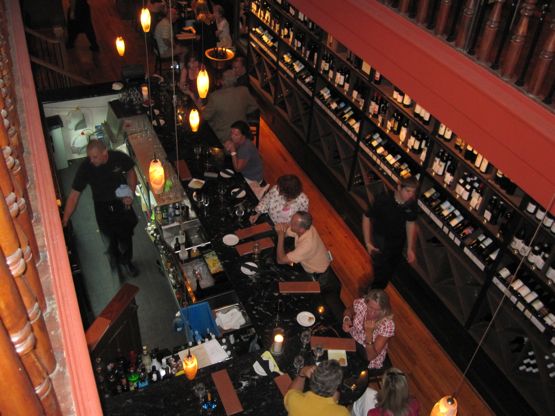 This restaurant serves and sells many Virginia wines. They have four floors in the wine tasting experience. After dinner we spent some time at the Enomatic bar tasting VA wines as well as wines from all over the world. Just to let you know, the Virginia wines more then held their own. In fact our ultimate gold star for the evening was awarded to the Hardscrabble Chardonnay from Linden. If you purchase a bottle to go from the downstairs selections you get a 25% discount off the shelf price. Some of the wineries represented here are Gray Ghost, Pearmund, Gadino, Linden, Hume, Fabbioli Cellars, and Boxwood.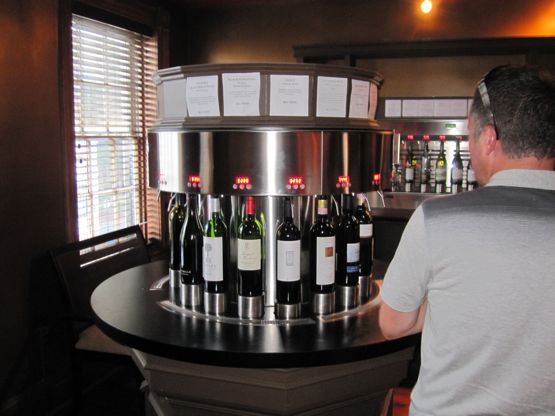 We had a wonderful dinner and the Virginia wines were superb. If you find yourself in Warrenton and hungry, consider the Iron Bridge Wine Co. on Main St. And tell them Virginia Wine Time sent you.