I've lost track of the latest count, but we crossed the #100 threshold earlier this year. With all of the new wineries opening these days, it really is hard to keep track of it all. However, we added to the total last weekend with a visit to another newbie, 8 Chains North.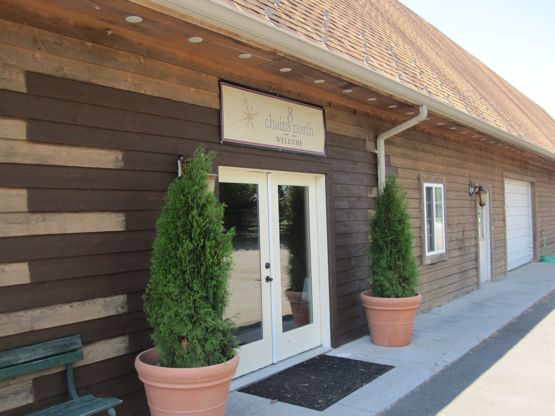 8 Chains North is also an addition to the growing number of quality wineries in Loudon County. Tasters may remember that before the July opening of the winery, 8 Chains wines were available at Fabbiolo Cellars. Now with a tasting room open, winemaker Ben Renshaw is able to showcase a more complete lineup of wines, and these we tasted last Saturday. At the end of our tasting, we were quite impressed with what we sampled.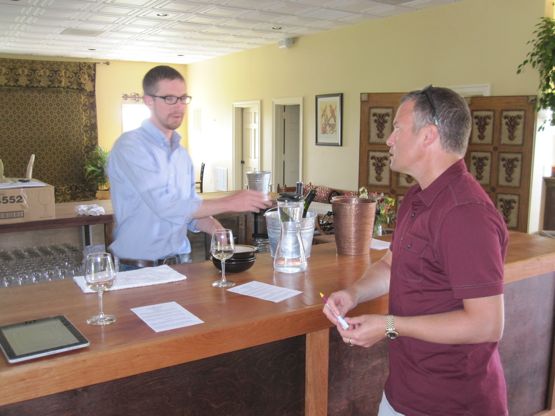 Three white wines were available for tasting one of which included the heralded 2007 Glen Manor Sauvignon Blanc. The Glen Manor selection was on the list because the 8 Chains North 2008 Sauvignon Blanc was almost sold out. The 2008 Sauvignon Blanc was aged sur lies in neutral French oak barrels, and it was quite crisp with a characteristic grassy nose. In search of a favorite, though, Paul and I both concurred that the refreshing LoCo Vino fit the bill. On a very hot day, it was hard to beat this blend of Traminette and Vidal Blanc. It presented a floral nose with notes of pear and citrus, and the 1% residual sugar only heightened the fruit characteristics.
On to the red wines, and we split decisions here. It's no secret that Paul likes Merlot, and he preferred the smoky 2008 Merlot that was produced from the winery's Furnace Mountain Vineyard. Paul noted cherry and plum flavors with oak nuances that make for a more structured wine. Aged 11 months in French and American oak barrels, this Merlot might pair well with barbeque. My own gold-star, though, was awarded to the 2008 Furnace Mountain Red. This one presented a denser core than the medium-bodied Merlot, and it is a blend of all five Bordeaux red varieties. (Can you remember what they are?) Grapes were used from the Furnace Mountain Vineyard, Tranquility Vineyard, and Hiddencroft Vineyards. I was intrigued by the complexity of this wine with its layers of berry and spicy flavors; a subtle mocha finish completed the experience. Aged in both American French oak barrels, the 2008 Furnace Mountain Red should age quite well.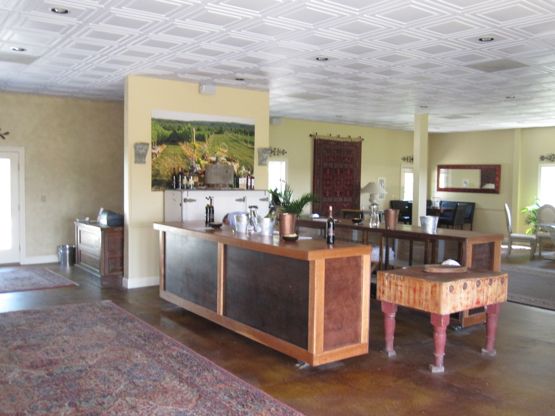 Current production at 8 Chains North is 1500 cases, and the winery's main vineyard, located near Fabbioli Cellars, produces Petit Verdot, Cabernet Sauvignon, Malbec, Cabernet Franc, and Merlot. (So can you name those Bordeaux varietals now?) Traminette is also grown in this vineyard. Winemaker and vineyard manager Renshaw obviously places a premium on quality vineyard practices as is evidenced by the current lineup of wines.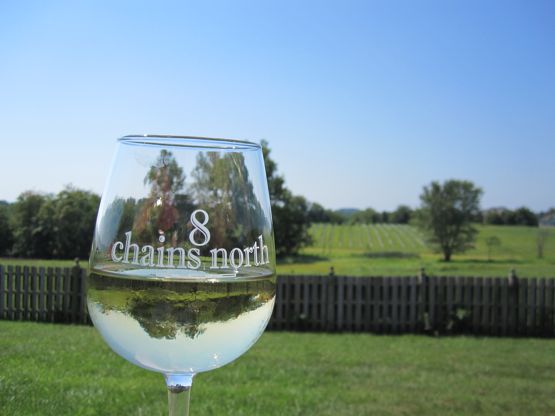 So with our tasting done, we decided to share a glass of the LoCo Vino. It was a scorcher outside, and the LoCo Vino proved to be a refreshing sipper. We know that we will return to 8 Chains North this fall, but readers will want to visit sooner. Mention that Virginia Wine Time sent you.