So in this roundup, I'll review our experiences at King Family Vineyards, First Colony Winery, and Virginia Wineworks.
King Family Vineyards: Mathieu Finot is one of Virginia's premier winemakers, and this was confirmed earlier this year when King Family's 2007 Meritage took the Governor's Cup.  Mathieu joined us for our tasting today. And we were treated to a sample of the newly release 2009 Chardonnay.  This was my gold-star winner for the white wines.  Fermented and aged in French oak barrels, it presents aromas of lemon and pear with similar flavors in the mouth.  A creamier mouth feel and a longer finish were noted, too.  For summertime, it's hard to beat the Crose 2009 done in a dry Provence style.  We stock up on this classic rose, because it is a versatile pour throughout the year.  The red wines were all well-crafted, and it was hard to select only one for our gold-star award.  The 2009 Cabernet Franc reminded us of the Chinon-style, and it was rich with bright red fruit and spice elements that are typical of Cabernet Franc. However, Paul gave his gold-star nod to the 2008 Merlot with its dark cherry, smoke and mocha characteristics.  I almost concurred with Paul until I tasted the 2008 Meritage with its complex aromas and flavors.  Dark fruit, violets and licorice made for an enticing nose, and layers of dark cherry, black plums, spice and vanilla revealed themselves in the mouth.  A lengthy finish suggests aging potential, too.  Port lovers should also try the brandy-fortified Seven 2008 which is made from Merlot; a hunk of blue cheese and/or a cigar should provide nice partners with this one.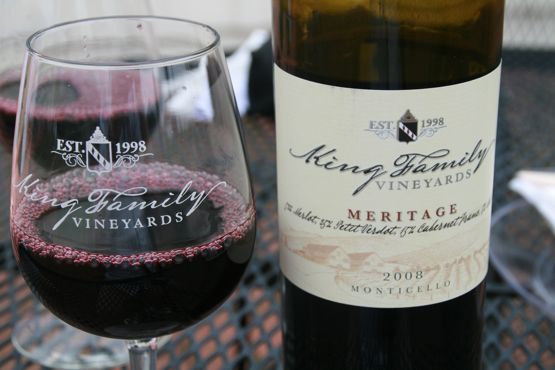 In the midst of our tasting, Mathieu confirmed what other winemakers have noted—the 2010 harvest will be much earlier than usual for Virginia with white wine varieties either already harvested or about to be harvested very soon.  He also sees the 2010 harvest as a year for potentially complex, robust  red wines.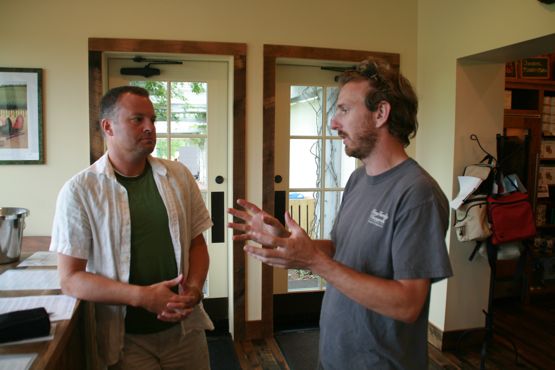 First Colony Winery:  We reached a split decision with the white wines.  Paul favored the floral 2008 Viognier with its tropical fruit characteristics, but I preferred the 2008 Chardonnay Reserve which is aged in Hungarian oak barrels for nine months.  Pear flavors end with a subtle toasted almond finish.  (In the past, we've enjoyed the Chardonnay Reserve at Kinkeads, the much-heralded seafood restaurant in DC.)  We did, however, concur on a favorite red wine—the yet-to-be released 2008 Merlot.  Dark cherries, plums and dried herbs with some chocolate at the end make for a more complex wine.  Early September is the scheduled release date for the 2008 Merlot.  Of course, it's still grilling season, and steak lovers might want to sample the earthier 2006 Tannat.
Virginia Wineworks:  It's always a pleasure to sample the latest releases by Michael Shaps, and it's equally hard to find favorites since all of Shaps' wines are well-crafted.  It's hard to beat the Michael Shaps Viognier 2008, and we've written about this one in the past.  However, I was more intrigued with the Burgundian-style Michael Shaps Chardonnay 2008 with its apple and pear characteristics and toasted almond finish.  A creamier mouth feel and lengthier finish make for an elegant pour.  Paul's vote remained with the 2008 Viognier, and that was fine with me!  Of the reds, Paul favored the Michael Shaps Cabernet Franc which was aged for 15 months in French oak barrels.  He observed elements of dark cherry, plums and anise that finished with a smooth tannic presence.  I gave my gold star to the Michael Shaps Petit Verdot 2008 which presented dried fruit characteristics, tobacco and black pepper.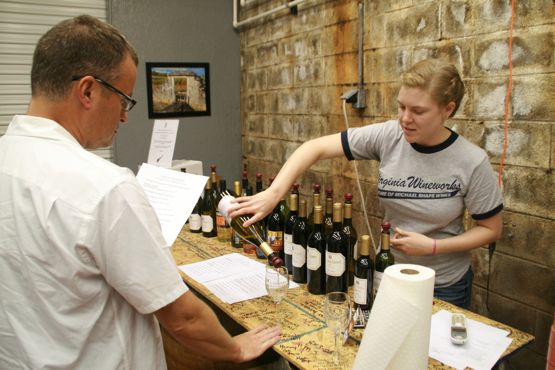 We were able to chat with Michael for a bit, and his next experiment will be "bag in the box" wines that are currently catching on in Europe.  Finding alternatives to cork enclosures has led to these developments, and quality products are being poured from the "bag" containers.  We'll check in with Michael to see how this innovation is progressing!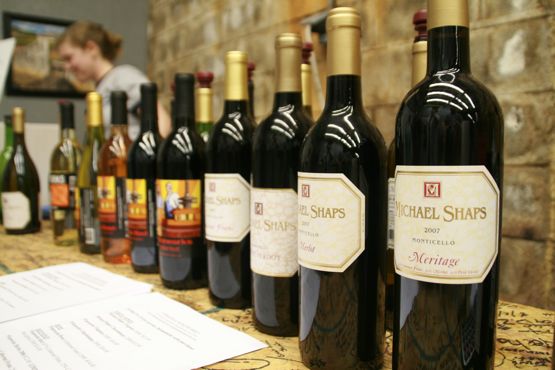 Want to read more about our finds on the Monticello trail?  Don't despair—more will be posted in upcoming articles.  With a very hot summer winding down, be sure to plan a visit to these wineries on the Monticello trail.  Be sure to mention that Virginia Wine Time sent you.