We took advantage of the close clustering of wineries on the Monticello Wine Trail and planned an aggressive agenda for yesterday's wine tastings. We'll comment on each tasting by providing our gold star favorites and share other important revelations such as upcoming releases and the outlook for the 2010 harvest.
Jefferson Vineyards: Wines here are always well-crafted. Today's tasting provided us with samples of a few new pours. My favorite white wine was the floral-nosed 2009 Viognier with its apricot flavors and weightier texture. Paul gave the nod to the 2009 Pinot Gris; he appreciated its crisp acidity and citrus characteristics. Of the red wines, my gold star was awarded to the 2007 Meritage, a gold medal winner in the 2010 San Diego International. I noted layers of dark fruit with complements of mocha and dried herbs. Quite complex, and a good candidate for aging, too! Paul favored the 2008 Petit Verdot with its notes of spice and tobacco.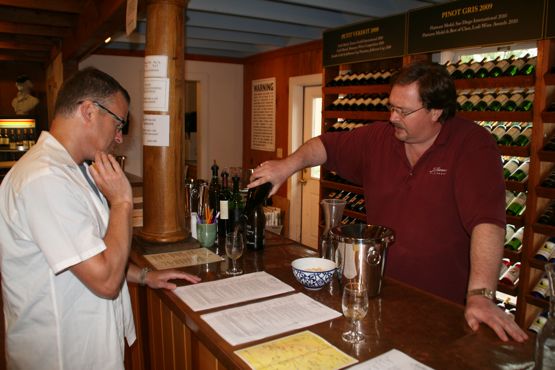 Blenheim Vineyards: We're always fans of Kirsty Harmon's wines, and we were eager to sample the latest at Blenheim Vineyards. Mitzi conducted our tasting today; of course, we started with the white wines. Paul's gold-star fave was the crisp 2009 Blenheim Farms Chardonnay which is a blend of wines from stainless steel tanks and oak barrels. Pear flavors with a slight lime edge make this one a refreshing pour. My own favorite was the heavier-bodied 2008 Blenheim Chardonnay with its pear flavors and toasted almond finish. This Chardonnay is actually the result of careful blending from American, French, and Hungarian oak barrels to present a more food-friendly wine. (I also enjoyed the dry 2009 Rose with its flavors of melon and strawberry.) Mitzi skillfully moved us on to the red wines, and we started with the light-bodied and accessible Red Table Wine. Candy bar aficionado Paul made note of Mitzi's creative pairing with this one—a Snickers bar! He'll be sure to give it a try, too. Anyway, as we began to sample the reds, we were joined by Kirsty Harmon who provided testimony to the fact that the 2010 harvest will be an earlier one than usual with white varieties coming in from the vineyard as we spoke. She also brought along two upcoming releases, the 2009 Cabernet Franc and the 2009 Merlot. The fruity 2009 Cabernet Franc ended up being our gold-star favorite. Bright cherry and raspberry flavors were noted with some characteristic spice notes, too. It should be the perfect partner for Thanksgiving dinner, too. The 2009 Seven Oaks Merlot was still a bit tight and revealed itself after a few swirls; however, we noted the dark cherry and earthy characteristics that will prevail with this one.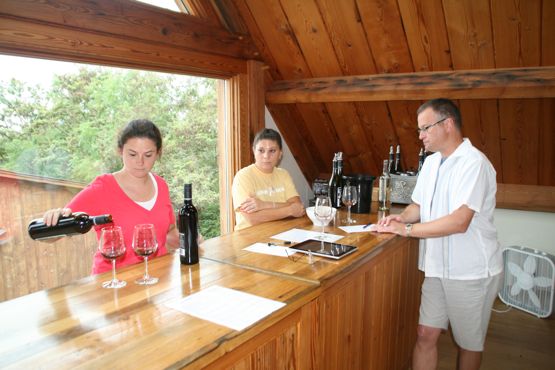 Kluge Estate: Tasting room manager Tammy warmly greeted as we entered the cottage that serves as the tasting room. We were very hungry, too; Tammy took our orders for food and wine tasting as we made our way to a table. Two flights are offered for tasting: a) the Albemarle flight, and b) the Kluge flight. The Kluge flight featured the sparkling wines, and it was this flight that we opted to enjoy with our lunch. We're not fans of the tasting "test tubes", though, and Tammy kindly obliged our request for wine glasses along with our rack of tasting tubes. We simply poured the contents from the tube into the glass, and all was made better. Lunch arrived in time for us to pair our sparkling wines with food which included crab cakes and cheeses. Our gold star favorite was the Kluge Estate SP Rose 2007; we're going to review this one in an upcoming 'back to school" post, so more on this sparkling wine later on. I will say that made for a perfect marriage with the crabcakes! With the harder cheeses, we both concurred that the Kluge Estate New World 2002 was the winner. Blackberry, dark cherry, tobacco, and mocha were noted characteristics. Tammy joined us for banter about the wines, and her sense of humor made for some lively conversation! We shared with her that in summer months, we like to make note of summer sippers, and Tammy provided us with samples of the classic Albemarle Rose 2009. Dry and crisp with bright berry and melon notes, it did indeed qualify as a quality summer sipper!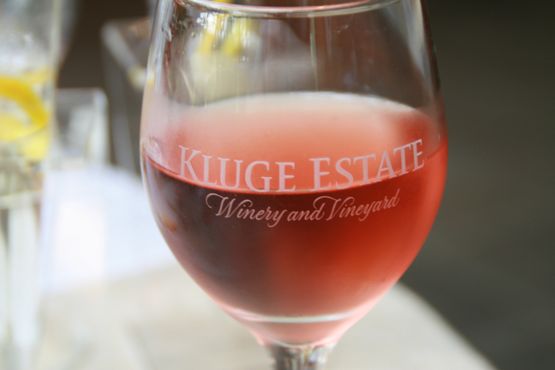 I'll wrap up this post here, but we did manage to complete tastings at First Colony and Virginia Wine Works. Stay tuned for my next post about those wineries. In the meantime, visit the wineries presented in this article; of course, mention that Virginia Wine Time sent you.