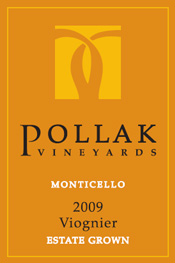 Back in March of this year we visited Pollak Vineyards. Jake Busching was conducting a barrel tasting the day we were there. Of course we decided to take part in the tasting. We love seeing where wines are in the barrel and how they change when they are bottled and eventually sold. That day we tasted a few wines from the barrels but our big surprise was the 2009 Viognier. It was just bottled and Jake gave us a tasting. At the time I wasn't sure I liked it. I was so in love with the 2008 Viognier that I didn't think the 2009 would be able to top it. I still had half a case of the 2008 on my rack at home. After tasting the 2009 right after bottling I decided I wasn't going to like it. Jake was nice enough to give us a bottle of the 2009 before it went on sale to the public. I was very excited. He told me though not to open it for a few months. He warned us it wouldn't be the same if we didn't give it time in the bottle. I didn't think anything of this at the time though.
Jump ahead a few months to when I opened the 2009 Viognier. Well, I didn't listen to Jake. I didn't give it enough time to mature in the bottle. When we opened it, it wasn't very good. I didn't like the flavor profile at all. It wasn't anything like I expected. I was expecting to taste the 2008 all over again. But no. It wasn't the same. I was disappointed.
Jump ahead a few more months. We went back to Pollak yesterday for a tasting to check out the new wines. The second wine on the tasting menu was the 2009 Viognier. I already had my mind made up that I wasn't going to like it. I even jumped the gun and put a sad face next it on the menu. Then it was poured into our glasses. I hesitated but then tasted. OMG! It was amazing! It was nothing like I tasted a few months previously! It had very similar characteristics of the 2008. We observed peach and apricot notes with a wonderful floral nose. I was so upset with myself. I instantly erased the sad face and replaced it with a smiley face. I also wrote down a three to show I wanted to bring home three bottles.
I have now learned my lesson. Listen to the winemaker. He knows his wines best. When you visit Pollak Vineyards mention that Virginia Wine Time sent you and listen to Jake.