Man, is it hot! As we sweat through a record-breaking summer in which 95 degrees is considered cool, we decided to sample some summer sippers sent to us by Kluge estate Winery and Vineyard. The package included the 2009 Albemarle Sauvignon Blanc, the 2009 Albemarle Viognier, and the 2007 Kluge SP Rose. On this warm Wednesday, we tasted the Sauvignon Blanc and the Viognier; we'll save the Rose for our "back to school" special review.
Our summer menus tend to be fairly light, and this afternoon we snacked on white cheese and crackers as we sipped a glass of the 2009 Albemarle Sauvignon Blanc. On the nose we noted lemongrass and melon with a refreshing minerality with similar attributes in the mouth. It was perfect on a hot day and paired well with our cheese and crackers.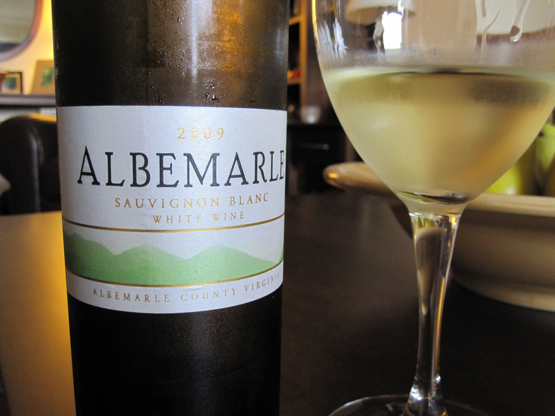 As the sun began to set, Paul prepared a simple supper that consisted of herbed chicken with aromatic jasmine rice. Our wine pairing with this meal was the 2009 Albemarle Viognier. It offered the floral aromatics that reminded us of summertime honeysuckle blossoms, and we both observed flavors of mango and apricot. It finished with a very subtle toasty edge reminiscent of a Condrieu-style Viognier. As the sun began to set and temps lowered to a more comfortable 91 degrees, the 2009 Albemarle Viognier was the best way to end a hot summer's day.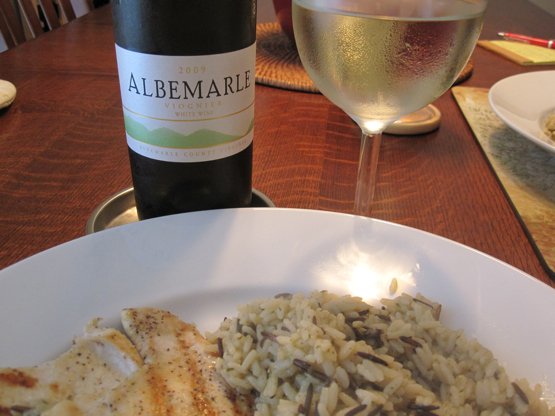 Stay tuned for our upcoming review of the SP Rose. In the meantime, plan to purchase some summer sippers from Kluge Estate Winery and Vineyard. Be sure to mention,though, that Virginia Wine Time sent you.