Gray Ghost Vineyards has released several new wines, and this gave us the perfect excuse to pay the Kellerts a visit. Recent releases include the 2009 Cabernet Franc, the 2009 Seyval Blanc, and the 2009 Merlot.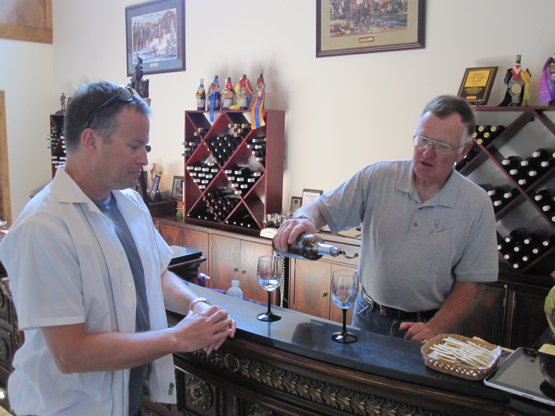 Winemaker Al Kellert conducted our tasting, and that gave us the opportunity to catch up with Al about the latest happenings at Gray Ghost Vineyards. Of course, the newest releases were our chief interest, and the 2009 Seyval Blanc was the first to be poured into our glasses. Fermented for a short time in Hungarian oak, it resembled a California-style Fume blanc with a very faint smokiness and citrus characteristics. Perfect for summer, this Seyval Blanc should pair nicely with anything that would partner favorably with a Sauvignon Blanc.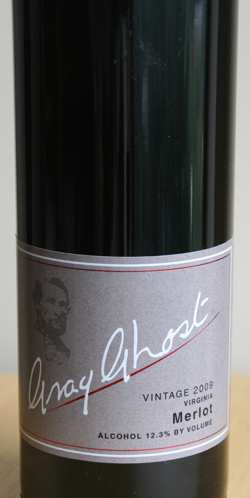 The 2009 Cabernet Franc was the latest red to be released on the day of our visit. Gray Ghost Vineyards produces a stand-alone Cabernet Franc that is not blended with any other variety, and it presents qualities more akin to a Chinon-style Cabernet Franc. Aged ten months in French oak barrels, vibrant cherry and raspberry aromas and flavors abound with a characteristic spicy edge. I'd consider this one for fall menus, especially Thanksgiving dinner. Now what about the 2009 Merlot? Paul reserved a case of it in March when we participated in the barrel tasting; based on this sneak preview, he went ahead and ordered a case. However, on the day of our visit, the Merlot was not yet released and therefore not available for tasting. Not to worry, though, because Paul picked up his case while we were at the winery, and we had a bottle with dinner that evening! We decanted it first, and we noted a deep garnet color. After swirls, sniffs, and sips the word, "deep" came to mind for both of us. Rich, dark cherry and black berry characteristics prevailed with some vanilla at the finish. We enjoyed it that evening with filet mignon, and it was the perfect pairing.
As we sipped away at the tasting bar, Al Kellert revealed to us that all of the 2009 releases were produced from 100% estate grown fruit. This had been a goal of his for quite some time, and for the Kellerts, it represents a statement about quality. Anyone who has visited Gray Ghost Vineyards can attest to the immaculate state of the vineyards, and careful maintenance and management of the vineyards have allowed the Kellerts to achieve this milestone. We were also curious about the 2010 season and what appears to be an early veraison in the vineyards. Al acknowledged that the extreme heat that has been characteristic of the 2010 spring and summer led to early developments in the vineyards; however, he was confident that the upcoming harvest has the potential to produce complex and robust red wines. (Of course, that assumes no extreme circumstances like hurricanes!)
With our tasting done, we decided to enjoy a glass of the 2009 Seyval Blanc out on the veranda with a hunk of goat cheese and bread. We will return to Gray Ghost Vineyards soon, and readers should visit even sooner—just mention that Virginia Wine Time sent you.