Last weekend we went to Unicorn Winery. It was time to check in and see what was new and chat with Sandy LePage, one of the owners of Unicorn Winery.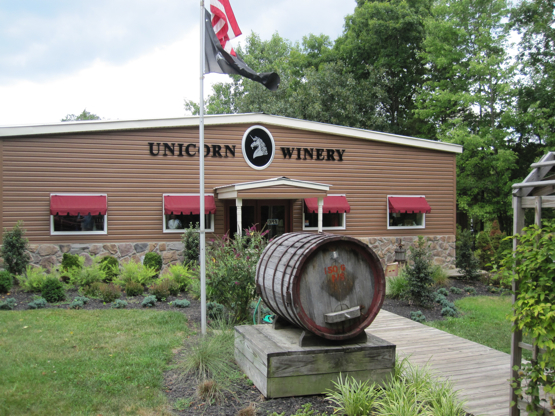 The white wines we tasted were the 2008 Pinot Gris, the 2008 Chardonnay, the Table Rock White, and the 2008 Traminette. We also tasted the Slightly Embarrassed, the blush wine. Warren and I both agreed the gold star for the whites went to the 2008 Traminette. Its a light white wine with hints of pear and melon. We thought this one would be a good summer sipper on a warm day.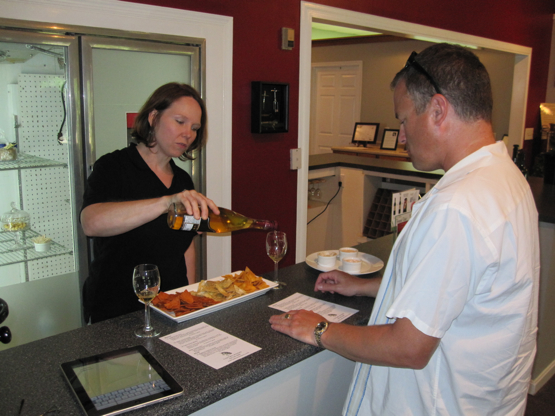 During our tasting we were able to sample the different flavored pita chips, sauces, and olive oil they now sell at Unicorn. Warren even left with a bottle of the olive oil. The olive oil is from Greece and can be purchased in 250 ml or 500 ml bottles.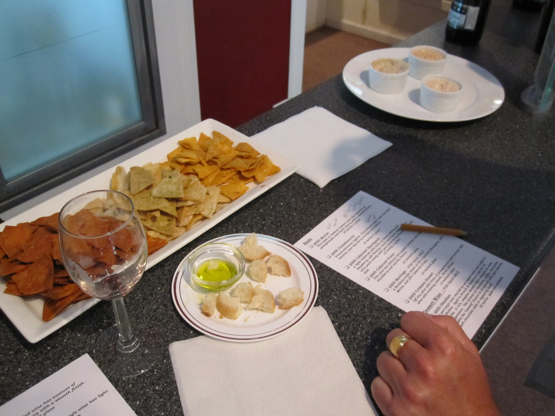 On to the reds. We tasted the 2005 Merlot, the 2005 Chambourcin, the 2005 Cabernet Sauvignon, the 2005 Cabernet Franc, and the 2005 Crimson Sunset. While they were all nice wines, Warren and I agreed again the gold star should go to the 2005 Merlot. Its medium bodied with black cherry notes and an easy finish. We thought this one would go well with pizza.
To finish our tasting we tried the Frappe Vino. Its like a wine slushy. They serve it in two flavors; pinot gris and merlot. I really enjoyed the pinot gris version. It was refreshing considering how warm it was that day. Its always fun to catch up with Sandy at Unicorn Winery. If you stop by, tell them Virginia Wine Time sent you!