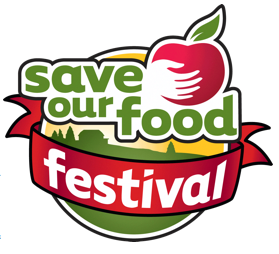 Take a large outdoor farmers' market featuring fresh Virginia produce. Add in flavorful Virginia wines, specialty foods and a barbecue cook-off. Sprinkle in an entertaining and educational kids' zone. And mix in a dash of live music.
That's the recipe for the Save Our Food Summer Festival, a fun-filled family event that will run from noon to 6 p.m. on July 25 at the Farm Bureau Center exhibition hall at The Meadow Event Park in Caroline County. The indoor/outdoor event is free for Virginia Farm Bureau members and $10 per carload for nonmembers.
"The Save Our Food Summer Festival is our way of celebrating fresh, local food and other products that go hand in hand with summer in Virginia," said Wayne F. Pryor, president of Virginia Farm Bureau. "We believe this event offers something for the entire family."
The festival will feature indoor and outdoor components. Outside, guests can enjoy the farmers' market and live music. They can cool down with Virginia wine, specialty foods and children's activities inside the Farm Bureau Center.
·Large Outdoor Farmers' Market – shop and visit with Virginia farmers (produce and farm fresh meat producers) who bring their offerings from the farm to your table.
·Indoor Virginia Wine and Specialty Food Showcase – taste some of Virginia's finest wines and sample Virginia barbecue sauces, salsas, vinegars, cheeses, desserts and much more.
Virginia Barbecue Cook-Off – watch five local barbecue masters work the grills to become the Save our Foods rib champion.
Family Cool Zone and "Down on the Farm" Kids' Area – youngsters can learn more about agriculture and healthy eating in an area produced by the Children's Museum of Richmond.
·Live Music – Jackass Flats, Susan Greenbaum and the Venture Rays will entertain throughout the day.
The Save Our Food Festival is presented by Virginia Farm Bureau and sponsored by Anthem Blue Cross and Blue Shield, the Children's Museum of Richmond, Flavor magazine, the Goochland Center for Rural Culture, Richmond magazine, WWBT-12, the Virginia Department of Agriculture and Consumer Services and Virginia Farm Bureau Mutual Insurance Co.