The Virginia wine industry seems to expand with every year, and now we can add Hume Vineyards to the list of newbies. Paul and I were invited by owner and winemaker Stephane Baldi and his wife, Andrea to visit their tasting room. We accepted the offer and visited Hume Vineyards on July 4. The grand opening is Saturday, July 10th.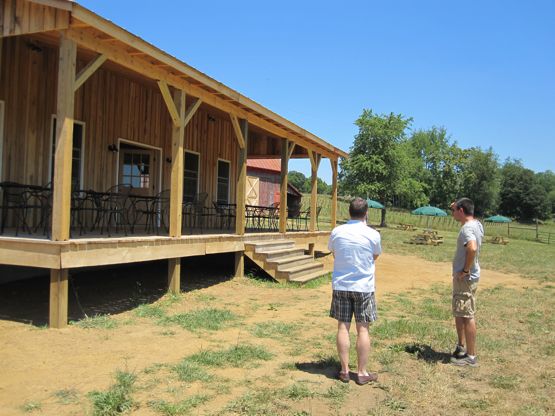 It was a very hot afternoon on the day that we visited Hume Vineyards, and we were warmly greeted by Stephane who escorted us to the tasting room. We must admit here that the actual opening of Hume Vineyards will occur on July 10; so, the tasting room was still in the finishing stages. In fact, Stephane explained to us that materials from an old barn on the property were used to construct the rustic tasting room. Remnants from an old tin roof provided a half-covering for the walls and lent an antique charm to the space. Of course, our mission was to taste wine, and we were drawn to a simple tasting bar where the current offerings were lined up for sampling. Andrea joined us for the tour and tasting, and before long we were sipping away. In the process, we learned more about Stephane and his mission as a winemaker in Virginia.
Hume Vineyards offers four wines for tasting, and all were rather impressive. Vidal Blanc produces wines that are destined for enjoyment on a hot summer day, so we were not disappointed with the 2009 Vidal Blanc. My first impression was kiwi with a delicate floral aroma. Paul noted peach flavors, too, and the 1% residual sugar makes for a classic summer sipper without the cloying sweetness. However, summer is also grilling season, and the 2009 Chambourcin should pair well with any barbequed fare. Fruit-forward with a smoky nose with some anise to boot, I appreciated its plum flavors and peppery finish. Aging in neutral American oak barrels for six months provides structure, too.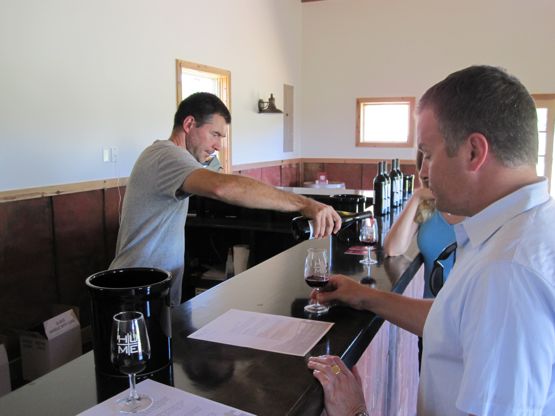 Heavier reds finished our tasting. The 2008 Detour proved to be my favorite of the two bolder offerings. The tasting notes describe Detour as "tight", and I could not agree more. Do not be afraid to swirl and swirl and swirl before sniffing and sipping. Dark fruits characteristics will emerge along with an earthiness to suggest an age-worthy, complex wine. I noticed some cedar notes, and we both noted chewier tannins. The 2008 Detour is the result of a blend which includes 85% Cabernet Sauvignon and 15% Merlot. Drink now but decant first; I opt for aging. Anyway, Paul's preference was for the 2008 Cabernet Sauvignon. More accessible than the Detour, it displayed a dark cherry nose and flavors with smoky/leathery aromas. Five percent Cabernet Franc provides some spicy characteristics, too.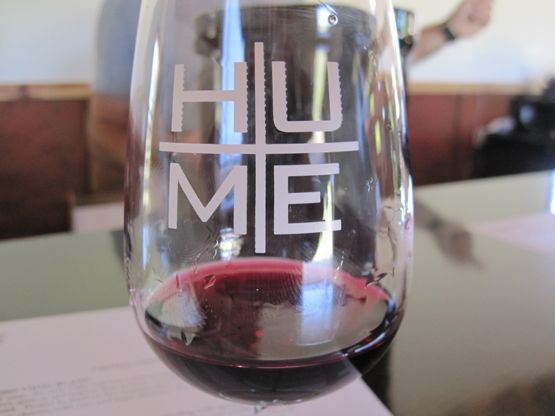 As we sipped and savored, we learned that Stephane is from France, and he was surrounded by vineyards and wines; therefore, he always had an interest in winemaking. In fact, he grew up drinking wines from the Loire valley. So why Virginia? Stephane explained that he wanted to be a part of something big, and for him that could only be Virginia which shares the Old World climates and challenges. His vineyards are still fairly new with plans to plant more vines which may include Grenache. Therefore, current wines were produced from grapes grown from local vineyards; however, the Chambourcin does include grapes grown on the Hume estate. The ultimate goal for Stephane is to produce all wines from estate grown fruit, and these will include Merlot, Viognier, and Petit Verdot. Stephane worked very closely with Dave Collins of Breaux Vineyards to produce the current lineup of quality wines. He also credits neighbor s Brian Roeder of Barrel Oak Vineyards and Philip Strother of Philip Carter Winery for providing advice and word-of-mouth marketing.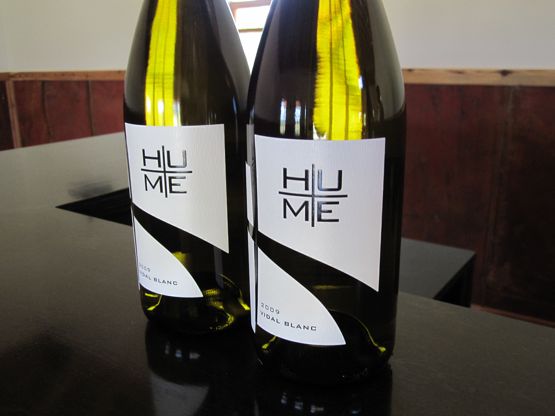 When they are not building a tasting room, tending vineyards and making wine, Stephane and Andrea work as researchers; therefore, they have an intense appreciation for the history of their property. The property and its facilities date back to the 1800s, and they have discovered the original deed to the property which was dated in 1862. They intend, then, to preserve the historic charm of the property while producing wines with an Old-World, Rhone-style appeal. With this mission in mind, it's easy to see that Stephane and Andrea will succeed.
Make a plan to visit Hume Vineyards to celebrate the opening on July 10. Be sure to mention to Stephane and Andrea that Virginia Wine Time sent you.