Yes, at Vint Hill Craft Winery you are indeed the winemaker. Rather than try to explain this novel concept to you, I'll simply cut and paste from the winery's website:
You are the Winemaker! Choose to make wine with us as it is crafted to your specifications, in your style with your name, a label of your design and of course, your story behind it. Vint Hill Craft Winery provides the opportunity for individuals or small groups to participate alongside our expert winemaking team to 'Craft' their own wine at our specially designed, eco-friendly, 'small lot' winery. Customers will receive hands-on instruction in every aspect of the process; crafting their own personalized wine, beginning with the selection of your grapes from California, Washington and, of course, Virginia!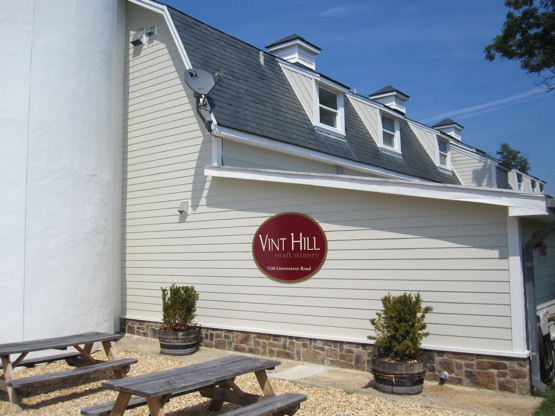 My Dad was in town this past weekend, and we decided to pay a visit to Vint Hill Craft Winery. The winery is off of the beaten wine path, but we did indeed find the winery and tasting room. The facility itself has quite a history, and it was once an intelligence gathering post operated by the US Army. This operation ended in 1997 after 55 years of service; however, the facility received a new life in 2009. Winemaker Chris Pearmund and businessman Ray Summerell opened the Vint Hill Craft Winery for the purpose of providing a facility for aspiring winemakers. As an extension of the process, the tasting room recently opened to allow consumers the opportunity to taste the finished products. The craft winery's motto? Create, Taste, Learn.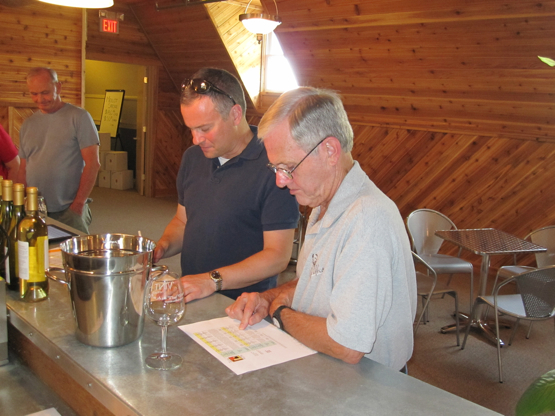 Tasting was certainly on our agenda, and we were offered three flights to sample. Since there were three of us at the tasting bar, we each took a flight. Dad and I opted to sample the Chardonnay flight, Paul made a go of the Viognier flight, and we all tasted the red flight. Of the Chardonnays, Dad and I both concurred that the 2009 Chardonnay VHCW was the winner. Aged in both new and neutral French oak barrels, the pear flavors, and rich, honeyed texture made for an easy sipper or food-friendly pour. The grapes used, though were not grown in Virginia and come from the Russian River Valley of California. For those who favor a more buttery Chardonnay, the 2008 VHCW is the one to try, and the grapes were indeed grown in Virginia at the Broad Run vineyard. Paul weighed in on his favorite Viognier, and he preferred the 2009 VHCW crafted from grapes grown in the Pan d'Or Vineyard of Virginia. The honeysuckle notes were undeniable with characteristic stone fruit flavors in the mouth. Another nice sipper but could complement a shellfish dinner.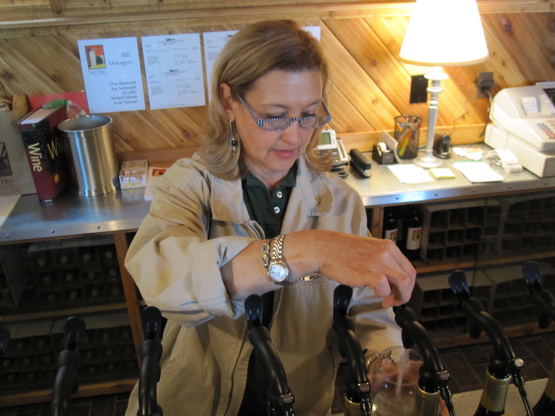 We let Dad select the favorite red, and he liked the 2008 VHCW Merlot from the Crown Orchard Vineyard in Virginia. This one was aged in American oak, so we were not surprised by the smoky aromas; I caught a whiff of dried herbs, too. Dark cherry, spice and tobacco were prevalent flavors, and we all noticed a lengthier finish. Dad likes to grill, and he thought this one might go well with grilled fare that featured a dab of barbeque sauce.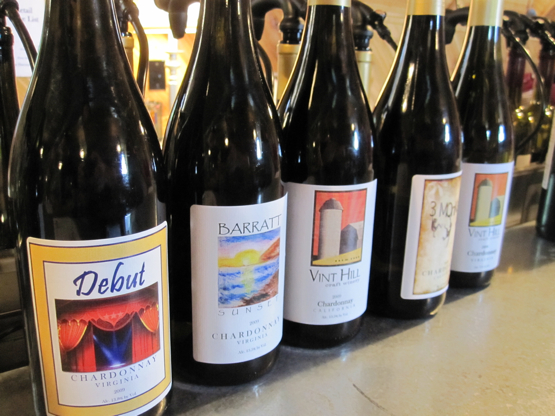 With our tasting done, we each purchased a bottle of our favorite wine. On another note, our visit to Vint Hill Craft Winery brings the number of wineries visited by Virginia Wine Time up to 99! Yes, we're one winery away from #100! Which winery will it be? Well, we haven't decided yet, so keep tuning in. In the meantime, visit Vint Hill Craft Winery, but mention that Virginia Wine Time sent you.