We've chronicled the steady improvements at Piedmont Vineyards since Gerhard von Finck took the helm as winemaker. Gerhard invited us to a weekend gala that celebrated his new releases, and we gladly accepted the offer. We can report that the improvements continue at Piedmont Vineyards, and Gerhard has much to celebrate.
As usual, our tasting began with the white wines, and we samples four wines here. (Although the tasting sheet listed the Hunt Country Chardonnay 2008, we were given a sneak sample of the upcoming 2009.) The official new releases included the Native Yeast Chardonnay 2009 and the Special Reserve Chardonnay 2009. My own favorite was the Native Yeast Chardonnay 2009. As the name suggests it is fermented in native yeasts, and for the wine maker this process can induce a degree of anxiety. Why? It is a non-interventionist approach that depends on the natural fermentation process, and much can go wrong along the way. California's Frog's Leap Chardonnay is an example of a wine created in this fashion. Anyway, Gerhard's version is aged in French oak for nine months and presents aromas of pineapple and honey with similar characteristics in the mouth. A longer finish was noted with some toasted nuts at the end to suggest a more complex wine. Paul preferred the Special Reserve Chardonnay 2009 which was aged for nine months in Hungarian oak. He appreciated its more floral nose and fruitier presentation but did not mind the soft oak at the finish. Now for those who enjoyed the Hunt Country Chardonnay 2008, we can report that the 2009 is also unoaked and as crisp as the 2008 version; however, we observed a sharper fruit focus to the 2009 offering. It should prove to be quite popular upon release!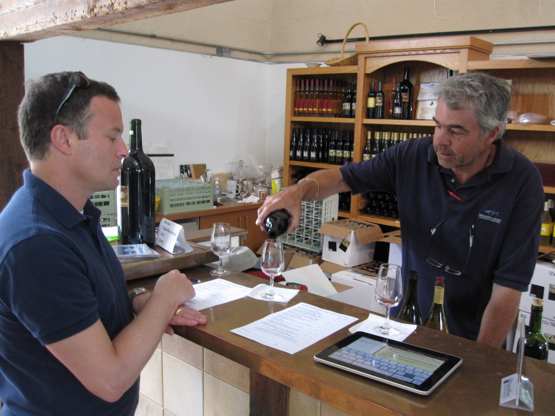 On to the red wines, and the Hunt Country Red 2008 was first in the glass. This Merlot-based offering was Gerhard's personal favorite of the red wines, and I enjoyed this one, too. Aged 18 months in oak, this blend also includes 29% Cabernet Sauvignon and can be characterized as a very nice, fruit-driven bistro wine. Nice cherry notes and a smooth feel make for an easy drinker to enjoy with pizza, burgers, beef, or a simple platter of deli meats and cheeses. Paul's favorite was the Cabernet Franc 2009 which was very similar to its 2008 sibling. Aged ten months in French oak, it offers bright cherry flavors with a spicy edge and silky finish.
As we completed our tasting, we chatted with Gerhard and learned that these new releases were the result of hard work and a determination to learn the winemaker's craft. To this end, he consulted with other winemakers including Doug Fabbioli; we applauded his efforts, and we look forward to a potential autumn released of the 2009 Cabernet Sauvignon.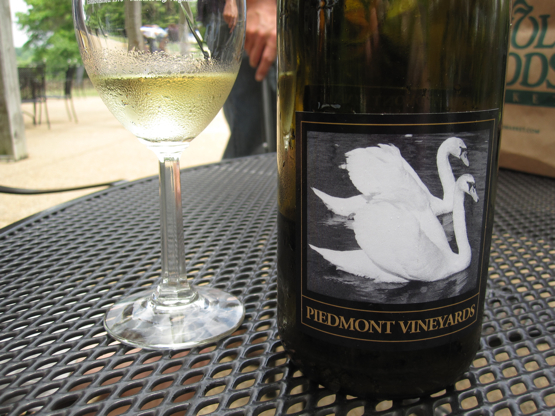 So of course we were hungry for lunch, and we opted to enjoy a bottle of the Native Yeast Chardonnay 2009 with cheese, bread, and toasted almonds. In the process we were entertained by the band, Expanded Waistlines. After nibbles and wine, we made certain to purchase bottle of our favorite releases and bid adieu to Gerhard von Finck. Of course, we will return to Piedmont Vineyards soon; be sure to visit Piedmont Vineyards and mention that Virginia Wine Time sent you.