There are lots of wine events coming up this weekend. We suggest you check out the Virginia Wineries website for a full listing of events. Piedmont Vinyards, Philip Carter, and Barrel Oak are three that we might be attending. What are you doing this wine weekend?
At Piedmont Vineyards and Winery: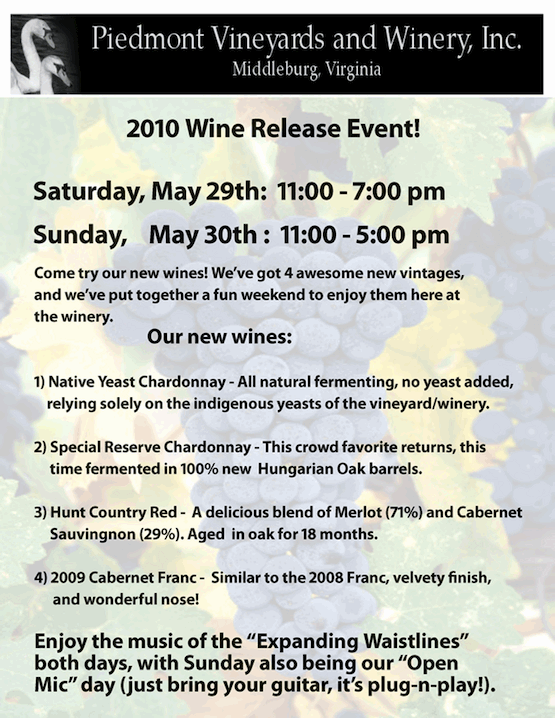 May 29: Anniversary of American Wine – the 248th Anniversary Celebration of American Wine Festival, a three day event. Join hosts, Mr. Thomas Jefferson and Mr. Charles Carter, for our third annual 1762 Gold Medal Ceremony and discover why the Carter family is recognized as the first family of American wine.
It's a day of fun in wine country for the entire family. Be there for the release of "Cleve", a full-bodied red Bordeaux that is both complex and sophisticated, and enjoy the modern day juxtaposed to the eighteenth century! Hear the voices of Mr. Jefferson and Mr. Carter as they speak of their personal connection to wine in young America.
Link-in to the Philip Carter Virtual Tweet-up & Tasting that will explore each Philip Carter wine, including Cleve, during the event, and bring Twitter, Facebook & Foursquare fans together.
Activities include live music, delicious foods, hay rides and moon bounce, and much, much more. Author, Marc Leepson returns. and, as always, all well behaved canine friends are welcomed. Gates open at 11:00 a.m. – 8:00 p.m.
It is Barrel Oak Winery's 2nd anniversary and we are celebrating this Memorial Day Weekend in several amazing ways! We are:
1. Releasing our most popular wines this weekend: BOWHaus White and BOWHaus Red as well as our highly anticipated Rose.
2. Opening the new art show by Ben Roeder: "Traces of Memory, an Abstract Introspective".
3. Featuring great live music Friday, Saturday and Sunday nights!
4. Giving a Golden Ticket to every purchaser of a case of our wine. These Golden Tickets contain the gift of a free tasting for two, a combo platter, a bottle of wine, or a membership in our BOWClub. These gifts range in value from $18 to $175.
5. Raffling off TWO Aged Barrels with memberships in our Barrel Club. Each membership has a value of over $1300. Everyone tasting our wines will receive a raffle ticket.
Additionally, on Saturday and Sunday we will have awesome food service from Local 647, serving the best locally sourced farm-fresh organic foods and runners up winners of ABC Weekend's 2009 Best Food Cart in America Competition.
There will be great music Friday from 6-9 with Demetrios and Curtis and dancing to the sunsets on Saturday 6-9pm to local favorites eNVee and Sunday 6-9pm to the Fabulous Exaggerations! And Sunday we will have old-timey music during the day with Poor Ellen Smith.
We have seating for over 400 guests and of course as always, dogs, kids and picnics are welcome!
Please join us at BOW for the perfect blend of Farm, Family, and Fun!
———————–
Have a great weekend!