So we're behind in our postings, but we promise to get caught up. (Darn those 9-5 things called jobs!)  Anyway, we did attend the Linden barrel tasting held on May 2 and wanted to post about the event.  We love all things Linden, and this barrel tasting confirmed for us that Jim Law is an incredible winemaker.  Of course, he does get phenomenal support from superb fruit cultivated from the Avenius and Boisseau vineyards, and these wines all prove this theorem to be correct—great wine starts in the vineyard.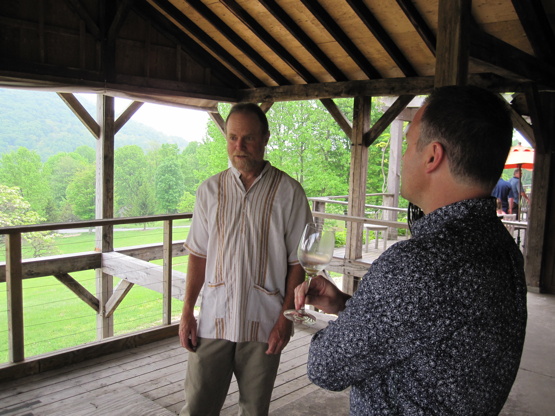 Our cellar tasting began with the cult-favorite 2009 Avenius Sauvignon Blanc paired with mussels.  Is there another word for "divine"?  Please let us know!  Classic Sauvignon Blanc characteristics prevailed here with the signature minerality associated with the Avenius Sauvignon Blanc.  In fact, we met up with Shari who presented her 2009 Chardonnay at the Concrete Egg.  Yes, a concrete egg.  This storage device could well pass for an atom bomb, but indeed it does house evolving Chardonnay wine that would otherwise ferment in a stainless steel tank.  Shari explained to us that this is not new technology and the egg does provide a more stable environment for wine to develop.  We await the final results, of course, since this sample was quite young; however, we do anticipate a more French-style offering.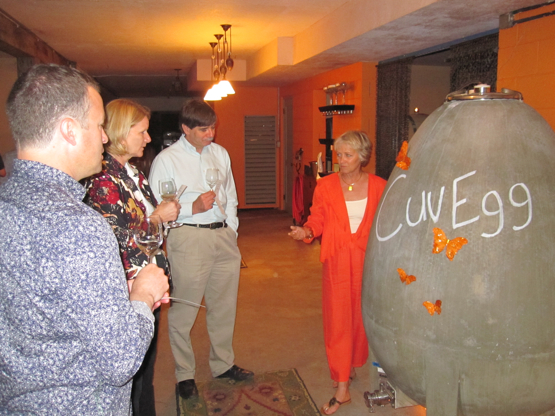 And so on to the red wine barrel samples.  Which were the faves?  We reached a split decision, but it a tough decision. Paul's nod went to the 2009 Boisseau Cabernet Franc due to its fruit-forward presentation.  I gravitated toward the more complex 2009 Hardscrabble barrel with its blend of Cabernet Sauvignon, Merlot and Cabernet Franc.  Jim's father poured from this barrel, and I appreciated the story behind the blend—a difficult spring that gave way to a remarkable summer that will produce a cellar-worthy Bordeaux-style wine.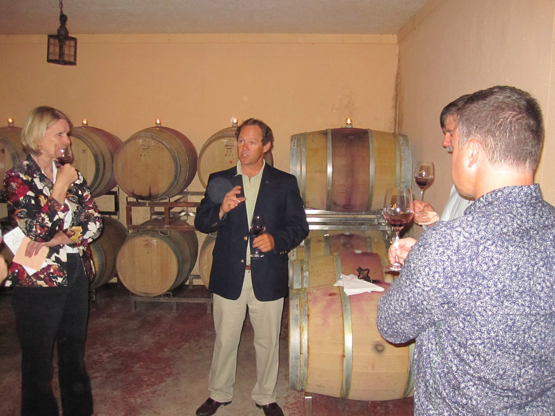 From there we proceeded to the special release room where upcoming releases were being tasted.  Here again we reached different conclusions.  I held my ultimate gold star for the special release room, and it was presented to the 2007 Hardscrabble Red. The composite here was similar to the barrel sample but included Petit Verdot and splash of Carmenere.  Dark fruit, pencil shavings, and a spicy edge defined this one; given that it's from the stellar 2007 vintage, count on a cellar-worthy offering to boot.  Paul preferred the more accessible 2007 Avenius Red which was dominated by Petit Verdot but supported by a generous splash of 38% Cabernet Sauvignon.  Drink now or later, this pour offered blackberries, raspberries, and a bit of nutmeg to complement grilled fare that may include a dash of barbeque sauce.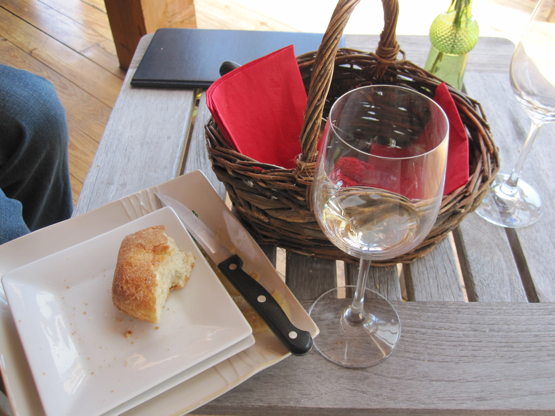 With our barrel tasting done, we enjoyed a glass of the 2009 Avenius Sauvignon Blanc with a baguette.  It was a lovely spring afternoon, and Jim Law's tasting room offers spectacular mountain views which aw appreciated as we sipped and nibbled. Remember, the cellar tasting is offered to case club members; so, visit Linden to try their current releases and you might be tempted to purchase a case in order to enjoy the benefits.  Be sure to mention, though, that Virginia Wine Time sent you.