A recent visit to Sharp Rock Vineyards brings our count to 98, a feat that has taken us five years to accomplish.  With so many new wineries opening up, we predict that #100 is in our sights.  However, we were quite pleased with our first experience at Sharp Rock Vineyards, and we enjoyed meeting winemaker Jim East in the process.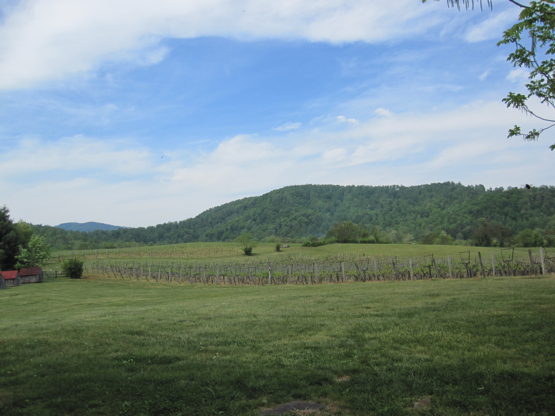 Located at the foot of Old Rag Mountain, Sharp Rock offers a stunning mountain view.  As we approached the tasting room, we were greeted by a couple of lovable dogs who were eager to give us a handshake.  The tasting room itself is a renovated 100 year old barn, and we were greeted by winemaker Jim East as we entered the room.  Four white wines were available for tasting, and my favorite was the Burgundian-style 2008 Chardonnay Reserve.  It presented notes of pear, toasted almonds and vanilla with a honeyed texture in the mouth which comes from aging in French oak barrels. Paul favored the 2009 Sauvignon Blanc, a perfect summer wine with citrus and mineral characteristics.  Speaking of summer pours, don't miss the dry 2009 Rose made from Cabernet Sauvignon; it's crisp and offers refreshing strawberry and melon flavors.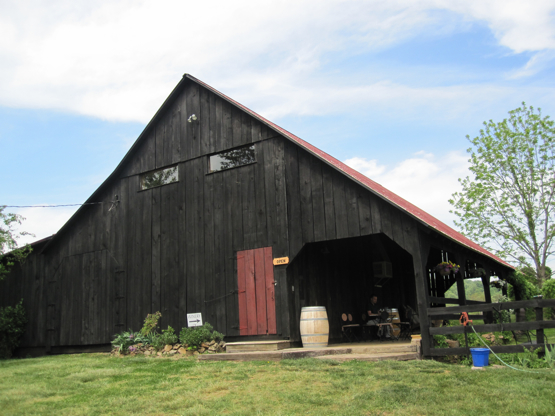 Of the reds, Paul and I both preferred the light-bodied 2008 Synergy, which is a blend of Petit Verdot and Merlot.  Cherries and plums were noted here with some subtle aromas of cinnamon spice.  This one can be a sipper with cheeses and a baguette but can be offered with summer grilled fare.  Look for the fall release of the 2008 Malbec which promises to be a rich, fuller-bodied wine just in time for the fall menus that include heavier roasted meats and game.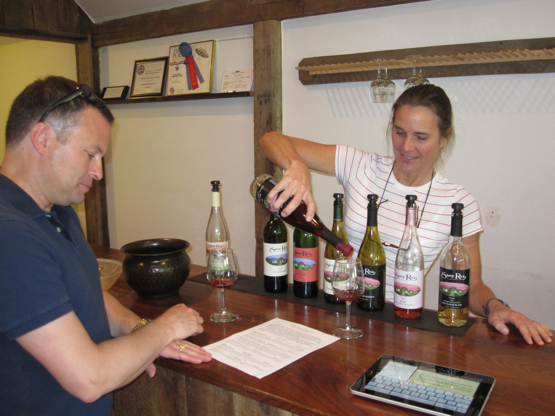 In the course of our tasting, Jim shared with us his commitment to producing small quantities of quality wines.  His twelve bottling are made from estate-grown fruit that include Sauvignon Blanc, Chardonnay, Cabernet Franc, Cabernet Sauvignon, Malbec, Merlot, and Petit Verdot.  Since the winery opened in 1998, Sharp Rock's wines have won numerous national and international awards, but the best commendations come from customers who visit Sharp Rock Vineyards to enjoy nice wines and lovely scenery.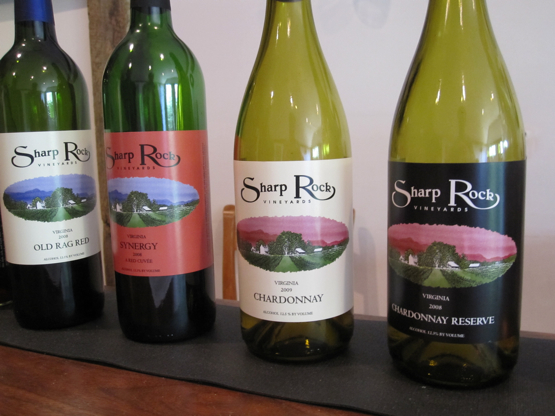 After our tasting, we shared a glass of the Chardonnay Reserve and took in the gorgeous mountain views. Our friendly greeters returned to make us feel at home (and to hope that a stray cracker might accidentally fall from the table.)  As we sipped and savored, we were glad to add Sharp Rock Vineyards to the growing list of wineries visited, and we pondered which future visit might push us closer to the 100 mark.  Of course, we know that we will return to Sharp Rock Vineyards for a second time, but readers may want to visit sooner—be sure to mention that Virginia Wine Time sent you.