Ever wonder how Virginia wine makers come up with the combinations for their Bordeaux-style blends?  These blends may be recognizable to readers as Meritage blends, but these are indeed Bordeaux-style blends.  To be considered a Meritage (or Bordeaux blend), a wine must consist of a combination of any or all of these varietals: Cabernet Sauvignon, Merlot, Cabernet Franc, Malbec, and Petit Verdot.  No single varietal can make up more than 50% of the blend. Readers may recall that we attempted to blend a Cabernet Franc at Sunset Hills, but this time we decided to test our blending talents at Gray Ghost Vineyards.  Our challenge here was to produce a Bordeaux-style blend that would mimic Gray Ghost Vineyards' award-winning Ranger Reserve.  Of course, this challenge required tasting, blending, and then more tasting; needless to say, we were eager to participate!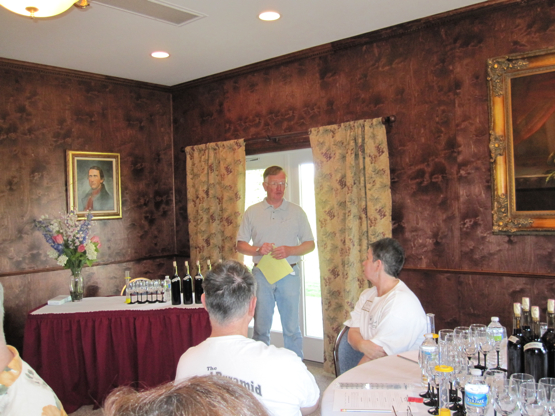 Our session was conducted by winemaker Al Kellert who began the session with a brief history of the Bordeaux varietals.  This was very informative, and I learned that Petit Verdot was the earliest of these varietals to be planted in France. This may have occurred in a time before the contemporary era (or BC for traditionalists).  Also, Al answered the question that many participants may have wanted to ask—why blend?  Wine makers blend for a number of reasons—one good reason may be to hide flaws of certain individual wines especially during poor vintages. However, another reason to blend is to create a "whole that is better than the parts".  This last reason suggests an artistic component to the process, and it is one that Al Kellert embraces as a winemaker.  In fact, The Gray Ghost Reserve is the end result of at least 15 different blends that are tasted at different intervals in the aging process.  The winning combination is one that has met a predetermined goal—a blend of all five varietals that harmonizes the best qualities of each so that no one varietal dominates over the others.
Our task, then, was to create a blend that met the criteria for a Bordeaux-style wine.  We were not informed of previous blends used by Al to produce the Ranger Reserve, so participants were not pre-disposed to produce a blend that mirrored Al's previous products.  We began with bottle samples of each Bordeaux varietal, and these samples produced from estate-grown fruit—even the Malbec.  After these individual samplings, we were then charged to create our own blends.  My own favorite of the single varietal samples was the 2008 Merlot with its fruit-driven profile; I decided that this one would be my "headliner."  However, the 2008 Cabernet Sauvignon provided backbone with its darker fruit characteristics, nice tannic structure and longer finish.  I ultimately decided that this one would be my co-star with the others acting as supporting cast members.  The supports added various degrees of smoke, spice, and berry fruits would complement the mix; so, armed with pipettes and a beaker I blended away!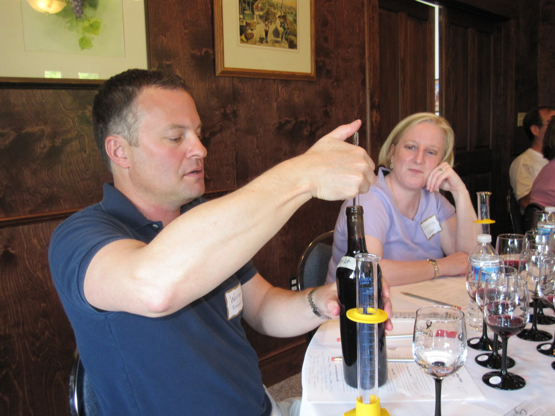 So what did I create?  I must say that I was quite pleased with my end results.  I actually finished two blends, and both were dominated by the Merlot.  My first blend started with 30% Merlot with equal parts Cabernet Sauvignon and Cabernet Franc, but I opted to kick up the Merlot a notch to 40% in my second blend.  It was my second blend that I preferred. With this one, I also added in more Cabernet Sauvignon, decreased the Cabernet Franc a notch but added more Petit Verdot.  A relative splash of Malbec finished off my second blend.  As a result, I accomplished my goal, and I created a layered, fruit-driven yet complex blend that included dark fruit flavors, earthy/spicy aromas, and a generous finish.  And the color was dense to boot!
Of course, I was not alone at the blending table, and Paul was busy concocting his own vintner's special.  I'll let him describe his own process and results.  However, I will close by noting that I was very surprised at the quality of Al Kellert's  Malbec.  In fact, more than one blender at our table featured the Malbec as the dominant varietal. This is a tough grape to grow in Virginia, and the Gray Ghost Vineyard has very few Malbec vines planted in it.  What little is produced each year is used in the Ranger Reserve, so an individual bottling would not be possible.  (There were requests to plant more Malbec, though!)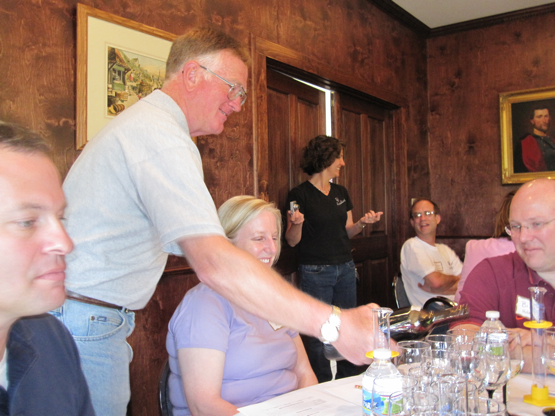 What were Paul's blends?  How did we compare to the ultimate champion, Al Kellert?  I'll let Paul provide those details.  In the meantime, plan a visit to Gray Ghost Vineyards, and mention that Virginia Wine Time sent you.