Paul certainly captured the spirit of the Drink Local Wine Conference that was held at the Lansdowne Resort this past Sunday. I thought that I would add a few of my own thoughts on the event:
1. We're on the verge of something really big!
Readers of our blog know that we've been heralding Virginia wines for five year now, and the treat for us has been to witness the tremendous growth in the local wine industry. The number of wineries and vineyards in the area has exploded in the past few years; however, the most successful wineries have kept a focus on wine quality. It was fascinating to me to listen to and even interact with successful owners and winemakers such as Mathieu Finot of King Family, Jenni McCloud of Chrysalis, Luca Paschina of Barboursville and Jordan Harris of Tarara. Their quest is to discover what varietals work for Virginia, to experiment and take risks, and to ultimately put Virginia on the map as a region that produces unique yet world-class wines. Which ones will be the flagship grapes? Opinions seem to converge on Viognier, Cabernet Franc, and Petit Verdot with Merlot and Chardonnay in the running. The panel discussions with wine makers and social media experts confirmed what I have known for years now—Virginia is on the verge of something big!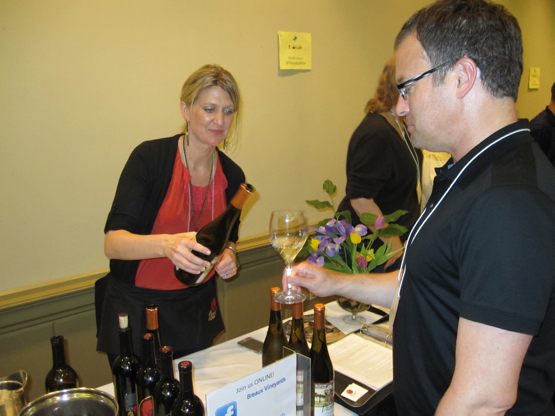 2. Social Media connects consumers to local wines.
Ok—I must admit that I am not a Twitter or Facebook fan. Paul handles all of that for Virginia Wine Time. However, after Sunday's panel discussion on social media, I am now a fervent believer that Twitter, Facebook, and blogs fill the gap between local wineries and traditional media. Virginia wineries may not be headlining Wine Spectator, but then again most wine drinkers don't really care. A tweet about a favorite Virginia wine creates a buzz that Wine Spectator could never create. Jenn Breaux Blosser of Breaux Vineyards is by far the most engaged with social media, and she had never been shy about networking via Twitter and Facebook. I do believe the testimonial that she delivered at the conference—social media pulls in customers that she could never reach via traditional media.
There are exceptions, though. I was thrilled to meet Dave McIntyre, wine critic for the Washington Post. Dave's wine column in Wapo's food section is one that I never miss, and he has been an active promoter of local wines. I'll take Dave's word about wine over Robert Parker's any day of the week. However, I'd apply the same standard to bloggers and "tweeters" and admit that an expert palate like Dave McIntyre's certainly trumps mine; so, if Dave recommends a Virginia wine, trust him—it's really good and worth seeking out!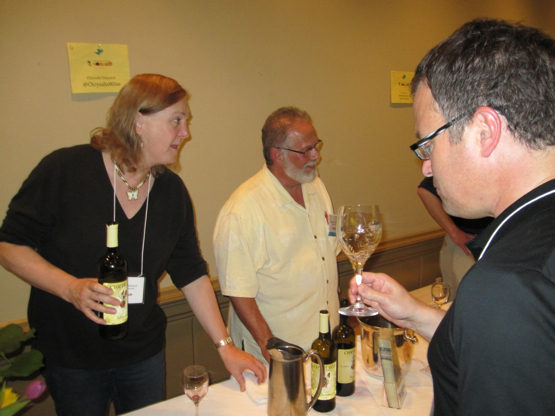 3. Virginia (and Maryland) makes some excellent wines.
The highlight of the day had to be the wine "Twitter Taste-Off" when we all got to sample the best wines that 21 local wineries had to offer. Paul noted that Breaux Vineyards's 2002 Reserve Merlot and Chrysalis' 2008 Albarino took top honors, and those were certainly excellent pours. However, there were a number of outstanding wines that included Michael Shaps' Viognier (my own personal fave), King Family's 2008 Meritage (which may give the successful 2007 vintage a run for its money), and Boxwood's 2007 Topiary. The sleepers of the event had to be the 2005 Petit Verdot from Ingleside and the current Syrah from Maryland's Black Ankle. (For those who like a fuller-bodied Chardonnay, Maryland's Elk Run offering may be worth a try, too.)
I was definitely inspired by the day's events, and now I am even more anxious to hit the wine trails to discover the quality wines that Virginia wineries have to offer. And now I am determined to visit Maryland wineries, too! Of course, another pleasure was to meet other bloggers, and who knew that we would be dubbed the "wine mafia"! Could this be a movie in the making? The Winefather?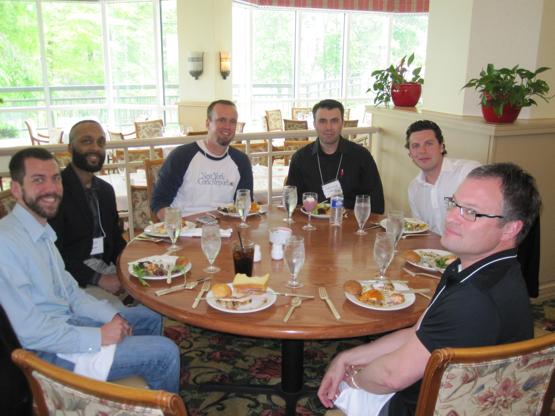 Be sure to visit Virginia wineries this spring, and mention that Virginia Wine Time sent you!