Today we attended the Drink Local Wine conference at Lansdowne. We had a great time meeting fellow wine bloggers and meeting members of the Virginia wine community.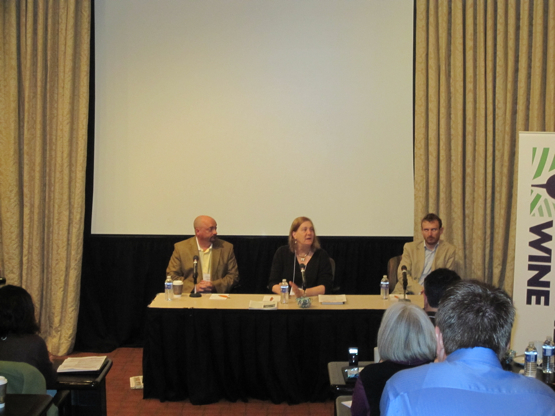 The first session we attended was a panel discussion about the grapes that work best for Virginia. The panelists were Matthew Meyert from Williamsburg Winery, Jennifer McCloud from Chrysalis Vineyard, and Matthieu Finot of King Family Vineyards. The moderator of this discussion was Richard Leahy of Vineyard & Winery Management magazine. The discussion centered around grapes that work best in Virginia. Both hybrids and vinifera were discussed. It was interesting to hear all the different grapes that each winemaker thought worked best in Virginia.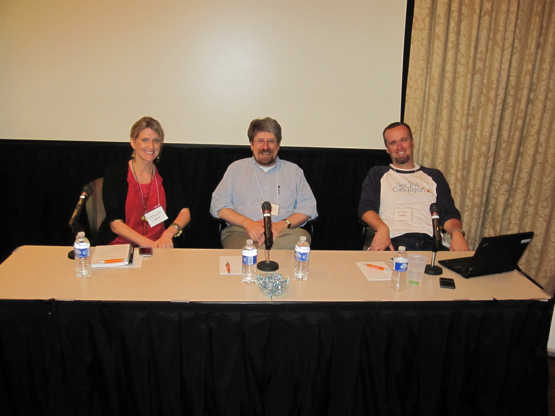 Our second session was all about social media. The panelists were Lenn Thompson of the New York Cork Report, Jennifer Breaux Blosser from Breaux Vineyards, and Jeff Siegel, the Wine Curmudgeon. The moderator was Michael Wangbicker. This session started with a great discussion about how social media is part of any marketing plan for a winery. We learned that many wineries have seen increases in customers and sales. The discussion got a little heated at one point when it became print media versus online media. Everyone has their opinions. I shared mine. You can probably guess which side I am on. This was my favorite session. I really enjoyed the discussions. All the panelists did a great job!
After the social media session we had lunch. Here's a photo of the new named "Wine Mafia" having lunch. It was great discussing wines and blogging with these guys.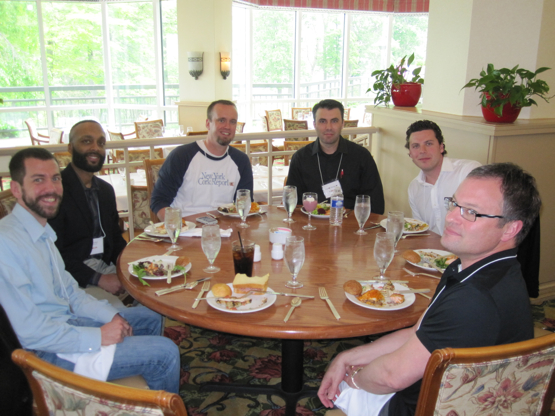 Pictured: Anything Wine, New York Cork Report, Drink What You Like, and The Other 46.
After lunch we had a session about drinking local and eating local. The panelists were Mary Watson-DeLauder from Lansdowne Resort, Andrew Stover, Chef Wino, and Todd Kliman from Washingtonian magazine. The moderator was Dave McIntyre of the Washington Post. This one started out slow but by the end was pretty interested. I found myself Twittering more than listening until discussion began to peak my interest.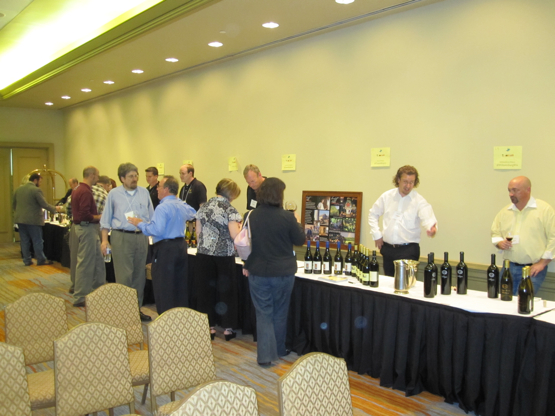 The final event of the day was the Twitter Taste-off. There were 20-some Virginia wineries pouring a red and a white. Participants were to go around the room stopping at different tables to taste the wines each winery brought. We then tweeted about our tastings. At the end we were to vote on our favorites. If you follow us on Twitter, you know we tweeted a lot about the viogniers we tasted. We tried to start with all the whites and then move on to the reds but as we were tasting we ran into so many wine friends that we had to stop and talk. By the time we go to the reds we were running out of time. We had to get our ballets in. After a few more tastings we turned in our ballets. We then waited for the results. The winner of the reds was Breaux Vineyards 2002 Merlot Reserve. The winner for the whites was the Chrysalis Vineyards 2008 Albarino. We enjoyed both of these selections and were pleased to see they won.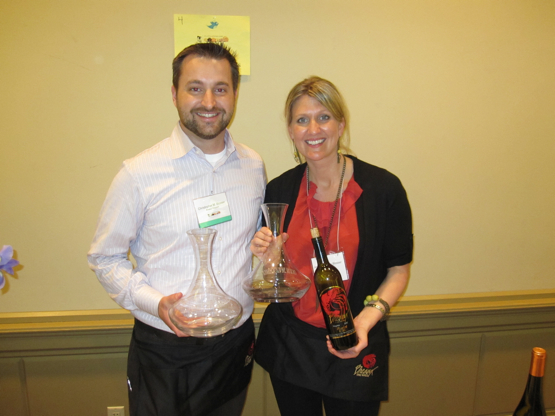 While others headed off to dinner after the taste off, we were headed home. We had a great day and thank everyone at Drink Local Wine for the wonderful hospitality. It was also great to meet all the bloggers we chat with on Twitter. We met so many people today! What a great way to promote Virginia wine.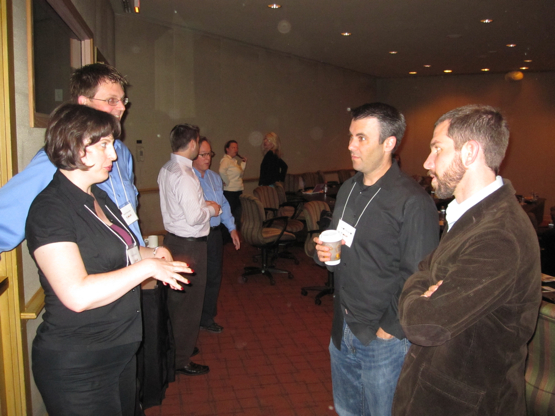 Pictured: Sip, Swirl, Snark, Drink What You Like, and Anything Wine