A couple of weeks ago we were invited to attend the Merlot Vertical Tasting at Breaux Vineyards. We accepted and were looking forward to attending the event along with our fellow wine bloggers, Suzie, and Frank. After a glass of the Equation Merlot and an introduction from Jen Breaux, Dave Collins took over and we began a evening of six vintages of wine and three courses of food.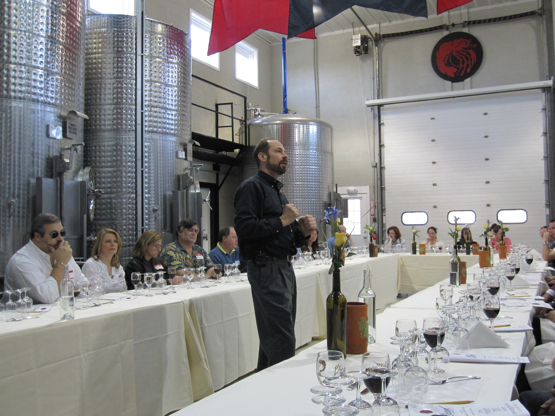 The first two wines we tasted were barrel samples of the 2008 and 2007 vintages. The 2008 spent a year and a half in French oak and the 2007 spent two and a half years in new American oak. I was expecting the 2007 to have some rough tannins but the opposite was the case. I really enjoyed the berry nose, dark fruit palate, smoother tannins and wonderful color. We had these wines with beef tenderloin. The dark fruit of the 2007 complemented the beef very well. While the 2007 made music in my mouth, the 2008 needed some more time. I look forward to seeing how it develops in the future.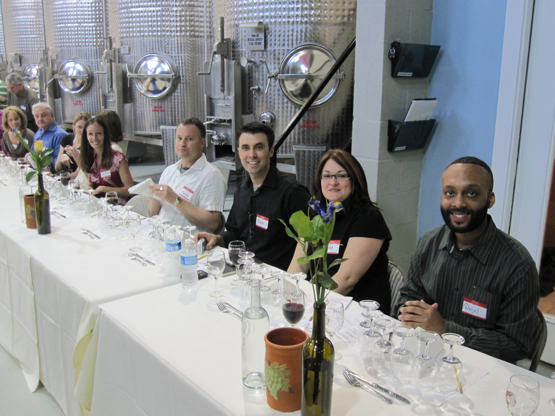 With our second course of sauteed tiger shrimp, tasso ham and andouille sausage we had the 2006 and 2005 merlots. Of this couple I appreciated the 2006. This one was smooth, fruity, and went well with the spicy sausage. It was ready to drink now. Contrasting the 2006 was the 2005. To me this one fell flat. It didn't make me want to drink it. It was a bit earthy for my taste.
Our last paring, the 2004 Merlot and the 2002 Merlot Reserve went with free range chicken braised with capers. The 2004 presented dark fruit, raisins and was smooth. The star of this pairing, however, was the 2002 Merlot Reserve. OMG It was so smooth with tons of dark fruit flavors and a beautiful color. I'm not one to have red wine with chicken but the 2002 Merlot Reserve went perfectly with the chicken. I had no problem finishing this glass. I wouldn't mind having some more!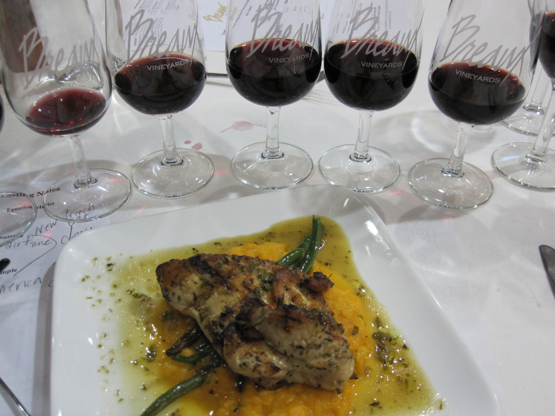 As we all finished our last course we started to compare our notes and talk about our favorites. Dave Collins asked for volunteers to talk about each wine after each course. We remembered this notes as we discussed our favorites. If I remember correctly we all came to the consensus that the 2002 Merlot Reserve was the winner of the evening. Even though the 2007 is still in the barrel, this one came in second. My final lineup was 02, 07, 06, 08, 04, 05. After our discussions we moved to the tank room to enjoy a barrel sample of the 2008 Malbec. I'm beginning to enjoy malbecs and this one impressed me. I'm ready for it to be bottled.
Our evening ended with a glass of the Nebbiolo Ice with Jen Breaux on the patio. We chatted about our evening, our favorites, and about wine and social media. We always have such a great time at Breaux. Jen Breaux knows how to make you feel welcome! Thanks Jen! Visit Breaux Vineyards soon and tell them Virginia Wine Time sent you!