Our second day on the Monticello Wine Trail found us visiting Afton Mountain, Pollak Vineyards, and King Family Vineyards.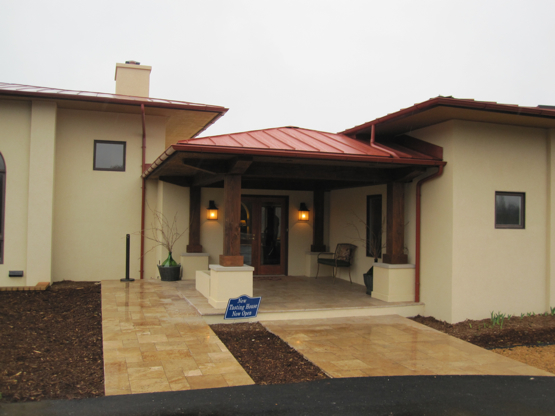 We arrived at Afton Mountain, and we were surprised with the changes that have already taken place under the new ownership. The most obvious change? The new tasting room. Current owners Tony and Elizabeth Smith have converted the previous owners' home into a classy, sophisticated tasting room that includes antique furnishings and oil paintings. And the view from the new tasting facility cannot be surpassed—mountains, streams, and vineyards greet the eyes and need only to be appreciated. Nick Crutchfield directed our tasting, and the current offerings were quite impressive. Of course, we only carry a few gold stars to each tasting room, and we are very selective with our eventual winners. Our gold star for the whites went to the 2006′ Tete de Cuvee Brut. What an amazing bubbly! Crisp and effervescent with apple flavors and non-stop bubbles, we dreamed of Sunday morning mimosas. Warren had already determined that a bottle of the Cuvee was going home with him; however, we had other white wine to sample. Paul's own award was presented to the 2008 Gewurztraminer with its pineapple and spice characteristics.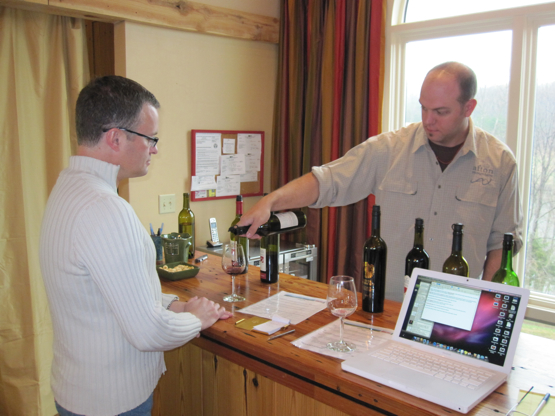 So on to the red wines, and here we reached a unanimous decision. Our gold star for the reds went to the 2008 Cabernet Franc. This award winning wine presented rich cherry flavors with some black pepper and finished with smooth tannins. Warren's close second was the Festa id Bacco from the Bacchanal vineyard with its characteristics of dark fruit, anise, and violet.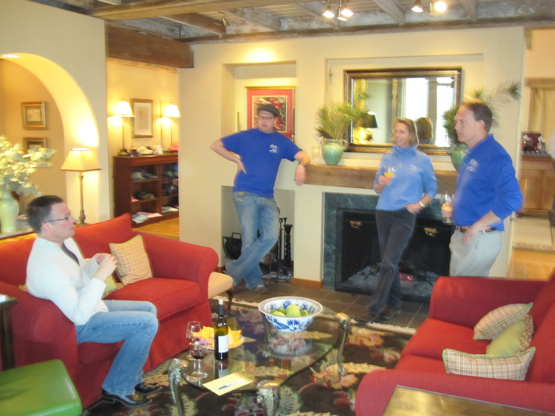 After our detailed tasting we enjoyed a bottle of the 2008 Cabernet Franc with some warm bread and white cheddar cheese. We had a chance to chat with both Tony and Elizabeth Smith, the owners of Afton Mountain, and their son Hunter. Elizabeth and Tony shared with us that their plan to be winemakers within three to five years was accelerated with the availability of the Afton Mountain property. The three to five year plan became a three to five month dream come true. The result? Quality wines. At the end of our visit we made a few purchases and headed down the road to Pollak. If you find yourself in the Charlottesville area you simply MUST plan a visit to Afton Mountain. The changes are so evident in the surroundings and the wine. Get yourself to Afton!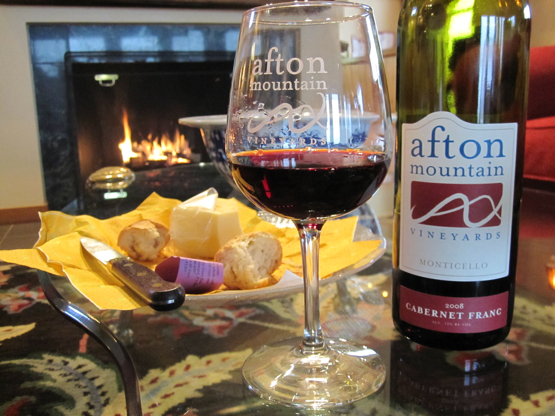 Pollak Vineyards is one of our favorite wineries in Virginia. We always feel like family when we visit Pollak. This trip we began with a barrel tasting with Jake Busching. We were able to taste the 2009 Chadonnay, 2008 Cabernet Sauvignon, 2008 Meritage, 2007 Meritage and the 2009 Mille Fleur. Jake also gave us a taste of the 2008 Mille Fleur. My white gold star for the barrel tasting went to the 2009 Chardonnay with it's minerality, nice acidity at the end with citrus flavors. My red gold star went to the 2007 Meritage with it's dirt nose, tight tannins, and dark fruit flavors. After our informative barrel tasting we decided to do a regular tasting. My gold stars went to the 2008 Durant White and the 2007 Cabernet Franc. Warren awarded his to the 2008 Rose` and the 2008 Native Yeast Chardonnay. After our tasting I enjoyed a glass of the 2008 Cabernet Franc and Warren had the 2008 Chardonnay Reserve. We enjoyed these wines with a warm baguette. When it came time to make our purchases I was disappointed to find out the 2008 Viognier was sold out. No problem though. I enjoy all their wines. I mixed and matched to make up a case. We have have plans to return in July when there will be many new releases.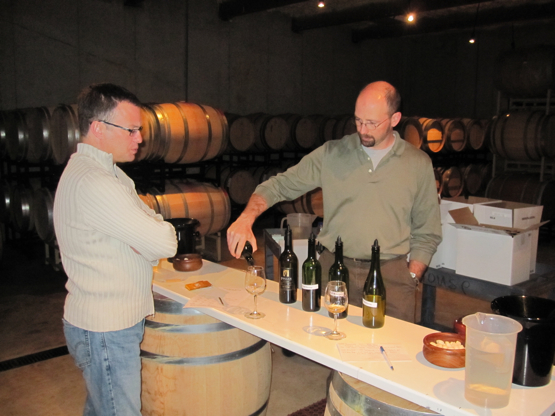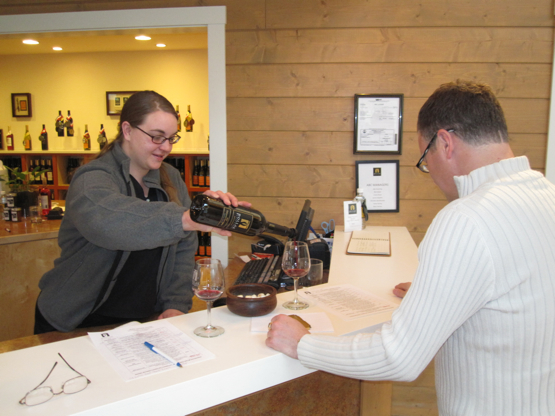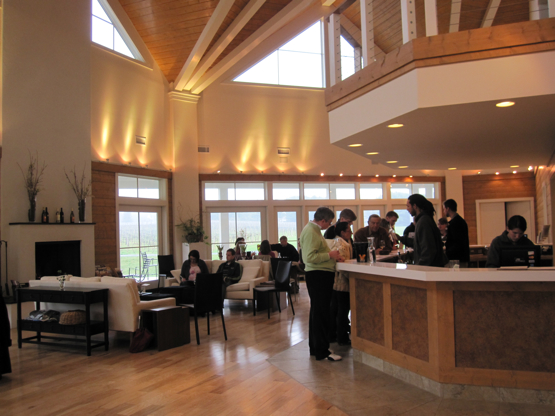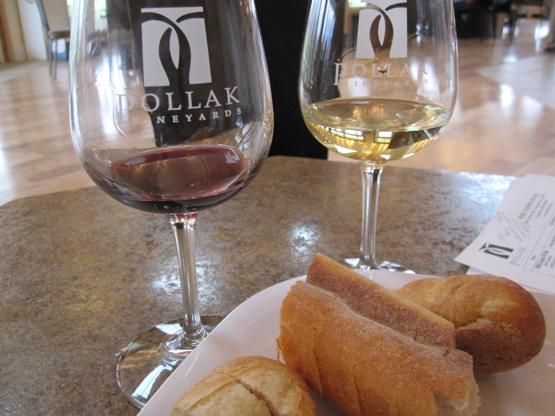 King Family was our final stop for today. We love the wines from King Family and this time they did not disappoint. Ali was our tasting associate and she was so rehearsed, she knew everything about the wines. We both selected the 2009 Crose` for a gold star. I selected the 2007 Merlot and Warren selected the 2008 Meritage for gold stars. Even though it was a rainy cold afternoon, we enjoyed a glass of the Crose` on the covered patio. We were Tweeting about your experience at King Family. Before leaving we secured a few bottles for our wine racks. While make our purchases we ran into Matthiew Finot, the winemaker. We were able to chat with him about the 2007 Meritage which won the 2010 Governor's Cup. We informed him we had just had the 2009 Crose`. We agreed the Crose` with it's sauvignon qualities makes a great summer wine. We left with a few bottles for the summer. We plan to return to King Family in the summer to taste all the new releases.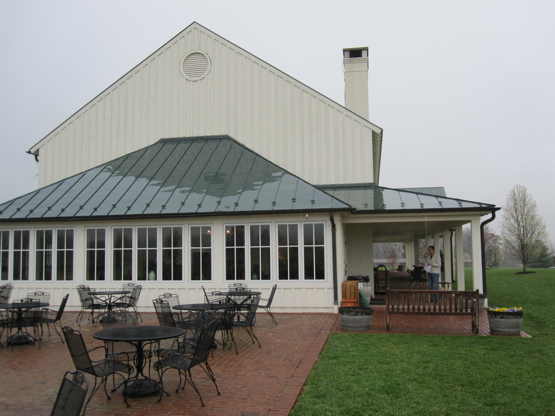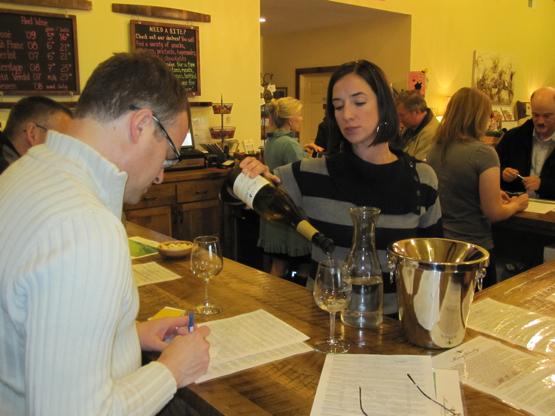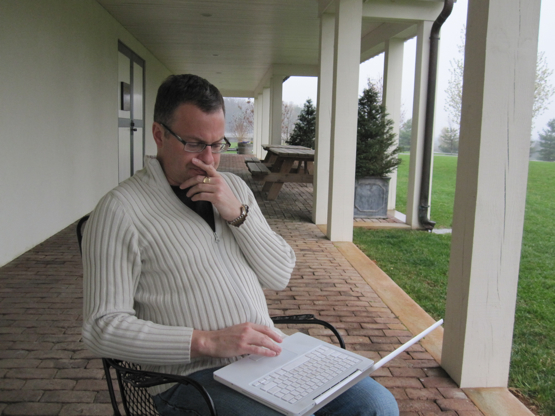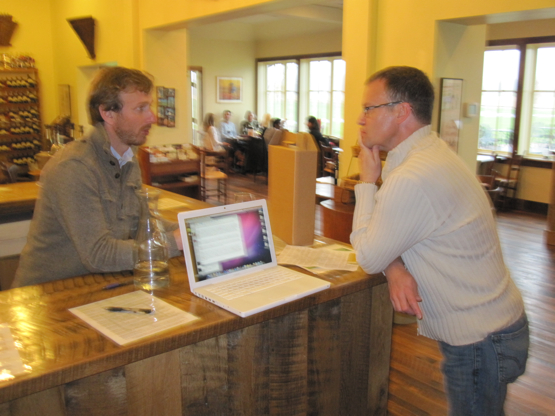 Tomorrow our trip continues with a stop at Lovingston Vineyards, Cardinal Point, and First Colony.