Readers may recall that we recently visited Sunset Hills Vineyard, and we were quite impressed with their lineup of wines. We then decided to participate in a subsequent blending session which featured Cabernet Franc as the dominant varietal. How did we do? Well, it was not an easy task, and we had to sample lots of wine to get our blend just right; however, we also had to compete with other amateur winemakers that day. The competition was fierce!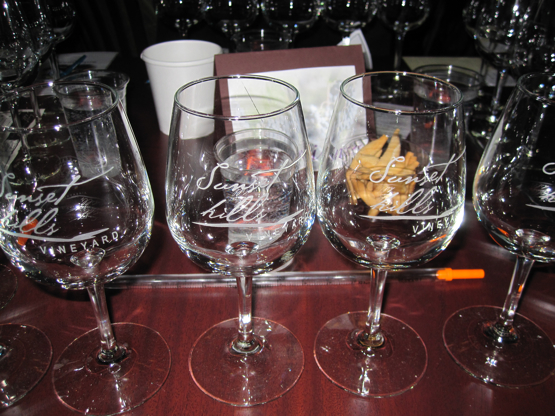 Participants were grouped and then seated at various tables in the tasting room, and each table was given the label of a certain wine producing region. For example, one table was called the "Napa" table; our table was the Virginia table! (Yes, it was purely coincidental.) Anyway, our winemaking partners were Troi and Derick. We all hit it off right away, and we quickly found out that Trois is a fan of local wines from Virginia and Maryland. With introductions completed, we were all eager to sip and blend. Our first samples were four tastings of Cabernet Franc picked from two different lots. An added twist was that the samples from each lot were then aged in different oak barrels—new American oak, French oak, and Hungarian oak. The Virginia table gravitated toward the French oak and Hungarian oak samples. We found these to be more fruit-forward with a softer oak finish. The sample from American oak tended to present more blackberry flavors with a noticeable woodsy character.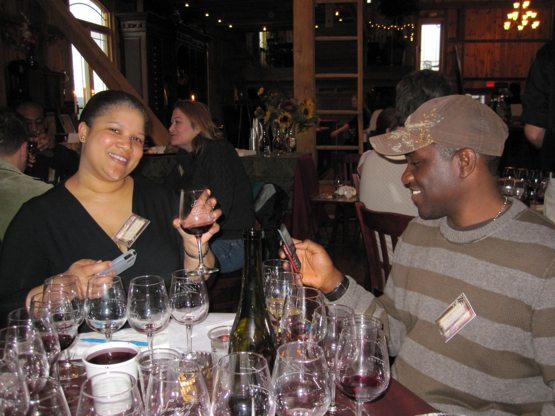 As we sipped, we took extensive notes so that we could compliment our favorite Cabernet Franc with an appropriate blend of other wines. Since the final product will be a Cabernet Franc, the blends had to include at least 75% Cabernet Franc. With this in minds, the Virginia table was ready to blend away, and we were presented with four other samples once we were done with our Cabernet Franc. These other samples included two offerings of the '08 Cabernet Sauvignon from Tranquility Vineyard (each were treated with different yeasts), a 2009 Merlot from Sunset Hill Vineyard, and a 2008 Petit Verdot from Breaux Vineyards. What did we conclude? We all really enjoyed the Cabernet Franc samples and opted to create a 90% blend from the French and Hungarian oak tastings with a greater proportion coming from the French oak product. We then blended in 7% from the 2008 Cabernet Sauvignon (yeast sample #1) and 3% from the jammy, spicy 2008 Petit Verdot. Our final blend presented layers of mixed berries in the mouth with some violet and spice on the nose—the Virginia table was very pleased!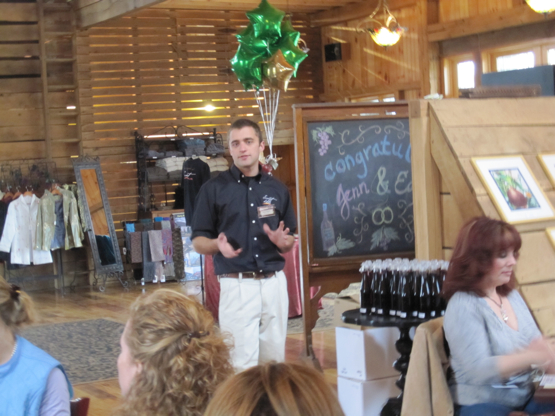 However, the other tables were also madly blending with pipettes and beakers operating at full speed. When all tables were done, we then had to sample all of the final blends and vote on our favorites. Without getting into the tasting notes for each blend, I'll simply reveal that our particular blend place third out of the ten blends produced. The top-rated blend as well as the second place blend also favored the Cabernet Franc from the French and Hungarian oak barrels but in different proportions; though I was rooting strongly for the Virginia table's blend, I did have to admit that the winning blend was the indeed the best. In fact, winemaker Nate Walsh revealed that the winning blend was very close to the one currently used to create the award-winning Cabernet Franc Reserve.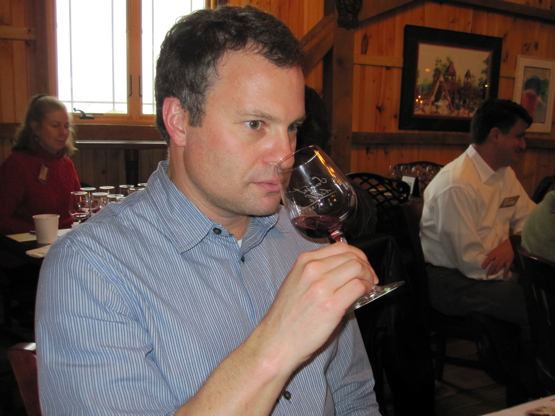 So we tried our hand at blending red wines, and we now understand how difficult a task it is to complete. We were intrigued by how different the same varietal, Cabernet Franc, tasted when produced from a different lot and aged in a different oak barrel. Terroir and winemaking methods do indeed make the wine! We also enjoyed meeting new friends Troi and Derick, and we hope to meet up with them on the wine trail soon.
Pay a visit to Sunset Hills Vineyard, and mention that Virginia Wine Time sent you.