It's Spring and the wineries are open for business. There are a couple of events coming up that we'd like to share with you.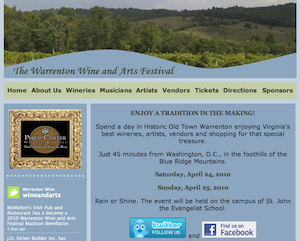 Warrenton Wine and Arts Festival-For the second year in a row the Warrenton Wine and Arts Festival will take place on Saturday April 24 and Sunday April 25 at St. John the Evangelist school in Warrenton Virginia. At the festival you'll be able to taste wines from about 20 Virginia wineries, hear music from local musicians, see and purchase art from several local artists, and browse the merchandise from several local and regional vendors. Be sure to check out the website and get your tickets now. We attended the festival last year and really had a great time. We tasted some wines we couldn't taste unless we visited the wineries. We look forward to attending the festival again this year! If you see us, say hi!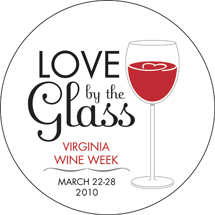 Virginia Wine Week-Love By The Glass-March 22-28 is Virginia Wine Week. During this week more than 100 participating restaurants and wine shops across the state will be serving Virginia wines by the glass. Look for the Virginia Wine Week decal at the locations participating in this event and stop in and enjoy a glass of Virginia wine! Check out the website to find a list of the places where you'll be able to enjoy a glass of Virginia wine.
Grand Opening-Saturday March 27th from 11 to 4 is the Official Grand Opening of Delaplane Cellars. It promises to be a wonderful event. Guests will enjoy live music, food pairings and the release of their 2007 Emerald Lake Reserve Viognier, their 2007 Springlot Reserve red Bordeaux blend and their 2007 Shirland Syrah. We've been to Delaplane Cellars before and absolutely loved the wines. If you are free on Saturday, plane to attend the grand opening!
Oh, and one more thing. Frank Morgan from Drink What You Like participated last week in the Colorado/Virginia Wine Smackdown with Jacob Harkins of Coloradowino.com. Check out the articles on both the blogs and find out just how well Virginia did in the competition. Thanks Frank and Jacob!