With winter's tight grip finally letting go, we have been able to slowly get back on the wine trail.  A more recent visit was paid to The Winery at La Grange.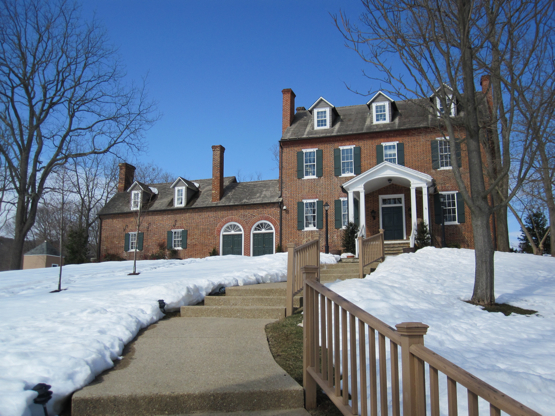 Up for tasting were eleven wines, and our knowledgeable associate, Michael, started us off with the white wines.  I thought all of the white wines were all quite solid.  My own favorite, though, was the 2007 Fletcher's Chardonnay which made an impression of crispness on the nose.  Aged six to nine months in French oak, it had not undergone malolactic fermentation.  I noted apple and pear flavors with some butterscotch on the finish.  Paul's award went to the 2008 Viognier which was fermented in stainless steel and aged for six months in Hungarian oak.  It presented a floral nose with soft peach flavors.  We placed the initials, MT, next to the 2008 Cuvee Blanc, because we knew that our friend and occasional guest blogger Michael Tyler would appreciate this one.  It is a blend of white grapes and results in a Riesling-style wine that includes a hint (1.2%) of sugar. It had me dreaming of summer!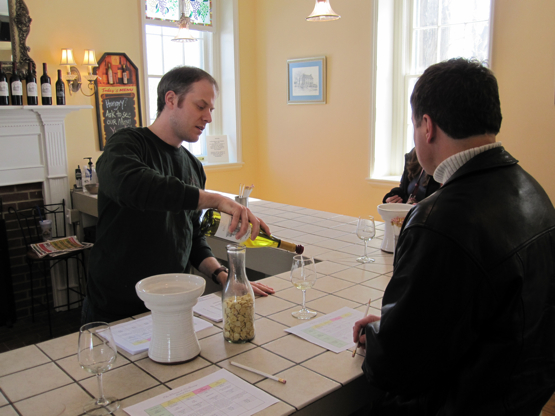 So on to the red wines with gold stars in hand.  My award went to the 2007 Meritage with its characteristics of dark plums and cherries with tobacco and cedar on the nose.  Tannins were definitely present here, so drink now but feel free to age this one for a while.  This Meritage is a blend of Cabernet Sauvignon, Merlot, Cabernet Franc, Petit Verdot and Malbec—a true Bordeaux-style wine. It was aged for 14 months in both American and French oak barrels.  The 2007 Merlot received Paul's award.  The Glebe Vineyard produced the grapes for this American-oak aged Merlot which presented flavors of currants and black pepper.  Paul detected some tobacco on the nose, too, and he noted that it finished "smooth." For a truly bold wine, try the 2007 Tannat with its dense core—dark plums and cherries with a spicy edge, I found it to be "chewy".  Drink now if you must but decant before drinking and be sure to pair with a steak.  (Now I'm hungry!) Not to be missed, though, is the 2007 Norton which was co-fermented with Cabernet Sauvignon.  This light-bodied pour reminded me of cherry jam with a touch of cinnamon. Perfect to sip, but nice with pizza, too.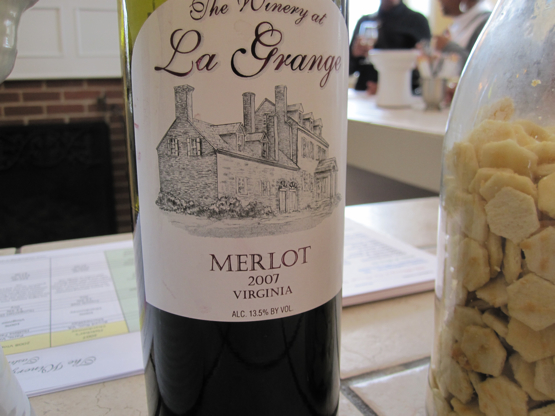 So with our tasting done, it was time to sip and nibble.  We brought along some grilled chicken filets with white cheeses and a baguette.  What wine did we choose to pair with lunch? The 2007 Fletcher's Chardonnay, of course.  We enjoyed our light lunch on the back patio which was enclosed and therefore allowed us to enjoy the receding snowy landscape.  We even noted some green patches where the snow had melted!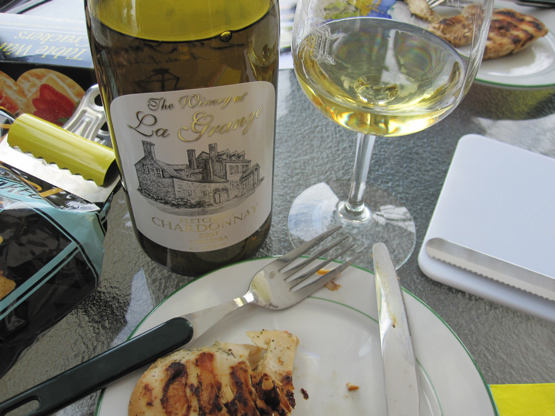 Now that a long winter is slipping away, plan to visit local wineries, and put The Winery at La Grange on your agenda.  Be sure to mention that Virginia Wine Time sent you.