Last Sunday we met some friends at Doukenie Winery. We hadn't been there in awhile so we wanted to try the new wines and see how things were going. Our friend, Jeff, is a club member at Doukenie, and he enjoys Doukenie wine all of the time! We met Jeff and his friend Stephen at Doukenie for a sampling of the current pours.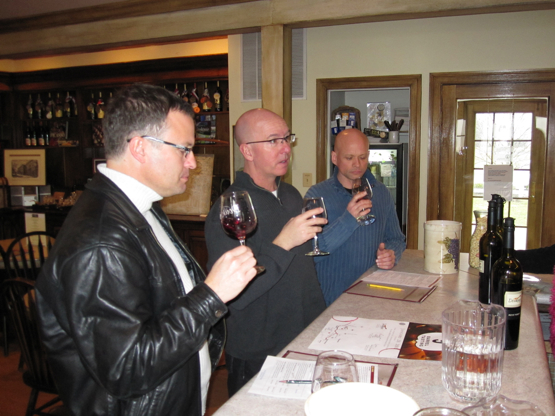 During our tasting we started with the whites and we tasted the 2008 Pinot Grigio, 2008 Chardonnay, 2008 Mandolin, and the 2007 Vin de Paille. Of these we gave our gold star to the 2008 Pinot Grigio. It was crisp and light with pear on the nose and tropical fruit on the tongue.
Of the reds we tasted the 2007 Vintner's Reserve, the 2007 Petit Verdot, the 2007 Cabernet Sauvignon and the Hope's Legacy Raspberry wine. Our gold star went to the 2007 Vintner's Reserve. We noted dark fruits on the nose and some spice on the tongue. Warren noted tobacco on the nose as well. A close second, though, was the fruit forward 2007 Cabernet Sauvignon.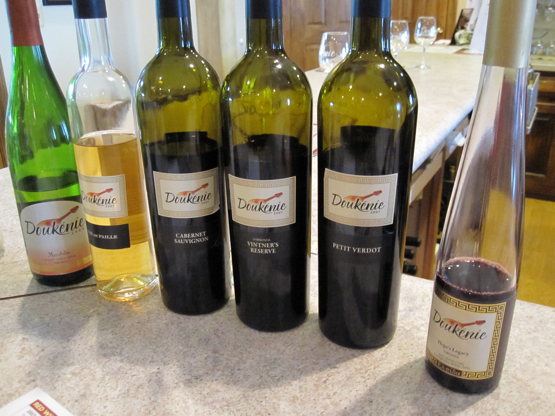 After out tasting we all enjoyed a bottle of the 2007 Cabernet Sauvignon with a baguette and a sharp cheddar cheese. Before leaving we secured a few bottles for our wine racks. Plan a trip to Doukenie soon and tell them Virginia Wine Time sent you.