A Happy New Year to our readers, and away we go with yet another year of tasting fine wines from Virginia. We started the new year with a sampling at a new winery—Delaplane Cellars located in Delaplane, Virginia. It was a cold and chilly afternoon, of course, but we bundled up and braved the winter's freezing blast of frigid air. We were not disappointed; the new kid on the block, Delaplane Cellars, offers an impressive lineup of wines.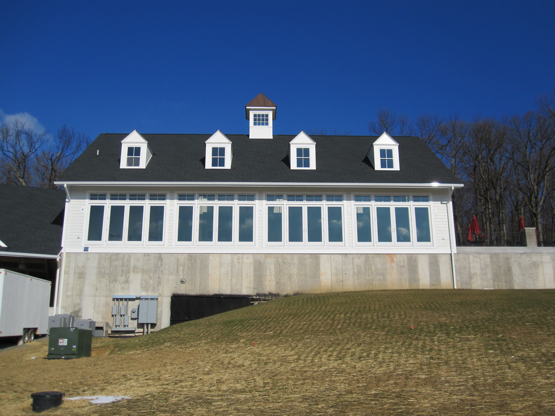 Delaplane Cellars opened the weekend after Thanksgiving, 2009. At opening, it offered about 1200 cases of wine. Current offerings are produced from grapes grown on Virginia vineyards. Autumn was our tasting associate, and she skillfully guided us through our tasting. Armed gold stars, we swirled and sipped. The white wines were all quite solid. For Chardonnay lovers, the 2008 Barrel Fermented Chardonnay should prove to be quite a treat. Done in a Burgundian style, this one presented pear flavors with a subtle but noticeable toasty finish. Paul's decorated the 2008 Honah Lee Viognier with his gold star. He noted a dry crispness with peach flavors and concluded that this Viognier was treated in stainless steel tanks. However, Paul was surprised to learn that the 2008 Honah Lee Viogner was fermented and then aged for about 10 months in neutral French oak barrels. I designated this one as a classic sipper that could pair well with lighter fare. My own favorite? The 2008 Maggie's Vineyard Viognier. This one presented a floral nose with rich peach flavors and a creamy texture not unlike a full-bodied Chardonnay. Lobster or chicken with cream sauce for dinner? This Viognier would be the perfect partner.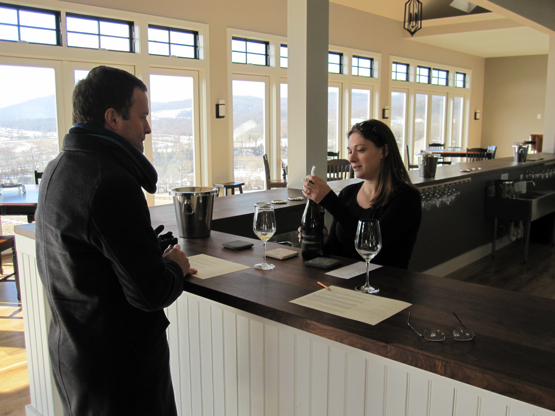 Red wine and winter seem like a natural pairing. Beef stew, roasted game, braised meats all served by a roaring fire—you get the picture. Red wine offerings at Delaplane Cellars might complete the menu. Paul's gold star was awarded to the 2007 Old World Cabernet Franc with its mixed berry characteristics and a seductive tobacco nose. Some blending with small portions of Syrah and Cabernet Sauvignon add complexity to this offering. A bolder option may be found with the 2007 Left Bank Bordeaux Blend. This one earned my gold star. Aged in French oak barrels for 20 months, I detected blackberry and dark cherry flavors with some mocha to boot. An obvious tannic presence suggested that this one was still quite young , but the tannins will mellow with age. Drink now but decant to serve with steak or venison, and be generous with the cracked pepper, herbs and mushrooms. For a splurge, do try the 2007 Springlot Reserve, another Bordeaux-style blend that includes Cabernet Franc, Cabernet Sauvignon, Merlot, and Petit Verdot. Luscious raspberry and cherry characteristics with a spicy edge and some chocolate to finish, this one presented quite a complex blend and like its siblings should age quite nicely.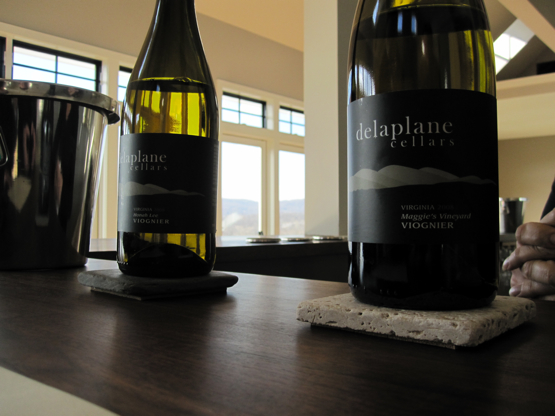 Autumn was quite knowledgeable as she facilitated our tasting experience. She shared with us that each labeling provided the vineyard designation. For example, the 2008 Honah Lee Viognier was produced from the Honah Lee Farm located near Orange, Virginia. Likewise with Maggie's Vineyard, and this vineyard is located on the western slope of Short Mountain near Neerville, Virginia. The red wines were produced from local vineyards too, including the Spring Lot vineyard. Future plans include the production of red wines and perhaps even Viognier from grapes grown on the Delaplane estate.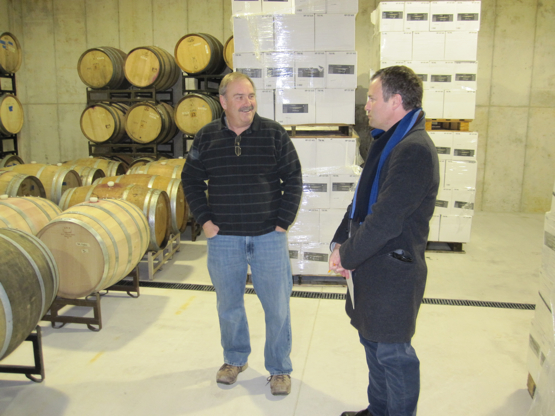 We also met Jim Dolphin, owner of and winemaker for Delaplane Cellars. Jim provided us with a tour of the cellar, and he revealed to us his plans to expand production to between 3000 and 5000 cases. Jim's professional background is in finance; however, he has been a wine enthusiast for many years and can recall the Virginia wine industries' formative years in the 1980s. Heralded wine maker Jim Law has been his teacher and mentor, and Jim Dolphin has been an insider in the winemaking industry for the past ten years. Dolphin's methods and preferences are similar to those of Law's—Old World with an emphasis on vineyard management and fruit quality. As we toured the underground barrel room, we noted new and older barrels; some were American and many were French. Dolphin prefers to ferment and age in a variety of barrels and then he blends according to desired outcome. The results are evident in the tasting room—quality wines that reflect Old World traditions.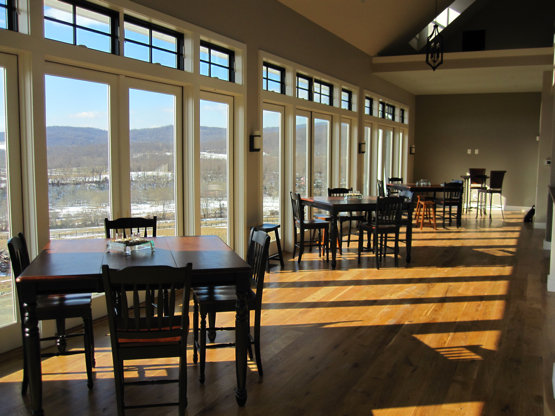 With our tasting and tour done, we gave new homes to several bottles of wines from Delaplane Cellars. (We purchased a bottle each of our gold star faves.) Before we left, we paused to appreciate the breathtaking view of blue-ridged mountains made more stark and vivid on a cold winter's day. These can be appreciated from Delaplane Cellar's spacious and well-appointed tasting room; an outdoor deck is in the offing and should prove to be popular in warmer weather.
We know that we will return to Delaplane Cellars soon; however, we encourage readers to start the year right with a visit to Delaplane Cellars. Be sure to mention that Virginia Wine Time sent you.