After we enjoyed holiday nibbles and wines at Gray Ghost Vineyards, we decided to pay a visit to Gadino Cellars for a tasting. It had been quite a while since our last tasting there, and we were eager to see if any new offerings were now available on the tasting menu.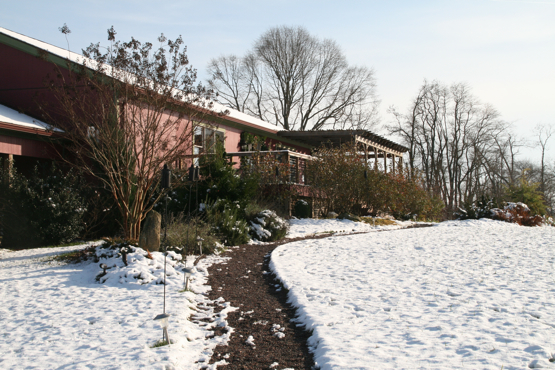 So on a very cold afternoon, we were warmly greeted by Stephanie, assistant wine maker and daughter of owners Bill and Aleta Gadino. As always, we started with the white wines. Our favorite? The 2007 Viognier with its floral nose and peach flavors. Treatment in Hungarian oak provides a softer oak finish. Paul was disappointed to learn that his favorite, the Pinot Grigio was sold out. This was one of our summer favorites, and we await its return next year!
The red wines were then offered for tasting, and we both agreed that the 2007 Cabernet Franc Reserve was the gold star winner. In the mouth, mixed berry flavors ended with vanilla on the finish. Cabernet Franc is known for its spicy characteristic, and this vintage is no exception. Already a gold medal winner, this Cabernet Franc should be quite popular with holiday fare especially if roasted meats are on the menu. Paul was quite pleased that Merlot was back on the menu, and we were able to sample the 2005 Merlot Reserve. What a treat! All we needed was a cigar. Nice blackberry and dark cherry aromas with some tobacco to boot! Of course, Paul had already opened his 2005 Merlot Reserve a long time ago, but he was tempted to purchase another bottle.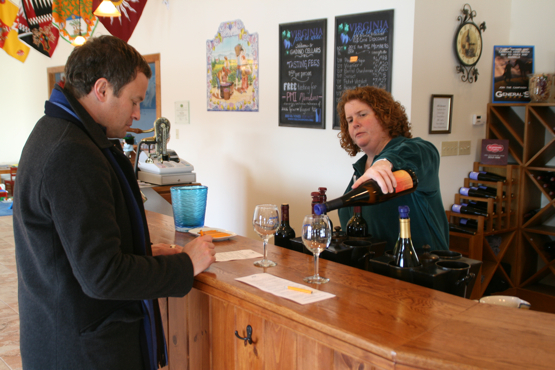 With our tasting done, I decided to treat Paul to a glass of the 2005 Merlot Reserve; of course, he had to share! As we sipped and watched the sunlight begin to fade into a lovely glow, Stephanie's husband Derek stopped by for a brief chat. We learned that the 2007 Cabernet Franc Reserve is offered on restaurant menus including the acclaimed Restaurant Eve in Alexandria. (Note to Virginia wine lovers—if Virginia wines are offered on the wine list, please order a glass or bottle!)
Before we left Gadino Cellars, we made sure to give new homes to a couple of Gadino Cellars' wines. We also extended our best holiday wishes to Stephanie with promises to return in the New Year. Looking for wines for the holidays? Be sure to visit Gadino Cellars and be certain to mention that Virginia Wine Time sent you.
And to our readers—HAPPY HOLIDAYS!