By Michael Tyler
Our good friend Michael Tyler took a trip to Argentina and was able to visit a few wineries and taste the wines. Here is a post about his experiences.
By no means am I an oenophile. I just like good wine and have spent years trying to convert my humble palette to distinguish the differences between a good $20 bottle of wine and a bottle of two-buck chuck. Early last fall, I knew I would suffer from the winter blues in Washington. You know that time in mid-January-February when you are sick and tired of being cold and long for just one day without a coat and gloves. Knowing this would happen, I planned a winter vacation somewhere warm. As a result, I decided that sunny Argentina might just be my cure. I spent a marvelous 10 days there last winter on a vacation that exceeded my expectations. Argentina has a long history of wine production; so of course, I could not have ventured to the country without visiting the western province of Mendoza, which is the wine capital of the country.
Mendoza is sunny almost 365 days of the year, very arid and is located in a high altitude climate, all of which combine to form the perfect conditions for growing grapes. There are more than 200 wineries in the province but, unfortunately, I only was able to visit a few. This means I have to return again. Perhaps a 2010 winter vacation…hmmm.
The Ampora Wine Tour Company in Mendoza provided my tour group with a wonderful tasting experience. I must note that visiting wineries in Argentina is different from visiting them in Virginia. One must have an appointment to visit. Without an appointment, one will encounter locked gates and armed security. The only way to avoid this problem is to work through a third-party intermediary like Ampora. We toured four wineries in the Lujan de Cuyo valley.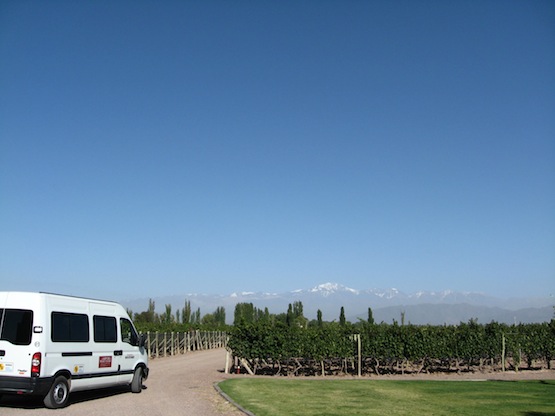 Argentina is known, of course, for its Malbec. When we think of Malbec, we usually think of a heavy red wine; however; the Malbec grape comes in many varieties and can be blended nicely. Argentine wines are a minimal 12-13% alcohol like many in the United States. The increased alcohol content is due to the strong mountain sun in that high altitude, which causes the grape skins to thicken and ultimately produce wines with lots of tannins. Also, the deep roots of the vines in the clay soil give the wines many minerals.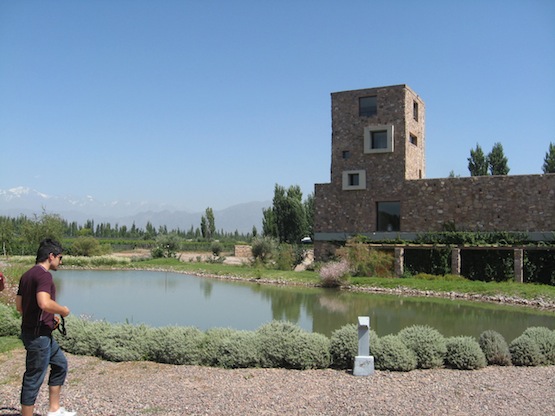 The first winery we visited was Belasco de Baquedano. It is 1,000 meters high in the mountains. The lodge itself is fairly new; however, the vines are over 100 years old. The Belasco family has four other wineries in Spain, but only one in Argentina that produces Malbec. In 2008, it produced 65,000 liters of wine with 98% of it for export to 27 countries. Being that the winery is so new, it uses a modern, digital process to age the wine. This process consists of several 24,000 liter, digitally controlled tanks for fermentation and then aging in computer controlled climate rooms in 100% French oak barrels Depending on the type of wine, aging can take six, 12 or 18 months.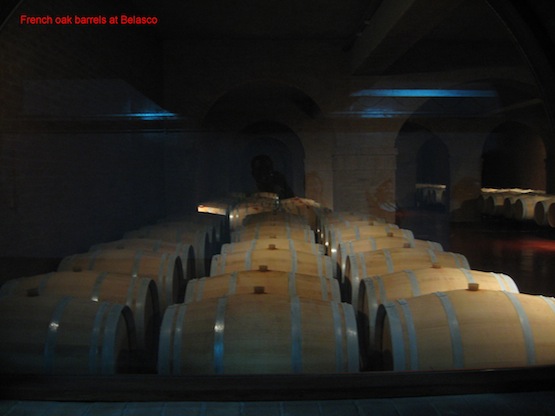 We tasted four Belasco wines. I must mention that the tour group was invited to walk through the smells room before we actually sampled any wine. The smells room is a one-of-a kind room where different smells associated with wine have been trapped in airtight containers. A person walks up to a container and turns a dial to smell fresh pine, cherries, lemon, orange, bark, coffee, apples, blossoms, nutmeg, and a variety of other things that one might experience when sampling a good wine. The tour group enjoyed it tremendously.
1. Rosa, a rose which smelled of rose petals and tastes of strawberries, caramel and raspberries. It is a young wine and should be consumed in the year it was bottled.
2. Loan, is a Malbec which has a nice body and a spicy bite. For my palette, it was a little bitter.
3. AR Guentota is another Malbec that is very bold and spicy; one could smell some tobacco and a little of the barrel.
4. Swinto, a concentrated, big and bold Malbec. This product was aged 15 months in French oak barrels and bottled for 18 months.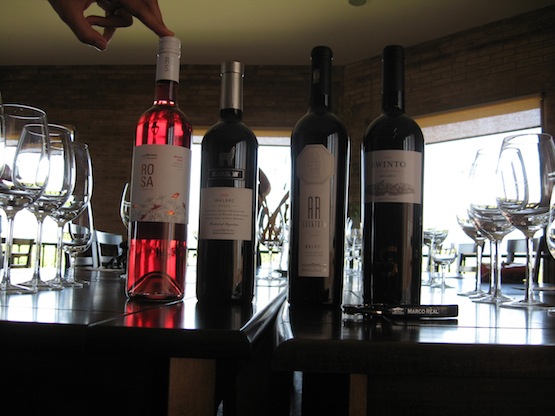 Stay tuned for part two of Michael's trip to Argentina!