We never miss the release party for the Gray Ghost Reserve Cabernet Sauvignon; this special wine is only produced from the best vintages, and this year's release featured the 2006 harvest. As always, the Kellerts treated guests to a fabulous evening of wine, dinner, dessert, jazz and more wine!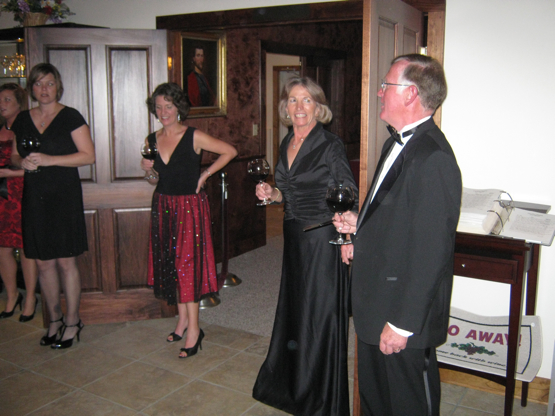 The 2006 Reserve Cabernet Sauvignon is produced from free-run juice and aged in French oak for three years. The result is a rich, complex wine that presents black berries and dark cherries to the nose and mouth; I detected a layer of dark chocolate, too. Expect a lengthy finish, too! Already awarded 13 medals including a platinum and several golds, this limited production wine will sell out quickly!
And so what sacrificial creatures were served with this opulent wine? Prime rib served with horseradish sauce, pork tenderloin, and Chesapeake crab cakes. Roasted veggies were served on the side. All that was missing were complimentary cigars and smoking jackets! For dessert? Cheesecake partnered with the much-acclaimed Adieu.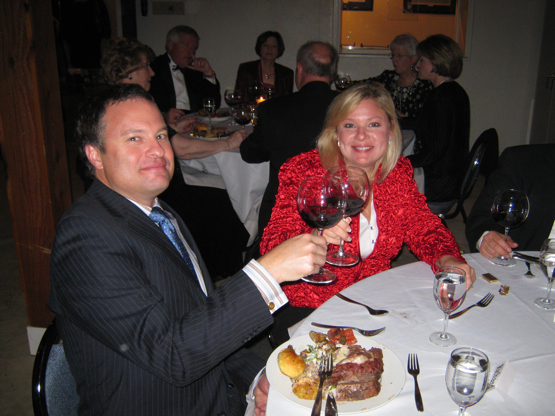 With strains of the jazz ensemble still playing, we made certain to purchase a bottle (or two) of the 2006 Reserve Cabernet Sauvignon before we bid our own adieus to Gray Ghost Vineyards. If planning a visit to Gray Ghost Vineyards, be aware that the 2006 Reserve Cabernet Sauvignon will not be available for tasting, but trust us—it's excellent. Of course, while tasting at Gray Ghost Vineyard, do mention to the Kellerts that Virginia Wine Time sent you!