Two weekends ago, we made a quick trip to Monticello wineries to take in the fall colors and to sample latest releases at the wineries. It had been quite a while since our last visit to Keswick Vineyards, and this time around, we were determined to pay a call; so, on a crisp fall day we made our way to Keswick Vineyards.
On tap were six wines to taste. Armed with gold stars, we seated ourselves at the tasting bar and sipped away. I thought all three of the white wines were very solid. Two white wine offerings were produced from Viognier—the 2008 Viognier and the 2008 Les Vent D'Anges; the other was a 2008 Chardonnay. When forced to decide the "one", I settled on the French oak-fermented 2008 Viognier. It presented lovely aromas of honeysuckle and peaches with a honeyed texture in the mouth. Rich and full-bodied, it should pair quite well with any dish that featured a cream sauce. Paul favored the 2008 Les Vent d'Anges which is stainless steel fermented. At 1.3% residual sugar, it's considered an off-dry wine and exhibits the same characteristics as its oak fermented sibling but without the full mouth feel. My close second place was the classic 2008 Chardonnay with its toasty nose and pear flavors. I also liked its buttery feel and full finish—I'm a sucker for this kind of Chardonnay.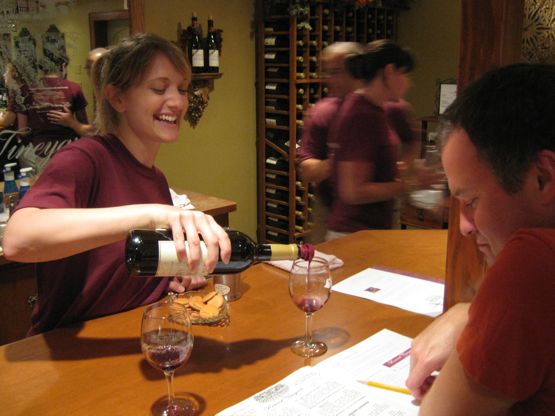 So on to the red wines. It was here that we reached a unanimous decision. The gold star went to the 2007 Cabernet Sauvignon. What a treat it was to taste this Governor's Cup winner! "Dense" was Paul's descriptor the rich garnet color, and we both noted blackberries and dark cherries on the nose with similar flavors in the mouth. I noted mocha at the end. This Cabernet is blended with 25% Merlot and aged in French and American oak barrels. One inhibiting factors? The price. At $60 a bottle, this Cabernet Sauvignon is well worth its hefty price tag, but tasters may want to reserve this one for a special occasion. For an everyday wine, try the fruity 2008 Touriga which is blended with 20% Chambourcin. Medium bodied and easy to drink, the 2008 Touriga was chock full of mixed berry flavors with a smoky edge to boot. Buy now and drink now with—might be a nice alternative for the holidays, too.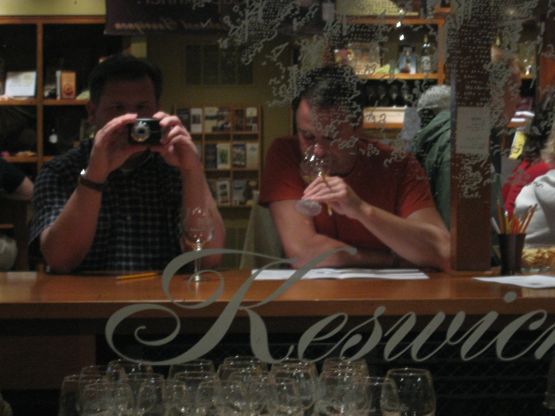 Of course, with tasting done, we were hungry. We brought along grilled chicken breasts, white cheeses and baguette. Our wine of choice? I let Paul prevail and we selected the 2008 Les Vent d'Anges to enjoy with lunch and fall scenery. We marveled at the different shades of fall that included gold, rust, orange and red. In the process, we also nibbled and sipped.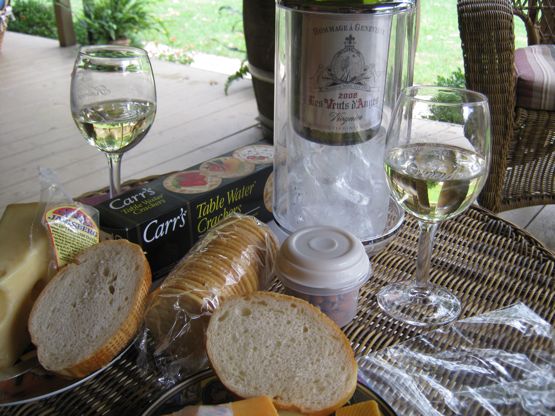 We made off with several bottles of wine that included a bottle each of the white wines. We also know that we will return to Keswick Vineyards to sample upcoming releases. Planning a visit to Keswick Vineyards? Be sure to mention that Virginia Wine Time sent you!