I'm a bit behind in my blogging, so I'll try to catch up this week.  This post picks up with our trek to the Shenandoah area which featured visits to Glen Manor Vineyards and Veramar Vineyard.  I've already written about Glen Manor Vineyards; today, I'll finish the detail of that trip with a wrap up of our impressions of Vermar Vineyard.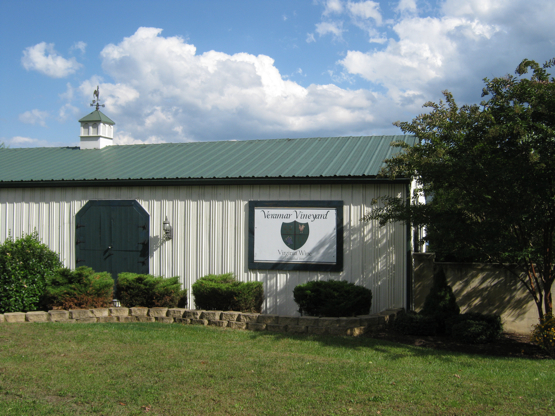 On a warm fall day, we noted signs of color changes with leaves taking on autumn hues.  As we made our way to the tasting room, we couldn't help but notice spectacular mountain views, but in case we thought that we were lost, we were comforted by the word, Vermar, spelled in large rocks near the nearby pond.  On this particular day, we had the option of trying the reserve tasting, and these feature the best-crated wines at Veramar.  Wines sampled at the reserve tasting are available for purchase only to wine club members, and the session was hosted by wine maker Jim Bogaty.  Of course, we decided to participate in the reserve tasting, and with gold stars in hand, we made our way to the tasting bar designated for the reserve tasting.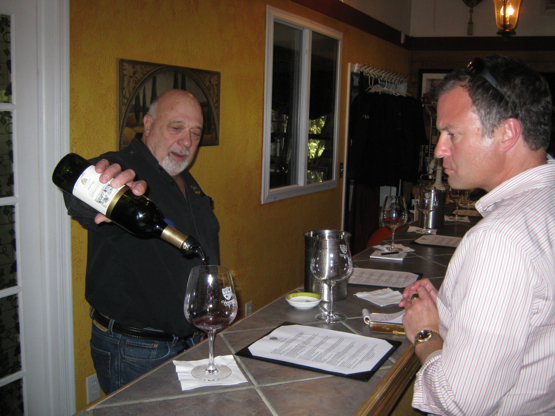 On hand for sampling were six wines—three whites and three reds.  We were treated to wine critic Steve Spurrier's favorite, the 2007 Estate Club Chardonnay Shenandoah Valley, and this one presented a nose that I described as brioche—vanilla, toast and almonds with coated with sautéed pears.  Complimentary flavors were noted in the mouth with a lingering finish.  This Chardonnay was done sur lees which provides a rich texture to this complex wine.  While I'm a fan of big chardonnays, I did concur with Paul, though, that the gold star of the white wines was the Tres Blanc.  A lovely blend of Chardonnay, Riesling, and Vidal Blanc, this fruity wine displayed a nice floral and subtle citrus aroma with heady fruit characteristics that included mango and peach.  Quite the crowd pleaser, the Tres Blanc should pair quite well with spicy fare, but I might even pop open a bottle of this one for Thanksgiving dinner if herbed turkey is on the menu.
On to the red wines, and we once again came to the same conclusion.  Our gold star was awarded to the 2007 Estate Club merlot Free Run.  Jim Bogaty explained that free-run means that the grape juice runs feely with no pressing; the grapes press on their own and by their own weight.  This Merlot is then aged in French oak to present a well-integrated wine.  Plum and cherry characteristics prevailed with notes of spice and mocha.  This one should age well, too!
With our tasting completed, we thanked Jim Bogaty for conducting our tasting, and he shared with us that Steve Spurrier will soon pay a visit to Veramar with other wine experts to sample the Estate Club Chardonnay.  We congratulated him on this exciting news, and we opted to share a glass of the revered Chardonnay to enjoy while appreciating the mountain landscape.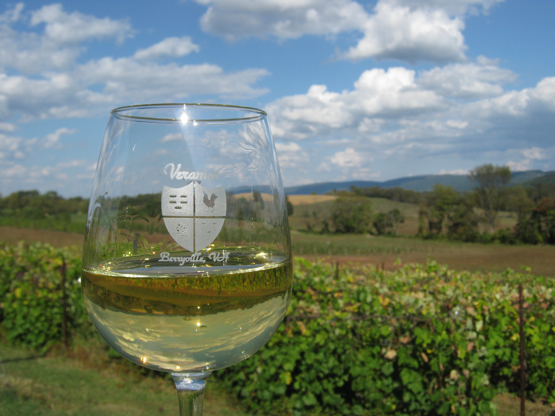 Since the reserve wines are available only to club members, tasters should also be aware that a regular tasting menu is available.  We were able to sample these wines, and a quick note of our faves include the citrusy 2008 Seyval Blanc and the earthy Cabernet Franc.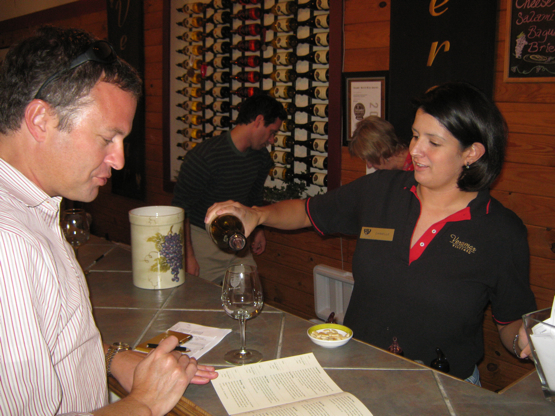 We hope to return to Veramar Vineyard soon, but fall is here and readers should plan a trip to enjoy autumn's pageant and Veramar's nice wines. Of course, remember to mention that Virginia Wine Time sent you.