This past weekend, we decided to pay visits to wineries in the Shenandoah region. Our closest destination was Glen Manor Vineyards. We last visited Glen Manor Visits over a year ago, and at that time, winemaker Jeff White had two wines to sample. This time, though, he had five wines to taste; of course, we were eager to sip away, and in the process find out the latest news about Glen Manor Vineyards.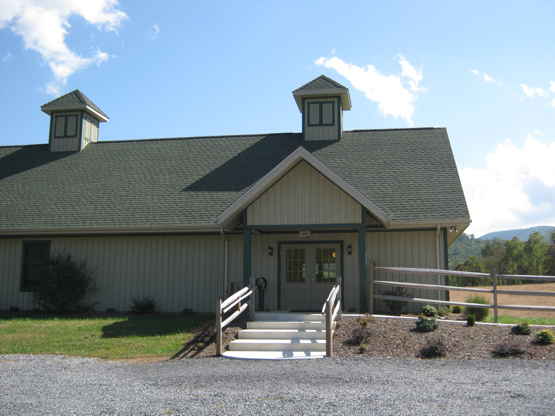 Readers may recall that the property which comprises Glen Manor Vineyards is a family-owned site that has been farm property for generations. Jeff White continues that legacy and currently has planted several acres of vineyards on the site; he previously produced grapes for legendary winemaker Jim Law, but he now uses those grapes to create his own wines. We can acknowledge that Jeff White's current lineup of wines is indeed quite impressive. Sauvignon Blanc is the white wine of choice for White, and he presents both the excellent 2007 and the 2008 for tasting. The difference between the two? The 2007 was produced in a warmer, drier year, but the 2008 vintage was crafted in a cooler, wetter year. The result? Two very fine Sauvignon Blanc wines. When pressed to decide, my pour of choice was the flinty 2007 vintage with its grapefruity characteristics and crisp feel. Paul, when his arm was twisted, settled for the 2008 selection which presented the "cat pee" aromas of a classic New Zealand-style wine. (For the record, Jeff White describes this scent as "boxwood"; I like the traditional cat-pee!) Grassy with a racy acidity, this '08 Sauvignon Blanc should be familiar to sauvignon blanc aficionados.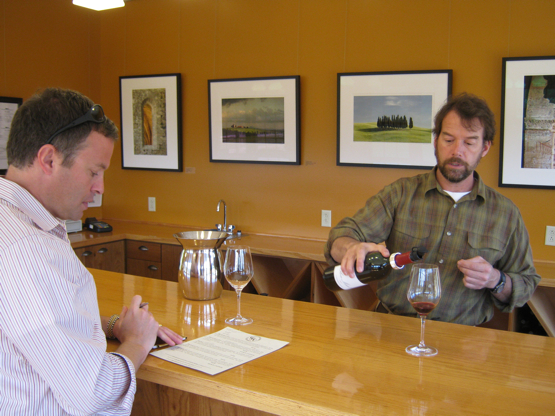 The red wines found us at a similar split decision. My gold star was awarded to the 2007 Cabernet Franc with its scents of dark cherries, black pepper, and eucalyptus. Quite a concentration of complimentary flavors, it finished with a velvety tannic presence. Paul correctly deduced that a small splash of "something" gave this Cabernet Franc a subtle complexity, and Jeff confirmed that a 3% blend of Cabernet Sauvignon did indeed complete this '07 offering. However, Paul's own favorite was the 2007 Hodder Hill. A blend of Cabernet Sauvignon, Merlot, Cabernet Franc, and Petit Verdot, the Hodder Hill (so named after the vineyard in which the grapes were grown) exhibits dark plum and blackberry characteristics with some spice to boot. Bold and complex, the Hodder Hill is destined to partner with a heavy beef dish that might be served in the fall and winter. (Stuck on a choice between white or red? Try the Provence-style Rose. Summer is done, but this rose is for year-round enjoyment!)
As we sipped and savored, we learned from Jeff that his newer planting, located on a higher plateau on the Glen Manor property, were Bordeaux varieties. These will result in full-bodied single varietal wines such as Petit Verdot and/or blended wines in the same vein as the Hodder Hill. White remains committed to producing small quantities of wines from selective fruit, and he was quite optimistic about the 2009 harvest which promised to be a stellar harvest in terms of both quantity and quality. His rationale? Despite the heavy spring rains, the summer in northern Virginia was dry with moderate temperatures and thus ripe for another memorable vintage.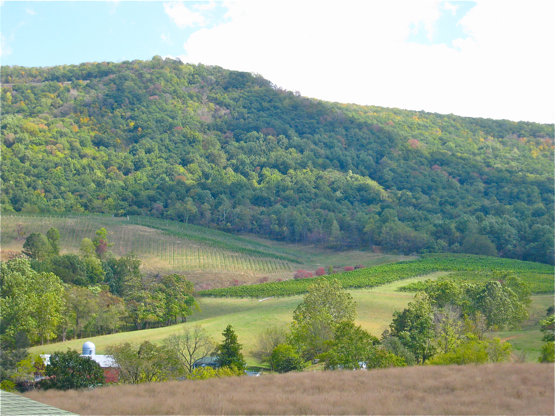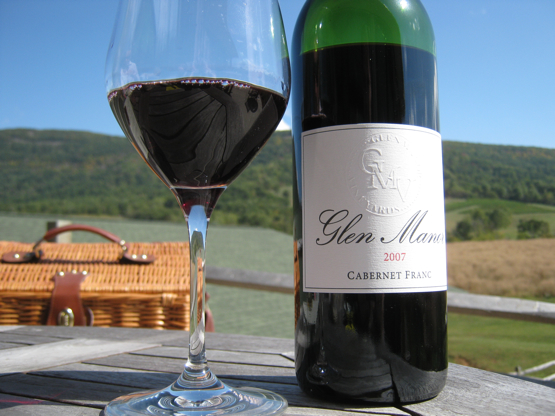 So all of this wine talk and tasting made us hungry—of course! We opted to enjoy the 2007 Cabernet Franc with grilled chicken coated with herbs, smoked cheese, and baguette slices that we brought from home. As we snacked and sipped, we enjoyed the mountain views accented by large-winged hawks flying overhead. The wine, food, and scenery were perfect on a warm fall afternoon. When we were done, we relieved Jeff White of several bottles of wine, and we bid our farewells. We'll return soon, but we encourage readers to sample Jeff's quality wines at Glen Manor Vineyards. Be sure to mention that Virginia Wine Time sent you.