My parents came up from New Orleans to participate in the chardonnay harvest at Gray Ghost vineyards last weekend.  On the Saturday before the harvest, we took Mom and Dad out to Linden and Chateau O'Brien.  We let my Dad decide which were the favorite wines tasted that afternoon.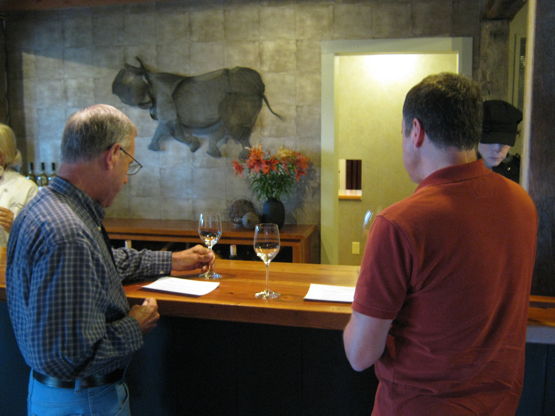 In addition to the regular tasting, we also enjoyed the cellar tasting with Shari Avenius.  It's easy to say, "all of the above" at Linden when assessing favorite wines, because all are excellent.  Our cellar tasting allowed us to sample wines from the three vineyards that produce Linden's wines: Avenius, Boisseau, and Hardscrabble.  Of the three, the Avenius vineyards produce wines that reflect the minerality of the soil.  This was evident in Dad's favorite, the 2007 Avenius Chardonnay.  Lean and sleek would be apt descriptors of this Chardonnay which may remind wine drinkers of Burgundy-style white wines.  Of the red wines, he was more partial to the fruit-driven 2006 Boisseau Red.  A blend of Petit Verdot, Cabernet Franc, and Merlot, this accessible red wine is ready to enjoy now.  I preferred the 2006 Hardscrabble Red, a more complex Bordeaux-style blend that may need more time on the wine rack before pouring. The sampling of dessert wines included the 2005 and 2006 Late Harvest Vidal Blanc.  Lovely with the cheese sample offered with the tasting, Dad gave the 2006 Late Harvest the nod. After our cellar tasting, we all enjoyed a glass of the 2006 Boisseau Red with beef sausage, cheddar cheese and baguette.  (Mom is not a wine drinker did enjoy the 2009 vintage tap water with her lunch!)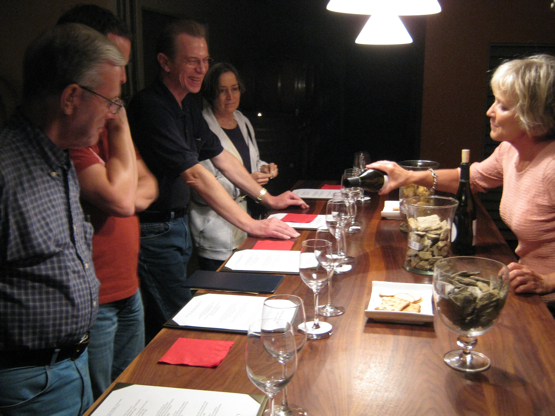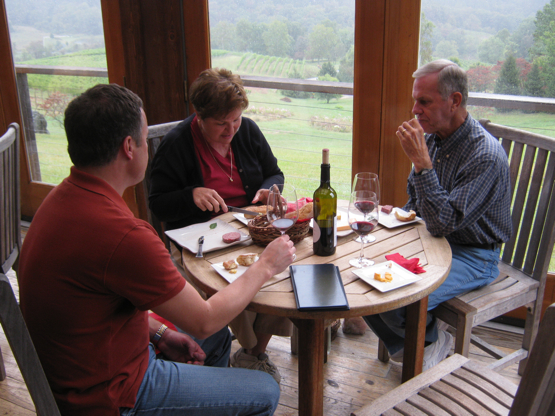 On to Chateau O'Brien and Dad was ready to name his favorites.  Of the white wines, he preferred, the 2007 North Point White which is a blend of Pinot Grigio and Chardonnay.  A nice, fruity offering, this blend offered lots of fruit with a crisp presentation in the mouth.  Look for Chateau O'Brien to bottle a stand-alone Pinot Grigio in the near future!  Of the reds, Dad gave the Northpoint Red the edge.  He found this Bordeaux-style wine to be more complex and offered layers of berry fruits and silky tannins.  Not to be missed is Chateau O'Brien's Tannat with its dense core and earthier characteristics.  This one is certainly worth aging!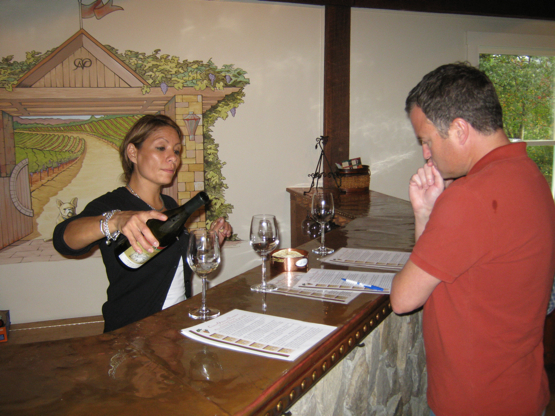 So Dad enjoyed his tour of Virginia wine country, and he even purchased wines to ship home.  We'll be sure return to Linden and Chateau O'Brien.  In fact, since it's Virginia Wine Month, readers should plan a visit, too—be sure to mention that Virginia Wine Time sent you.