During a Labor Day weekend trip to Amissville, we paid a visit to Narmada Winery on its opening weekend.  We also got to briefly chat with winemaker Rob Cox about the winery, its vineyards, and the future.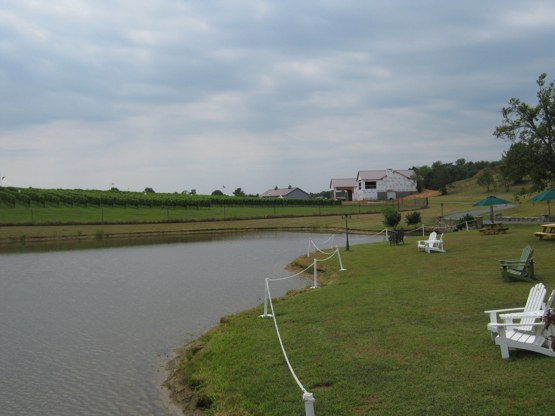 We were struck by the expanse of the property that includes Narmada Winery.  This includes the home of owners, Sudhas and Pandit Patil, the vineyards, barrel room, and future tasting room.  A man made pond adds a bucolic touch, too.  On opening day, though, the tasting room was still under construction, and tasting were conducted beneath tents that overlooked the property and its amenities.  Of course, we all about the wine, and winemaker Rob Cox guided us through the list of current releases.  The first wine was also the only white wine offered, and it was affectionately called Mom to recall the hard work and dedication associated with being a Mom.  It's made from Chardonel , a French-American hybrid, grown on the estate and spends  some time spent in both oak barrels and stainless steel tanks.  It presents pleasant pear aromas and flavors with a subtle almond at the end. Boasting 1.5% residual sugar, Mom is a refreshing wine but not cloyingly sweet.  In fact, it was the perfect pour for the warm afternoon and would make for an easy sipper or picnic partner.  (I also imagine that many Moms would love to relax with a glass of this one after a hard day!)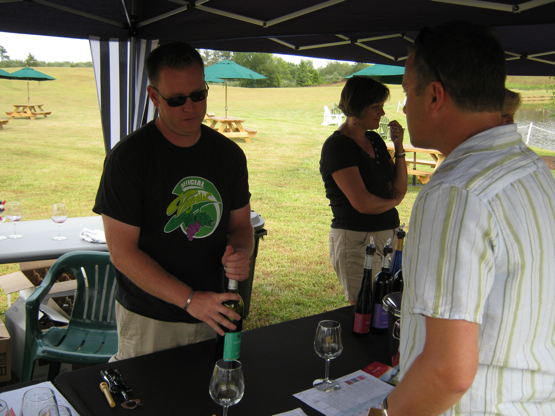 Of the four reds available for tasting, three were Chambourcin products; Chambourcin, too is a hybrid grape and grows well in Virginia.  Our favorite here was the dry Chambourcin known as Reflection.  Treated seven months in oak, Reflection is a light-bodied wine with bright cherry and raspberry notes.  I think this would be a nice red wine to enjoy during summer time with grilled or spicy fare.  An interesting port-style wine was Primita which comes in at 9% residual sugar; it's also blended with a bit of Grenache.  Destined to be great with dark chocolate, I'd also enjoy Primita with a strong cheese.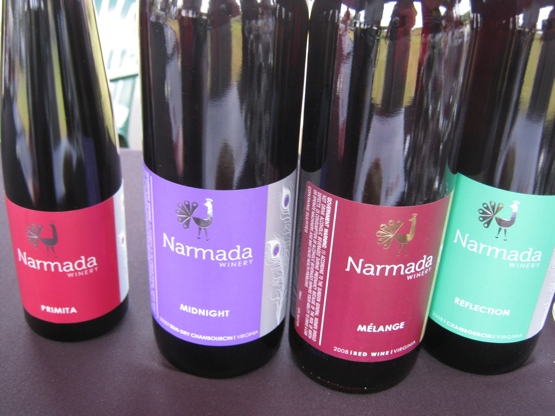 As we swirled and sipped, we also got to chat with Rob Cox. He recognized us from the blog even though we were trying to be anonymous. Rob's credentials include work at Pearmund Cellars, and he has worked with Sudha and Pandit Patil to produce upcoming releases that will include Chardonnay, Viognier, and Cabernet Franc.  The Patils are of Indian heritage; therefore, they favor varietals and a winemaking style that can compliment spicy cuisine such as Indian food.  Their vineyard adventures began six years after they purchased the Amissville property in 1999.  Fourteen acres of property are now in vines.  The tasting room will open in November.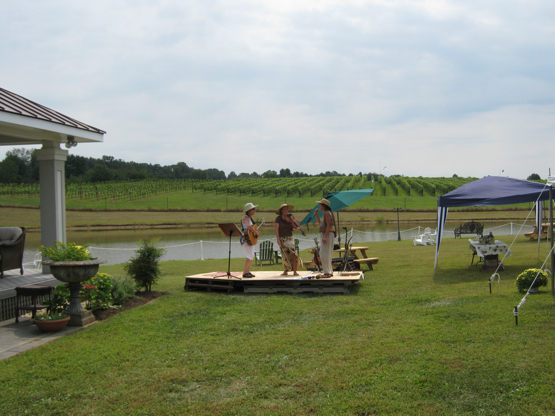 So with our tasting done, we shared a glass of the Mom Chardonel and enjoyed the blue grass rhythms of a local trio.  We do plan to return to Narmada especially once the tasting room is open for business, and we are eager to try the upcoming releases.  Be sure to stop by Narmada Winery, and mention that Virginia Wine Time sent you.