Labor Day weekend affords us the time to visit more wineries. We decided to visit a few in Loudoun County. There are several we haven't visited in awhile. On this trip we visited Breaux, Notaviva, and Hiddencroft.
Our first stop was Breaux Vineyards. As we walked into the tasting room we were greeted by Cooper, the vineyard dog. He was very excited to see us. As we were giving Cooper some attention, Jennifer Blosser, Hospitality & Events Manager, recognized us from the blog and gave us a warm welcome. She set us up at the bar for a tasting with Richard, our hospitality associate.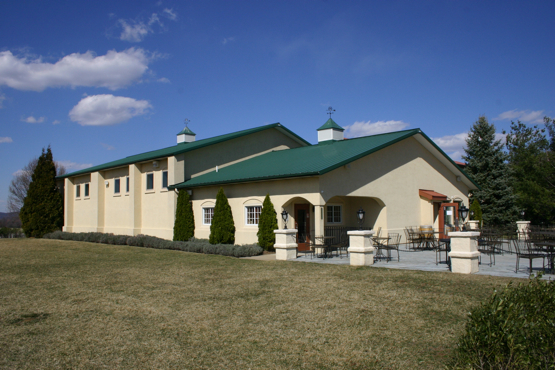 Richard began our tasting with the whites. Of these I put my gold star next to the 2007 Madeleines Chardonnay. I enjoy steel fermented chardonnays and this one is well balanced. It's got tropical notes and honey on the nose. Warren put his gold star next to the 2007 Viognier. His notes included words like floral nose and honey suckle. He also mentioned it was crisp.
Next up were the reds and we had plenty to taste. My gold star was placed next to the 2002 Merlot Reserve. Warren placed his star here as well. This was a wonderful merlot with smooth tannins and extracted fruit flavors. Another wine of note was the Equation. This is 95% merlot and 5% petit verdot. The interesting "equation" here it's a blend of 2005 barrel aged and 2007 steel aged. We thought it was quite interesting.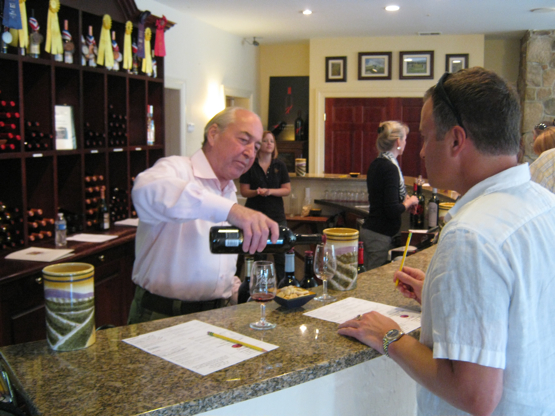 We were also able to taste a few wines from the Cellar Club library. We were able to taste a 2002 Free Run Merlot and a 2005 Syrah. The merlot was a light bodied sipper that we both enjoyed. Warren described the syrah as having some spice and chewy tannins.
Richard finished our tasting with the sweet wines. Of these we enjoyed the Nebbiolo Ice. It's an interesting dessert wine made from nebbiolo. It has 10% residual sugar and wasn't too sweet for our palates. We enjoyed this one.
With our tasting complete, we selected the 2007 Madeleines Chardonnay to have with our lunch of grilled chicken, almonds, cheeses and crackers. It was a warm day outside so this was a nice cooling sipper enjoyed with our lunch.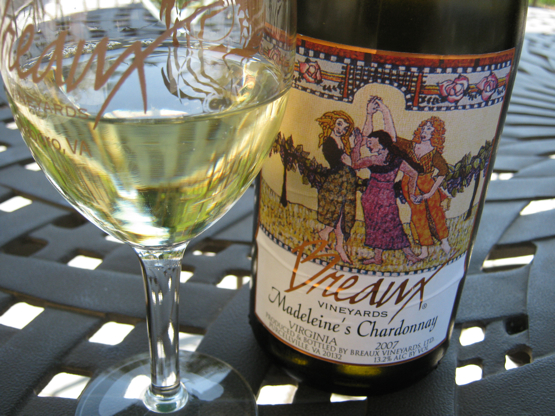 Before leaving we purchased a few bottles of wine and thanked Jennifer and Richard for their wonderful hospitality. When you find yourself in Loudoun County be sure to visit Breaux Vineyards and tell them Virginia Wine Time sent you!