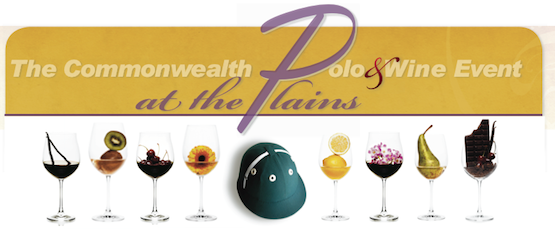 The Plains, VA Bring out the big hats and sundresses ….The Wine Festival at The Plains and the 24th annual Commonwealth Cup of Polo happens September 12 and 13 at everyone's favorite location – Great Meadow Equestrian Center just west of the Washington DC metropolitan area in The Plains.
What a difference an exit makes – just one exit past the sprawling city at exit 31 off of I-66, is where Virginia becomes gorgeous rolling farmland. This year, the Great Meadow Equestrian Center, located here, will be the site of two favorite events combined on one ticket.
The Wine Festival at The Plains and The 24th annual Commonwealth Cup of Polo come together at Great Meadow for a weekend of great wine, great food, great art and great international polo – USA versus Great Britain.
The Wine Festival at The Plains brings Virginia's Tasting Rooms together in one location for a grand celebration of the vintage harvest. Guests of this event will discover a selection of locally-grown artisan wines being produced in the boutique wineries of Virginia, including many that are rarely brought out of the tasting room.
The Commonwealth Cup is the oldest and one of the most highly attended polo matches of its kind in the country. In this rousing and spirited annual challenge, the best players in the US square off against an elite team of Brits from the British Forces Foundation for a key benefit match.
The combined event features gourmet cuisine prepared by the region's best chefs, a select group of fine art and fancy food vendors, and polo's traditional half time divot stomp with a Virginia Wine twist. Sunday will also include a bagpipe concert and horse-drawn carriage parade. A Viking Appliance culinary stage will feature wine pairing and tasting demonstrations, including wine tasting 101 classes, the author of the popular book, Gourmet Getaways, the Executive Chef of the famed Boars Head Inn in Charlottesville, and winemaker pairings throughout the weekend.
This delightful Autumn afternoon of good fun support a very good cause. The event is a fund raiser for the Wounded Warrior Project, a 501c3 organization that implements initiatives that honor and empower our national heroes.
The Commonwealth Polo & Wine Event at The Plains is sponsored by Farm Wineries Council, Inc., Great Meadow Polo Club, The Washington Post, Moore Cadillac and Viking Appliance.
For information about the event and to purchase discount tickets online, please visit the event website at www.winefestivalattheplains.com.
Thanks to Donna and Carl from the Farm Wineries Council for all the information in this post.