Pardon the interruption of our Monticello Wine Trail series. It will resume after this brief break.
Despite the nasty, rainy day, we decided to visit a few Loudoun County wineries to get a few more stamps in our passport for the Loudoun Wine Trail. We decided to visit a few that we hadn't been to in a while. This won't be a full on report of all the wines; Warren is the expert there. I'll be sharing my impressions of our visits. We went to Loudoun Valley Vineyards, Sunset Hills, and Doukenie.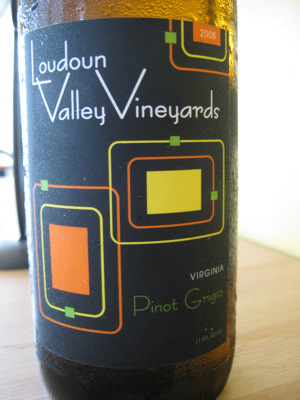 Great things have been happening at Loudoun Valley. When we visited in the Winter we could see things were beginning to change. This time we saw lots of changes. The tasting room has a new air about it…fresh paint, new tables and chairs, and there was even live music! Of course we tasted all the wines and enjoyed them all but I'll say the 2008 Pinot Grigio was awarded my gold star. It was crisp, floral, with citrus flavors. We also noted the new labels. Very nice! When you visit Loudoun Valley, and I'm sure you will, be sure to taste the 2008 Pinot Grigio.
Our next stop was Sunset Hills. We last visited Sunset Hills in February. At that time they had only been open a few months. Since then things have only gotten better at Sunset Hills. The tasting room was a buzz with tastings going on. They were setting up for a wedding reception as well. As busy as the tasting room was, there was someone available to help us with our tasting. She led us through the tasting and Warren put his stars next to the viognier and the cabernet franc. We were lucky to taste some of these reds in the barrels during our last visit. The big change to Sunset Hills that I noticed this time over our last visit was the addition of food. You can now order cheese and bread baskets with meats and other delicious items. They even have fudge! I had to have some of the peanut butter fudge. It was delicious! Keep in mind though that you can only bring your own food to the lawn for a picnic. The two large decks and the tasting room are reserved for food purchased at Sunset Hills.
Our last stop was at Doukenie. We've been there many times in the past and always enjoy their wines. The same was true this time, we enjoyed the wines, especially the 2008 Mandolin. What was different about our visit this time was the change in the tasting room. They have moved the old bar out and now have a huge rectangular bar pretty much in the middle of the room. You just about run into it when you walk in the door. Of course the new big bar does allow for more people to cluster around for tastings. I was just a little disappointed because so many times in the past we had made a connection with our tasting associate in a smaller, more personal way and that seems to be lost with this new arrangement. However, the new bar set up doesn't effect the wines at all! The wines are what keeps us coming back!
The next time you find yourself in Loudoun County be sure to stop off at Loudoun Valley Vineyards, Sunset Hills, and Doukenie and be sure to tell them Virginia Wine Time sent you! Also, be sure to check our next post as we finish up our tasting notes from our visits on the Monticello Trail.