So third on our agenda was to revisit wineries that were first timers for us last year: Blenheim Vineyards, Sugarleaf Vineyards, and Pollak Vineyards.
Since our last visit to Blenheim Vineyards, Kirsty Harmon has taken the reins as winemaker. Kirsty personally guided us through the wine tasting, and along the way we got to chat with Kirsty about her visions for Blenheim's future. Of the white wines, Paul and I both place our gold star next to the 2008 Chardonnay. This crisp Chardonnay gives the impression of a stainless steel-fermented wine; however, this Chardonnay is indeed done in oak barrels—French, American, and Hungarian. How was this achieved? Portions of Chardonnay from each barrel were blended together to present flavors of apples and pears with a subtle lemon on the finish. Not to be missed, though, is the 2008 Viognier with its peachy aromas and flavors with some white pepper noted, too. Another crisp pour, the 2008 Viognier is a blend of Viognier fermented in oak barrels (40% from French, American and Hungarian oak).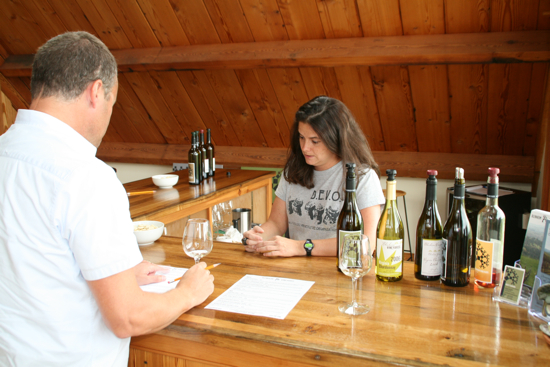 Paul and I split decisions with the red wines. Paul's star was awarded to the 2008 Seven Oaks Merlot; he noted full, rich cherry flavors; "fruity with a smooth finish" were Paul's exact words. Aging in French oak did indeed give this 2008 Merlot a silky finish. My own gold star was awarded to the 2008 Blenheim Farm Cabernet Franc . Full cherry and pepper flavors with some earthy notes were also on display here with a nice acidity to boot. A fuller-bodied wine, it provided a lengthier finish.
As we sampled the 2008 offerings, we did observe a fruit-forward approach to making these wines, and Kirsty does admit to embracing this style of winemaking. A protégé of noted winemaker Gabriele Rausse, Kirsty's wines are ready to drink now, and they could be enjoyed with food or simply on their own. Other changes include the labels which also reflect Kirsty's artistic input and the use of screw cap enclosures instead of corks. Ten acres of vines now include Viognier, Cabernet Sauvignon and Petit Verdot; however, Kirsty likes a challenge and has planted Pinot Noir. Virginia's climate is usually not kind to Pinot Noir, but Kirsty relishes the chance to make quality wine from this fickle varietal.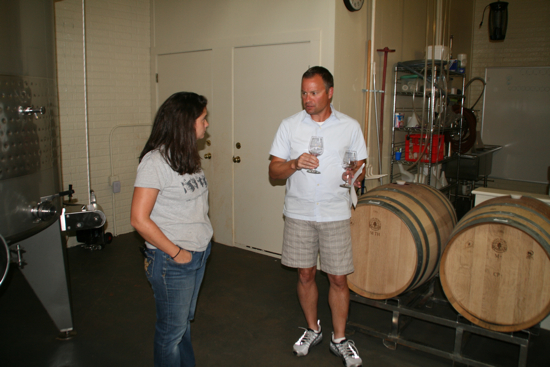 Kirsty finished our visit to Blenheim Vineyards with a brief tour of the barrel room located beneath the tasting room. Small and immaculate describe the barrel room and quite cool to provide optimum conditions for fermenting wines. Kirsty described to us her commitment to making limited quantities of wine that also presented the highest quality possible; after our tasting, we believe that she has reached her goal.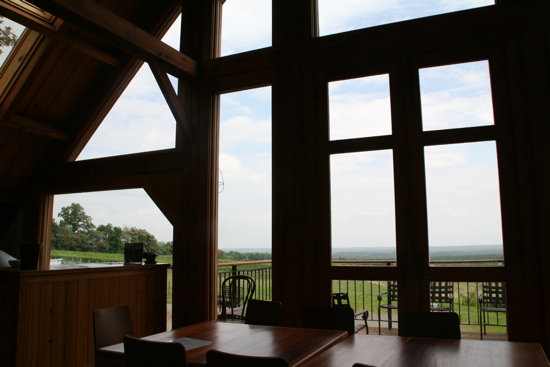 Of course, we were hungry and eager to eat—light fare including cubed chicken tossed with pasta and herbs, and Swiss cheese with crackers awaited in the car. Now that Blenheim's tasting room is open to the public, we decided to enjoy lunch and a mountain view from the lofty, spacious tasting room. What wine did we enjoy? The 2008 Chardonnay.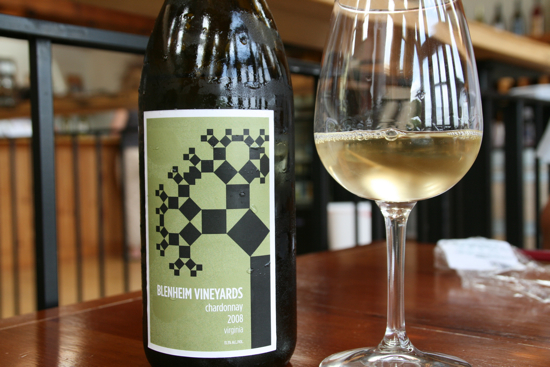 After lunch, we purchased wine to bring home, and bid our farewells to Kirsty; we also thanked her for being such a gracious hostess and promised to return soon. So what about Surgarleaf Vineyards and Pollak Vineyards? Item #3 continues on our next post. In the meantime, visit Blenheim Vineyards, and mention that Virginia Wine Time sent you.