I'm back from a beach vacation along the Gulf Coast and ready to finish the notes from the Chesapeake Bay Wine Trail! In our last post, I indicated that Ingleside Vineyards and Vault Field Vineyards completed our trail passport. Our friend, Bob, came along to sample the wines at these two wineries, and we included his opinions in our post. So what were our faves at these two wineries? Keep reading to find out!
Ingleside Vineyards maintains a full list of wines to sample and/or purchase. Since our quest was for summer wines, we paid attention to warm-weather sippers, and a unanimous decision was reached with the 2008 Pinot Grigio. "Crisp" and "citrusy" were descriptors that we all noted, and I placed a star next to this one. Another crisp pour was the unoaked Chesapeake Chardonnay with its apple and pear notes; Paul liked this one. Blue Crab Blanc was another summer pour that earned accolades from all three of us. Tropical fruit notes and flavors were noted here with a touch of sweetness to make the Blue Crab Blanc the perfect picnic pour or deck sipper. Grilled steaks on the menu? We suggest the 2006 Cabernet Franc with its raspberry/spicy aromas and flavors. My own favorite was the 2005 Petit Verdot. I noted dark plums and cherries on the nose and mouth with chewy tannins—certainly one to cellar for a while longer. Guest critic Bob also liked the 2004 Cabernet Sauvignon. He noted leather/tobacco on the nose with cherry flavors in the mouth.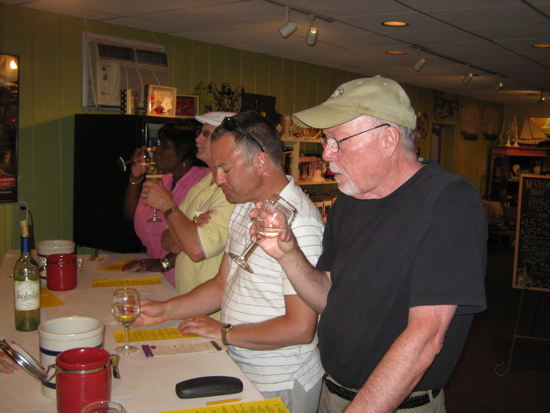 Of course, we brought lunch along with us, and between the three of us we had quite a varied menu. It included grilled chicken, summer sausage, Gruyere cheese, roasted almonds and cheese-infused baguettes. We opted for the Chianti-style Chesapeake Cabernet Merlot to accompany lunch, and on a pleasant summer afternoon we dined and wined!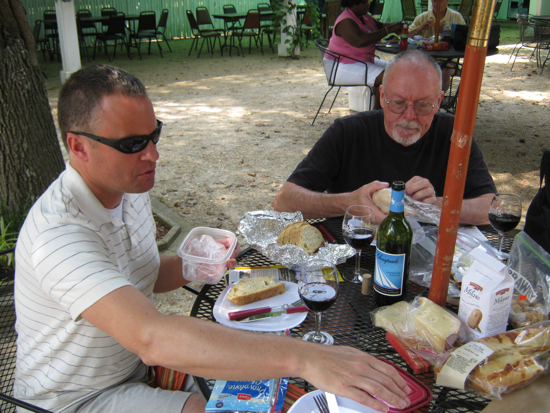 So on to the grand finale—Vault Field Vineyards. Here is where we completed the Chesapeake Bay Wine Trail and reaped the rewards of our efforts. Of the whites, I preferred the buttery 2007 Chardonnay. Fermented in both stainless steel and French oak barrels, this fuller-bodied wine should pair nicely with shellfish. The group "star" was awarded to the 2007 Red, a blend of Merlot and Syrah. We noted aromas of dark cherry and plums with some dried herbs; we also concurred with the black pepper finish described on the tasting notes. This one should prove to be a versatile red wine that could pair well with grilled meats.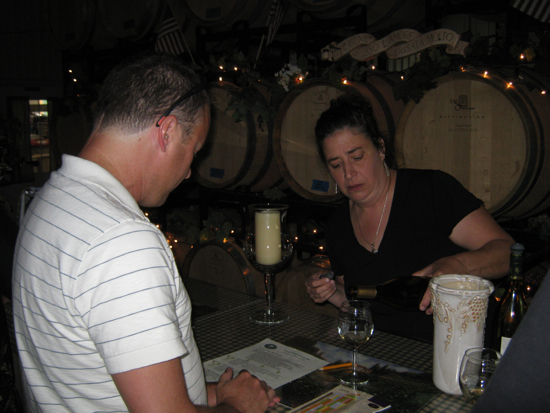 Our tasting at Vault Field Vineyards completed our Chesapeake Bay Wine Trail passport, and I was ready to use my reward. With our passport completed, I was able to purchase wines at Vault Field and receive a 10% discount. What did I purchase? The 2007 Chardonnay and the 2007 Red.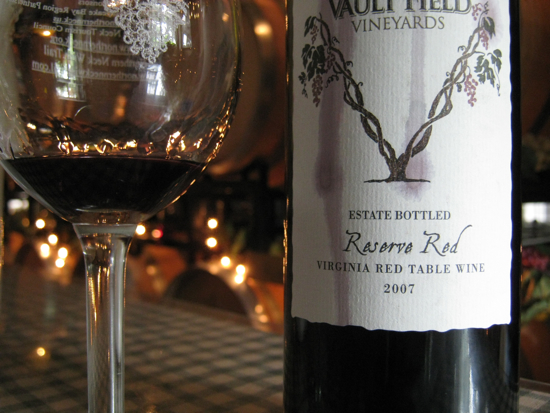 We thanked Bob for his valuable input, and we know that we will return to Ingleside Vineyards and Vault Field Vineyards. Of course, readers who visit the Chesapeake Bay Wine Trail should also visit these two wineries, but be sure to mention that Virginia Wine Time sent you.
Up next for us? Wineries along the Monticello Trail—stay tuned!