The last time we were at Piedmont Vineyards and Winery, Gerhard von Fincke had assumed the role of winemaker. We returned last Sunday to sample the results of Gerhard's work.
We were warmly greeted by Gerhard as we entered the busy tasting room, and he handed us the tasting menu which featured the full complement of Piedmont's wines. Of course, we were interested in the wines that Gerhard produced, and these were the 2008 Hunt Country Chardonnay and the 2008 Cabernet Franc. Both releases earned our gold stars of approval. The 2008 Hunt Country Chardonnay was done in stainless steel and featured lemon aromas with flavors of lemon and pears. I also noted a crisp finish that is characteristic of a stainless steel Chardonnay.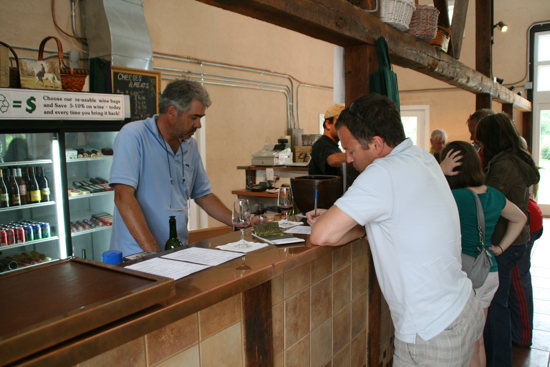 The 2008 Cabernet Franc was aged in oak for six months. Raspberry was prominent on the nose with raspberry and pepper in the mouth. This medium-bodied Cabernet Franc was not blended with other varieties, but it should be purchased sooner rather than later. Only 142 cases were made when this was released in March, and only a few cases remain of this popular wine.
Gerhard had been carrying some of the wines produced by DelFosse Winery, and he still pours the fruity Cuvee Laurent which includes Chambourcin, Cabernet Franc, and Merlot. The sweeter Deer Rock Red, a 50/50 blend of Cabernet Sauvignon and Chambourcin, is also still available at Piedmont Vineyards and Winery
Gerhard seems pleased with the direction that his wines are taking, and he credits local winemaker Doug Fabbiolli with assisting him in the winemaking craft. Gerhard's next release will be the Hunt Country Red. This will be a bolder blend of Merlot, Cabernet Sauvignon, and Cabernet Franc due for release in September.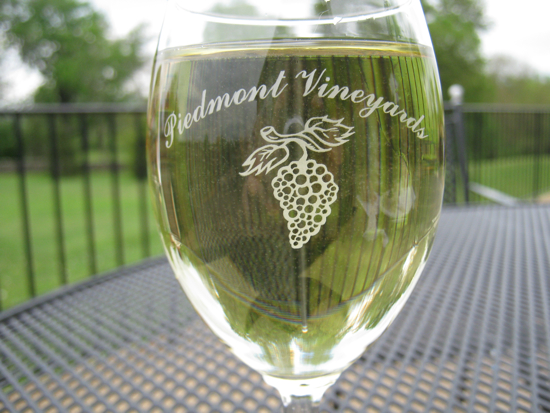 With our tasting done, Paul and I each enjoyed a glass of the 2008 Hunt Country Chardonnay. On a warm summer day, its citrusy characteristics and crisp finish proved to be refreshing. In fact, we left with a bottle of the 2008 Hunt Country Chardonnay to bring home. We're excited for Gerhard and see bright things for Piedmont Vineyards and Winery. We look forward to our next visit there, and readers should plan a visit, too—be sure to mention that Virginia Wine Time sent you.