So in the spirit of Wimbledon, I've been playing lots of tennis; however, I ended up injuring my left wrist while on the courts last week. As a consequence, I could not write a post about our incredible experience at Aspen Dale Winery last Sunday afternoon. Several ice packs and a few days later, though, the wrist is okay, and now I'm ready to type away.
Paul and I had heard through the "grapevine" that Aspen Dale Winery at the Barn was a "must do" experience. With some research under our belts, we learned that Shay McNeal was the owner and winemaker, and Shay's winemaking style reflected Old World customs. We also learned that the barn is a 200 year-old facility and that Shay is only the seventh owner of the property in its history! Needless to say, we wanted to experience the wines and the barn for ourselves. Armed with notebooks and gold stars, we proceeded to Aspen Dale Winery at the Barn.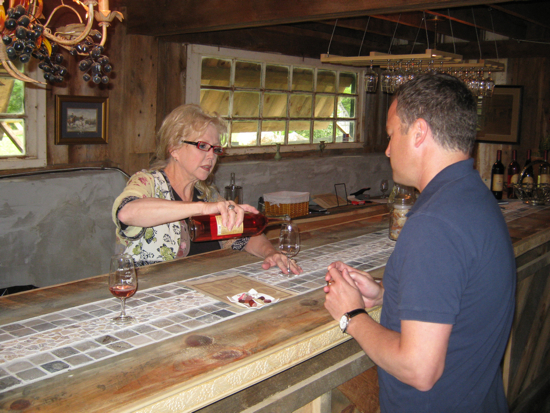 We were warmly greeted by Shay McNeal who informed us that we were her first customers on Day 11 since Aspen Dale opened its doors to the public. As Shay greeted us and prepared for our tasting, we noted the quaint tasting room which is indeed the renovated barn from the 18th century. Maybe it was my history teacher's sixth sense, but I could not help but feel as though I had entered another time. Shay's ancestors can be traced back to the colonial period including one, Thomas Parris, who was described as a vintner. Of course, we're all about the wine, and there were five up for sampling, and I can say Shay's current lineup is quite impressive. For us, it was really all about personal preference as none were weak. We started with the Rose and the whites, and my own gold star here went to the 2008 Mary Madeleine's Rose. A lovely pink color was observed with refreshing characteristics of strawberry and melon; it was quite crisp to boot. Paul's award went to the 2008 Hildersham Sauvignon Blanc with its grassy notes and citrus flavors. Another crisp wine is offered here with a nice acidity which would also suggest a natural pairing with goat cheese and baguette or a shellfish dinner.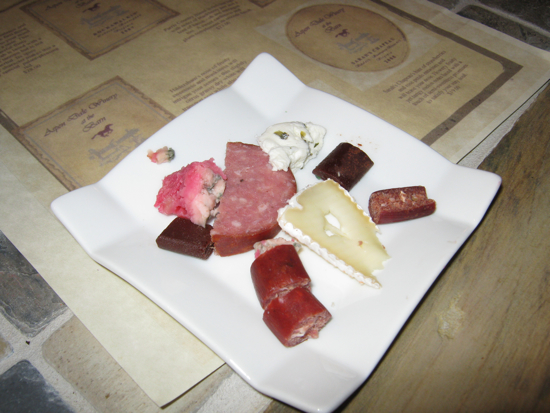 The red wines were up next, and Paul and I also reached different conclusions. Paul fancies himself to be a Merlot specialist, and he does indeed have an impressive collection of Merlots on his wine rack. Therefore, his gold-star designation for the 2008 Parris Country Blend, which is predominately Merlot , should not be taken lightly. Paul noted black cherry aromas and flavors with a hint of spice on the nose; he also jotted down "accessible" to suggest that it was easy to drink and ready to pour. I do think it could also rest a while on the wine rack. My own award went to the Cabernet Sauvignon known as the 2007 Rockawalkin'. A more complex blend, the 2007 Rockawalkin' features Cabernet Sauvignon, Petit Verdot, and Malbec. I noted dark fruits and spice on the nose and in the mouth with a longer finish and a definite tannic presence. Enjoy now with a steak but don't be bashful about aging the 2007 Rockawalkin' for a few years.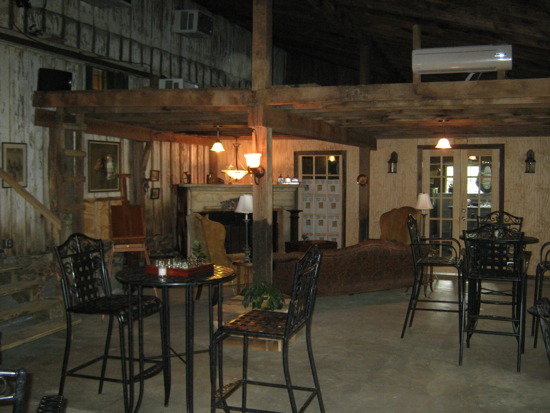 Throughout our tasting, Shay chatted with us about wine, food, and history. Our wine tasting came with a plate of cheeses and meats that accompanied each wine sample; the venison sausage is a must try as is the elderberry cheese. Also, Shay revealed that she is also a historian; I immediately engaged Shay in history talk and was fascinated to learn that Shay is the author of The Secret Plot to Save the Tsar. Quite honestly, I could have chatted with Shay for the entire afternoon about Russian history with or without the wine. Her next project will focus on a Tory's perspective about the American Revolution. In fact, a July 4 event at Aspen Dale Winery will feature a colonial re-enactor and musician, Herb Watson, who will play colonial tunes on the flute.
I do think that Shay brings her sense of history to her wine making. Her style is certainly Old World, and the tasting room also captures an 18th century aesthetic. Shay is also dedicated to quality, and she is committed to producing quality wines from small lots. Currently, 1400 vines are planted for wine making, and these include such varietals as Carmenere, Sauvignon Blanc, Petit Verdot, Cabernet Sauvignon, and Petit Verdot. Another commitment is to "green". Call it Old World or 21st-century correctness, Shay maintains her vineyard and winemaking with a minimum of chemical intrusions.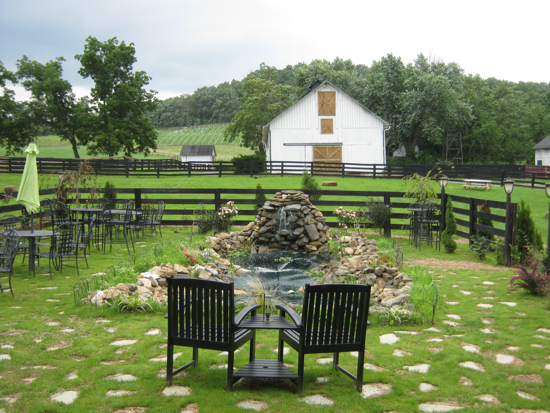 With our tasting and conversation done, Paul and I made our purchases. What did we buy? Between the two of us, we bought a bottle of everything. When we got out to the car, we glanced at our watches and noticed that we spent over 90 minutes tasting and chatting with Shay. We know that we will return soon to Aspen Dale Winery at the Barn, and we urge readers to visit soon. Be sure to tell Shay McNeal that Virginia Wine Time sent you!