We actually did not have a visit to Zephaniah Farm Vineyard on our agenda as we knew that we needed to make an appointment for a tasting. However, luck was on our side this past Sunday. We went to Willowcroft Farm Vineyards for a tasting, and we met Tremain and Meredith Hatch, whose father, Bill Hatch manages the small operation known as Zephaniah Farm Vineyard. Bill Hatch is the winemaker and vineyard manager. Tremain and Meredith offered to give us a tasting; of course, we could not refuse their generous offer. Once we were all done with our tasting at Willowcroft Farm Vineyard, we followed Tremain and Meredith to their family house, and before long we were swirling and savoring.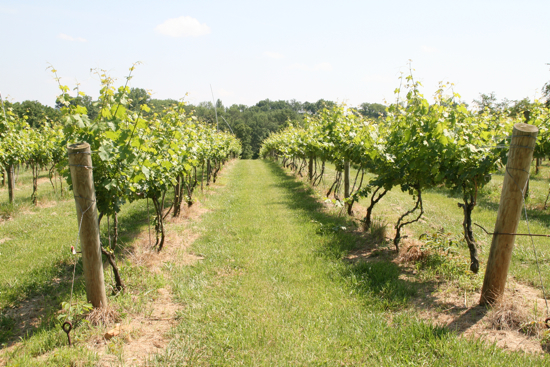 Zephaniah Farm Vineyard is actually part of a family farm, and the farming property and its facilities date back to the 1830s. In fact, the farm and vineyard is named after the Hatch's great-grandfather, Zephaniah. Zephaniah Hatch had been a successful business man, and it was Tremain and Meredith's grandfather who purchased the farm property in 1950. Vineyards were planted in 2002 with one and a half acres planted in vines. Varietals grown include Cabernet Sauvignon, Cabernet Franc, Petit Verdot, Petit Manseng, and Chardonnay. Zephaniah Farm Vineyards can also claim to be one of the smallest wineries in Virginia with 150 cases produced this year. Tremain has studied viticulture and is dedicated to quality management of the vineyards. Why the emphasis on red varietals? Also grown on the family farm is Angus beef!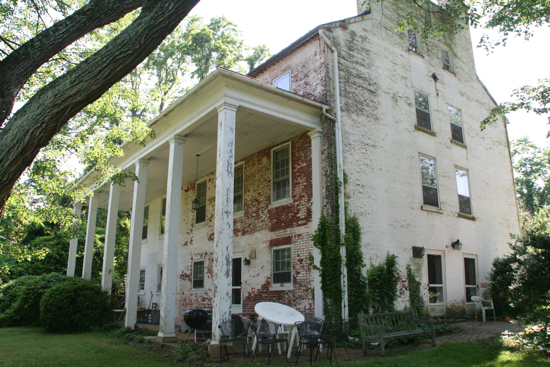 So on to the tasting! The tasting room is part of the 19th century family house and is furnished with period antiques. On tap for tasting were two red wines—the 2007 Cabernet Sauvignon and the 2007 Cabernet Franc. I was quite impressed with both of them. The Cabernet Sauvignon was a fruit forward pour with dark plum and cherry characteristics, and I detected some violet on the nose, too. Of the two, I did prefer the 2007 Cabernet Franc which teemed with raspberry, spice, and some black pepper. Vibrant fruit flavors here with a nice backbone yet accessible due to aging in neutral French barrels.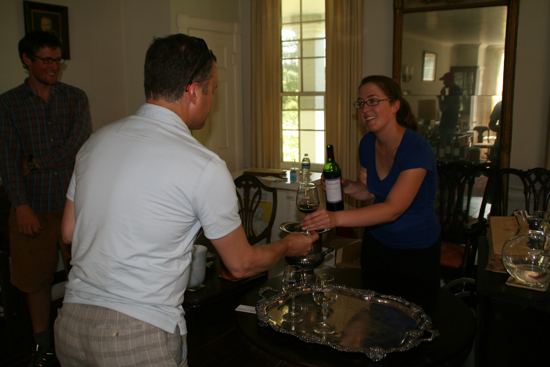 Tremain and Meredith seemed to relish the challenges of vineyard management and winemaking, and I think that they are off to a very good start. Tastings are indeed held by appointment only, but their beef products can be purchased year round at the Loudon Farmers Market in Leesburg as well as the Cascade Farmer's Market during the summer. So here's a plan—make an appointment for a tasting, but stop off at the farmer's market first to grab some steaks. With dinner already secured, show up for the tasting and purchase a favorite red. Now I'm hungry!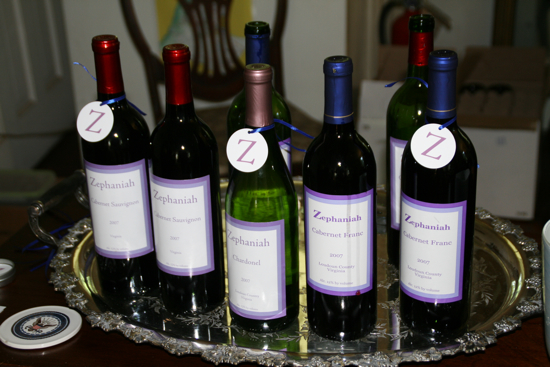 With our tasting completed, we thanked Tremain and Meredith for the impromptu tasting, and we know that we will return to sample future releases. Be sure to visit Zephaniah Farm Vineyard and mention that Virginia Wine Time sent you.
Now what about that tasting at Willowcroft Farm Vineyard? Stay tuned for our next post to find out.