Yes, we went back on the Loudoun Wine Trail.  With so many new wineries to visit in Loudoun County, we knew that we had to return to sample the wares of more newbies.  We also tossed in an oldie but goodie for good measure.  So where did we go?  In the next several posts, you will learn all about Dry Mill Vineyard and Winery, Zephaniah Farm Vineyard, and Willowcroft Farm Vineyards.
Our first stop was to Dry Mill Vineyard and Winery.  Although the winery is brand new, the vineyard is twelve years old, and Chardonnay was the varietal planted.  Dry Mill sold its Chardonnay to Naked Mountain Vineyard & Winery; however owners Nancy and Dean Vanhuss along with daughter Michelle decided to give their own winery a go.  Of course, we had our heralded gold stars in hand.  It's rare that Paul and I concur on our gold star presentations, but this time we both agreed that the strongest wines at Dry Mill Vineyard and Winery were the 2008 Steel Chardonnay and the 2007 Cabernet Franc.  The 2008 Steel Chardonnay is the perfect summer picnic wine but could also grace a dinner table if poultry or shellfish are being served.  This Chardonnay is crisp with green apple and pear aromas and flavors.  A nice citrus undertone was present too.  As the name implies, there is no oak aging involved.  We also favored the 2007 Cabernet Franc with its notes of dark cherry and black pepper.  Aging in French oak gave it body with a nice finish.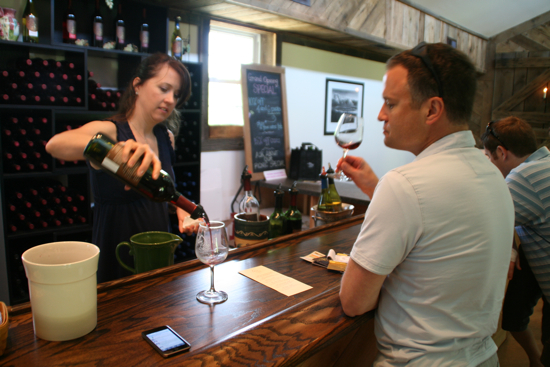 Fans of sweeter Roses should give the 2007 Rose a whirl.  A composite of juices from all grapes crushed at Dry Mill Vineyard and Winery, this Rose has a residual sugar content of 2%—just sweet enough to be enjoyed on its own, with a summer salad, or even barbeque.  If steaks are on the grill, then opt for the Cabernet Franc or the intense 2007 Norton with its smoky edge and distinctive Norton nose.  Opulent flavors of plums and cherries were on display with this one!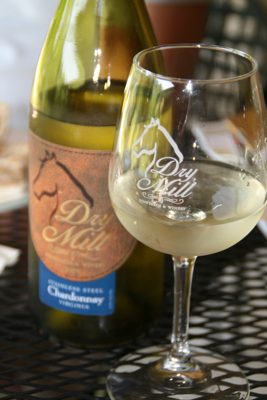 So tasting was done but lunch was waiting in the car.  Grilled chicken filets with light cheeses and almonds were on order, and our wine selection was the 2008 Steel Chardonnay.  We enjoyed our lunch and wine outdoors but beneath the covered walkway where picnic tables and chairs were conveniently placed.  As we wined and dined, we observed several varieties of birds including starlings that swirled about as we ate.  We also met Dean Vanhuss who gave us an update on upcoming events and happenings at Dry Mill Vineyard and Winery.  The biggest event will be the grand opening of the winery which will occur next weekend!  Food and music will be on tap for the big event, and a sneak tasting of the Barrel Chardonnay will be offered, too.  The barrel-aged Chardonnay will then rest for a while longer and will be released in the fall.  Other upcoming releases include the Viognier and a Cabernet Sauvignon.  Dean also shared with us his own wine making preferences which will be reflected in the Dry Mill releases.  Dean favors low oak presence with a tendency to use French oak where oak is needed.  Fruit-focused wines are what he prefers, and this was certainly evident in the wines currently offered for tasting.  Dean also hopes to expand case production from the current 1000 cases to 2500 cases in the future.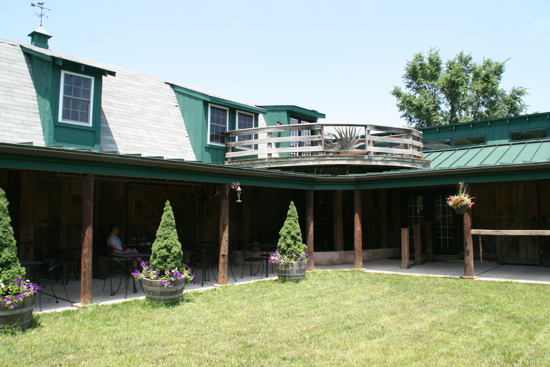 With lunch consumed and wine appreciated, we bid our farewells to Dean Vanhuss.  We'll return, but readers may want to visit soon.  In fact, the grand opening may be the perfect weekend outing.  Be sure, though, to mention that Virginia Wine Time sent you!