So our barrel tasting at Philip Carter Winery gave us something to look forward to in the summer and fall; however, what about the current pours? After our barrel tasting concluded, Philip Carter Strother led us through a tasting of wines now offered in the tasting room. Along the way, he shared with us his future plans for Philip Carter Winery.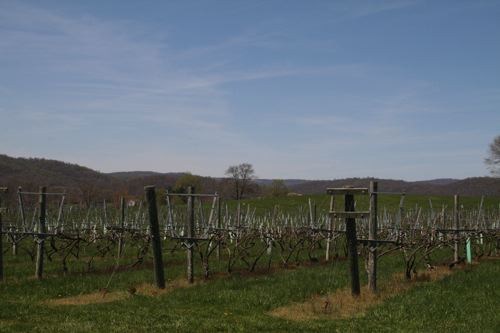 Of the wine currently offered, by far the best was the 2006 Chardonnay with its apple flavors and spicy finish. A classic Old World Chardonnay with a lengthier finish, this one is just fine on its own, with light cheeses or a simple poultry dish. Of interest to Paul the Artiste was the 2006 Falconwood. The label was designed by a local artist and reflects the landscape of the area; in fact, Strother will continue this practice so as to present a unique opportunity for local artists to show their work. Falconwood is a white blend of Vidal Blanc, Seyval Blanc and Chardonnay, and at 2% sugar is sweeter than the Chardonnay. It presented a floral nose and a mix of tropical fruit flavors and would be perfect for a warm summer day. Guest blogger Michael Tyler would be certain to add this one to his wine rack!
Of the reds, the 2007Chambourcin may appeal to those who are looking for a young, lighter-bodied red to pair with burgers on the grill. I preferred the more complex 2006 Meritage which is a blend of Cabernet Franc, Merlot, and Cabernet Sauvignon. Lush cherry and raspberry flavors were complemented by a spicy edge at the end to make this one a natural partner with steaks.
Paul's own favorite was the 2006 Late Harvest made from late harvest Vidal Blanc grapes. Paul noted enticing aromas of honeysuckle and apricots and enjoyed its opulent stone fruit flavors. Sweet enough for dessert, consider the 2006 Late Harvest with a hunk of blue cheese. The 2006 Late Harvest is a source of pride for Philip Carter Strother as it will soon be poured in London as part of an international presentation of Virginia wines. Not to be missed is the 2007 Sweet Danielle, a port-style dessert wine made from a secret ingredient (my guess is Chambourcin). Sweet Danielle was named after Strother's wife, Danielle, and was served to her as an anniversary surprise at a local restaurant!
So I had to ask these questions of Philip Carter Strother: If you were interested in making wine, why Virginia? Why buy Stillhouse, and winery and vineyard much in need of improvement? For Strother, it was a family matter. He is the direct descendant of King Carter, a wine collector who settled in Virginia in the 18th century; his son Charles made wines in Virginia that earned international recognition—and this was before Jefferson's attempts at wine making! Furthermore, Strother's family also maintains a farm in Delaplane, and so for him this continues a long-established family involvement in agriculture and winemaking. And why Stillhouse? Though in need of some TLC, the vines were mature and still rather vigorous, and the winery presented to him an existing operation that needed some re-organizing. The property includes 22 acres of which 11 acres are in vines, and the winery now produces 2300 cases of wine. New plantings of Viognier and Petit Verdot should eventually add to the future lineup of wines.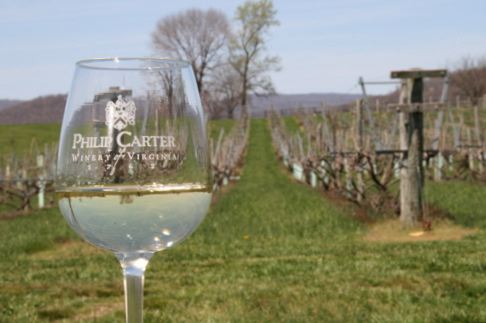 So with our tastings completed, we were ready for a snack and a glass of wine. We opted to sip a glass of the 2006 Chardonnay with some Swiss cheese and French bread; we were able to enjoy wine and cheese outdoors on a pleasant (and probably the last) sunny day. We compared notes and again marveled at the changes under way at Philip Carter Winery. We'll return soon, of course; however, you all get out there before we do, mention that Virginia Wine Time sent you.