We recently posted about the rebirth taking place at Loudoun Valley Vineyards, and yet another renaissance is occurring at Philip Carter Winery of Virginia. Philip Carter Winery was once known as Stillhouse Winery, but Philip Carter Strother bought Stillhouse Winery last year. Stillhouse Winery's vineyards and wines had been in decline for quite some time, but Strother was determined to improve both the condition of the vineyards and the quality of the wines. He invited us out to his barrel tasting held on April 18, and we eagerly accepted the invitation.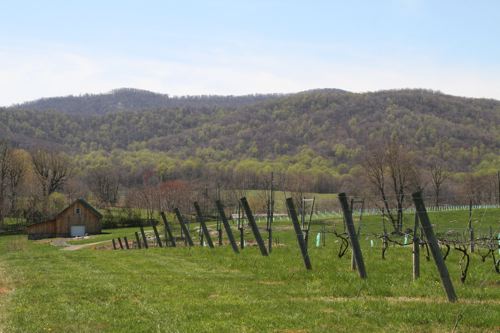 The first thing we noticed when we drove up to the winery was the renewed condition of the vineyards. Tall weeds were gone, vines were pruned and healthy, and we sensed that a positive change had occurred since the change of ownership. We were greeted by Philip Carter Strother who proudly declared that all wines now in the barrel were the first true Philip Carter wines— from the vineyards to the barrels. We were then led down to the barrel room, and our tasting was conducted by current winemaker, Seth Chambers. Seth started us with two barrel samples of 2008 Chardonnay; the first sample was from neutral oak barrels and the second from new oak barrels. The first sample seemed riper and fruitier than the second sample which presented the classic buttery texture of a Burgundy-style white wine. Seth informed us that he intended to blend the two to produce a Chardonnay that is indeed similar to a white Burgundy. I must say that I really enjoyed the second sample on its own; however, Paul preferred the first sample. I concluded that the blend will then appeal to both of us and that we would have to return to purchase a bottle upon its release! We also sampled a still-young and developing Vidal Blanc. Done in stainless steel, this one should settle into the fruity sipper that Virginia wine lovers enjoy in warm weather.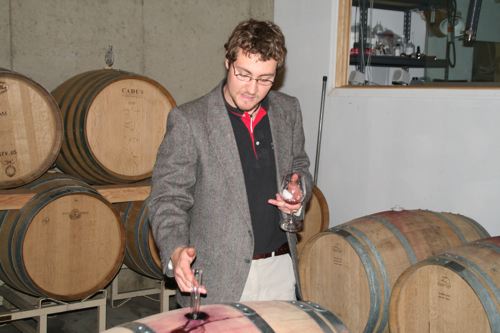 Up next were the red barrel sample, and up first was the 2008 Cabernet Franc. Seth provided some background about the 2008 crop of Cabernet Franc, and he explained that the crop did survive a weather scare that occurred late in the summer. Unexpected rains threatened to dilute the fruit quality including brix levels to undesirable levels; however, a decision was made to let the fruit hang for as long as possible anyway, and the fruit was not harmed by weather events. Seth was proud of the result and justifiably so, and in fact, 2008 Cabernet Franc earned my gold star of the day. I noted characteristics of dark berries and pepper with vanilla on finish; Paul admired its dark garnet color, too. Paul seemed to prefer the blended version of the Cabernet Franc which included Petit Verdot and Cabernet Sauvignon, and he found it to be more rounded and structured. No arguments from me—it was quite good. The 2008 Cabernet Franc will be released in the fall.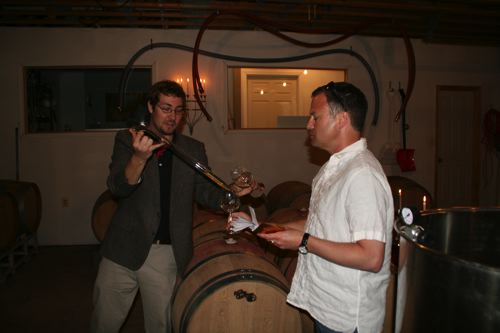 Meritage fans will want to sample the release of the 2008 Meritage blend which will include Cabernet Franc (85%) and Cabernet Sauvignon (15%). Still evolving, this sample presented a fruity nose with lots of plums and dark cherries. I should mention that the 2008 Meritage will not be released until next year, so tasters will have to be patient. Available now, though, is the newly released 2007 Cabernet Sauvignon, and this was the last of our samples offered in the barrel room. Rich cherry flavors with some spice were noted with this still young wine.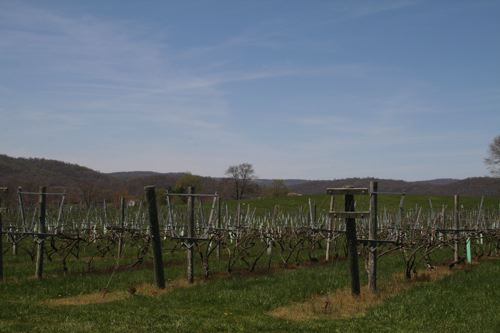 Our barrel tasting was now complete, and we easily concurred that Philip Carter Winery's upcoming releases will present an impressive lineup of wines in the tasting room. This, of course, is due to the improved management of the vineyards and winemaking by Seth Chambers who learned the art of winemaking at Pearmund Cellars. We were guided upstairs to the tasting room by Philip Carter Strothers who personally gave us a tasting of current releases. This gave us a chance to chat with Philip about his goals and aspirations for Philip Carter Winery. What did we learn? Stay tuned for next week's post to find out. Until then, pay a visit to Philip Carter Winery of Virginia and mention that Virginia Wine Time sent you.