Our recent visit to the Charlottesville area included a tasting at King Family Vineyards. In fact, the tasting room manager, Tracey Grimm, invited us over for a tasting, and of course, we accepted the offer. When we arrived at the tasting room, we were greeted by sounds of saws and hammers, and we quickly discovered that the tasting room was under renovation. However, King Family had created a makeshift tasting area in the barrel room complete with the current lineup of King Family wines. Tracey warmly greeted us and before we knew it we were tasting away!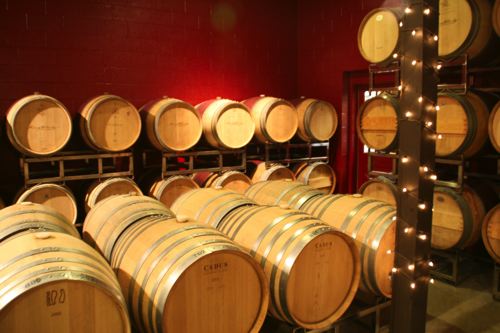 We've always been impressed by the wines at King Family Vineyards, and the current offerings continue to prove our claim that King Family Vineyards produce some of the best wines around.The quality winemaking at King Family Vineyards is attributed to the talented and experienced winemaker, Mathieu Finot. A native of Crozet Hermitage of the Rhone Valley in France, Mathieu Finot leads the pack of Virginia winemakers who currently make some of the state's best wines.
We travel with only a few gold stars in our pockets, so we really had to anguish over our decisions since any of the wines that we sampled could have earned the coveted awards. Of the white wines, our award went to the 2007 Viognier which is done mostly in stainless steel with some minimal time in oak barrels. A lush honeysuckle nose with notes of peaches and melon won me over, and a mouthful of citrus flavors with a nice honeyed texture confirmed my vote. However, my (close) second place favorite was the 2007 Roseland which is a perfect blend of Chardonnay and Viognier. Nice lemony and floral nose here with white stone fruit in the mouth makes for a lovely springtime and summertime pour.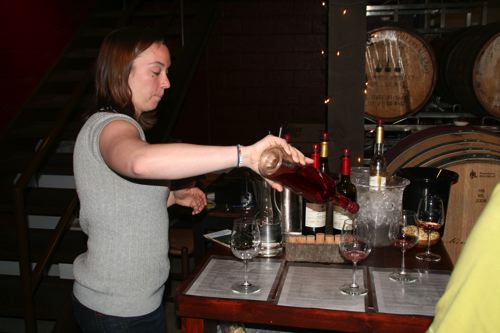 Of the red wines, we did differ on opinions. Paul's gold star was awarded to the 2006 Merlot with its dark fruit characteristics and firm tannins. "Steak wine" was Paul's summary, and I did concur with this decision. My own favorite was the 2006 Meritage with aromas of dark cherry, black pepper and violets; I noted flavors of dark cherry and spice with mocha on the finish and a nice acidity. This Meritage is a blend of Merlot (60%), Cabernet Franc (20%) and Petit Verdot (20%) and should only get better with age. Also in contention was the smoky 2007 Cabernet Franc which is yet another award winner for King Family Vineyards. We were treated to a sneak sample of this limited production, and it possesses plum and spicy characteristics with a lengthier finish. Paul gave this one his "close second" award!
On the lookout for summer wines? It's never too early at this time of the year, so do not overlook the 2008 Crose, a Provence style rose that is very dry and produced from Merlot grapes. Strawberry and melons here and perfect for summer picnics, barbeques or by itself on the deck with friends! This one does sell quickly (as we found out last summer) so stock up now!
Tracy did give us a tour of the renovations that promise to provide a new and improved tasting room, and we also got to survey the Carriage House which is adjacent to the tasting room. This impressive space includes a fireplace that would make Henry VIII envious and can accommodate weddings, private parties and other special events. Of course, King Family wines are the main feature at all events! The featured event at King Family Vineyards continues to be polo, and details about upcoming polo matches can be found at www.roselandpolo.com.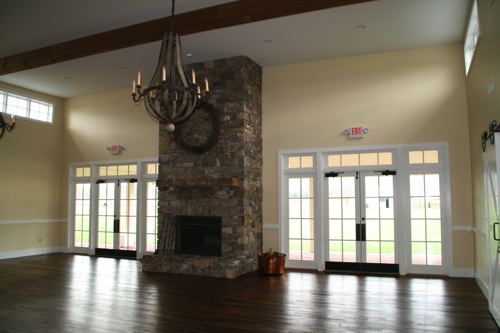 So we enjoyed a glass of the 2006 Meritage as we gazed upon the polo/equestrian field. It was a drizzly afternoon, but we did enjoy the Meritage with a block of Gruyere cheese and baguette. Needless to say, several bottles were purchased to enjoy at a later date, and we bid our farewells to Tracey and thanked her for the tasting and tour. We'll be back very soon, but readers should visit even sooner—please mention that Virginia Wine Time sent you.