We recently received an invitation by Claude DelFosse of DelFosse Vineyards to visit his tasting room for a tasting and conversation (about wine, of course). Needless to say, we accepted the offer and met with Claude to sample his impressive lineup of wines. We also took advantage of the opportunity to tour the grounds and along the way enjoyed lovely springtime sights and sounds.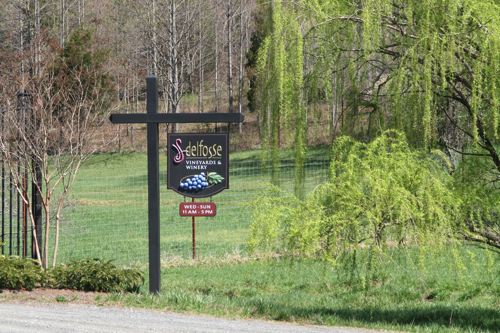 We met Claude and his wife, Genevieve, on a bright but still chilly afternoon a week ago Monday at DelFosse Vineyards. While Claude wrapped up a previous business meeting in the tasting room, Genevieve started our tasting which included the full complement of white and red wines. In the process, we learned that Genevieve is also a school teacher and teaches French and Spanish in Fairfax County! We all began to relate to grading papers, antsy kids, spring break, and wine! Anyway, Genevieve started us off with the 2007 Pinot Gris, a simple yet refreshing wine with honey and citrus flavors—quite a nice way to begin our tasting and a perfect wine for spring and summer.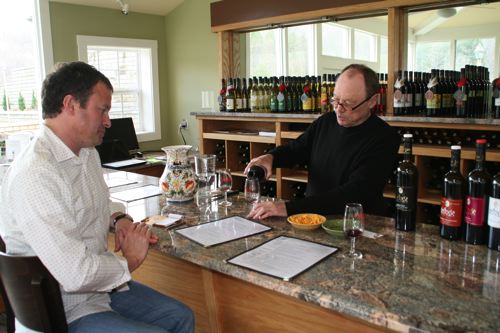 From there, Claude continued our tasting which included several more white wines. Paul became an immediate fan of the 2008 Sauvignon Blanc with its notes of citrus and hay partnered with crisp grapefruit flavors. However, I held my own gold star until further into the tasting and could not resist with a sip of the 2007 Reserve d'Oriane. I've written glowing reviews about the 2005 Reserve d' Oriane, and I continue to be impressed by this blend which includes Chardonnay, Sauvignon Blanc, Petit Manseng, and Viognier. Chardonnay makes up most of the blend; however, the aging of this one is quite unique as the component parts of the Reserve d'Oriane are aged differently. The Chardonnay is aged in French oak barrels; the Sauvignon Blanc, in neutral oak, and the Petit Manseng and Viognier in stainless steel tanks. The result is an olfactory delight of pineapple and lemons with similar flavors in the mouth and a crisp finish. Look no further for a perfect a partner with crabcakes! My close second was the 2006 Chardonnay Reserve with its toasty notes; pear and hazelnut flavors made for a rich, fuller-bodied wine destined for any shellfish or poultry dish with a rich sauce. Paul shies away from big Chardonnays but he did enjoy the aromatic, stainless-steel aged 2007 Viognier Reserve with its peachy and mineral characteristics.
So on to the reds! There were a number of these to taste as well, and those who are on the prowl for a crowd pleaser should certainly try the Chambourcin-based 2006 Cuvee Laurent, a fruity red wine that should prove versatile with any food pairing while enticing the most timid of red wine drinkers. My own favorite, however, was the 2006 Cabernet Franc with its mixed berry nose and spicy finish. I closed my eyes and envisioned steaks on the grill with this one—make mine medium rare! Paul placed his own star next to the 2006 Merlot. He observed cherry and cedar notes and appreciated its silky finish despite the bigger tannins. The 2006 Merlot is one to cellar and enjoy with a robust beef dish. We were also given a sneak preview of the upcoming release of Petit Verdot—inky, plummy, spicy, and sinful!! We look forward to sampling (and purchasing) this one on our next visit.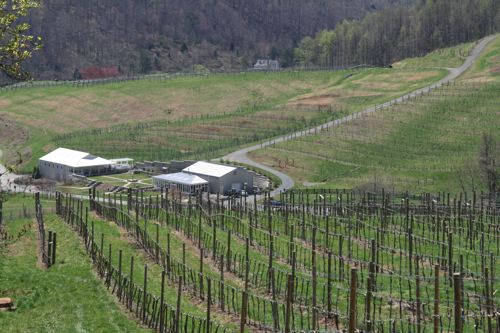 In the midst of our swirling, sniffing, and savoring, Claude revealed to us that though DelFosse Vineyards is only four years old, wine has been a passion of his for many years. Though a native of Paris, France and previous resident of California, he decided to make wine in Virginia. Why Virginia? "It was in a fit of absolute craziness!" Claude joked. Like many others, Claude saw the potential in Virginia wine country. Claude's 22 acres of vineyards are located in some of the highest elevations in the Charlottesville area, and he has benefitted from expert winemaking at first by Michael Shaps and now by Paul Mierzejewski. Claude also has a passion for connecting people with wine; though wine comes first, Claude and Genevieve enjoy hosting weddings at the vineyards and see these events as ways to bridge special events, gourmet foods, and fine wines. And Claude likes to boast that DelFosse Vineyards is also green—the facility itself is a green facility, and he uses sustainable practices in the vineyards. And of course, wines do come first at DelFosse Vineyards. In addition to earning numerous awards, DelFosse Vineyards was one of ten Virginia wineries selected to present its wines in an international showing to be held in London this May. And what will Claude present? The Reserve D'Oriane, of course!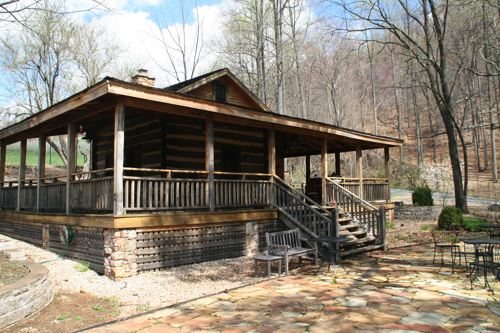 With tasting completed, we were able to drive up to the old tasting room which is a cozy log cabin. The porch is still available for use, and inviting rocking chairs beckon for visitors to relax and enjoy gorgeous mountain views. With flowers fresh in bloom, it was futile to resist. Paul took the opportunity to snap photos, too! We know that we will return to DelFosse Vineyards soon, but readers may want to visit even sooner—just be certain to mention that Virginia Wine Time sent you!