Brian and Sharon Roeder of Barrel Oak Winery invited us to sample sneak previews of the bottled 07 and 08 reds, that were still in the barrel. Also on display were the the 08 whites. This was a special event for wine bloggers and barrel owners, and we felt privileged to be able to attend. The event was attended by more than 80 people and everyone enjoyed complimentary sips from barrel and bottle.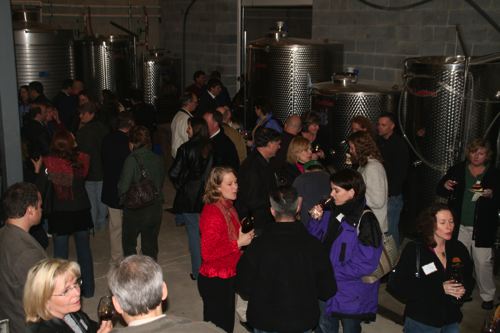 We started with the Bowhaus White, and guests were greeted with a taste of this crisp white. With its refreshing minerality and citrusy flavors, it was with little wonder that the Bowhaus White was an immediate crowd favorite.
After sipping and mingling, the gathering was then guided through samples of 08 whites and reds as well as 07 reds currently in the bottle. Of the future whites, we sampled the 2008 Traminette, 2008 Stainless Steel Chardonnay, 2008 Barrel Select Chardonnay and the 2008 Viognier. We both placed a gold star next to the 2008 Traminette. We noted grapefruit and stone fruit on the nose, and apricot and spice in the mouth, and we both predicted that this one is destined to become a holiday favorite this fall. Lovers of bolder Chardonnays should look for the 2008 Barrel Select Chardonnay to be bottled in June.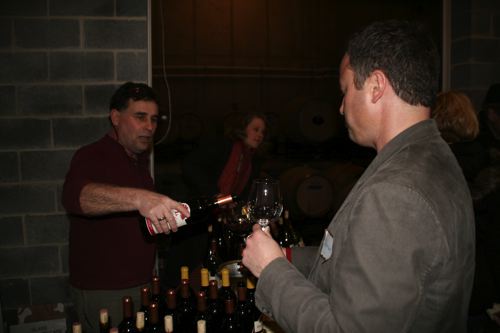 Of the reds, we sampled the 2008 Cabernet Franc, 2008 Merlot, 2008 Norton, 2007 Merlot and the 2007 Cabernet Sauvignon. Our gold star was awarded to the 2007 Merlot which was bottled last July. We noted a nice big cherry nose with a bit of coffee on the finish; it lingered in the mouth for a longer period of time, and it should be a favorite with a steak dinner. The most promising of the 2008 reds that we sampled was the Cabernet Franc with its raspberry and dried herb characteristics.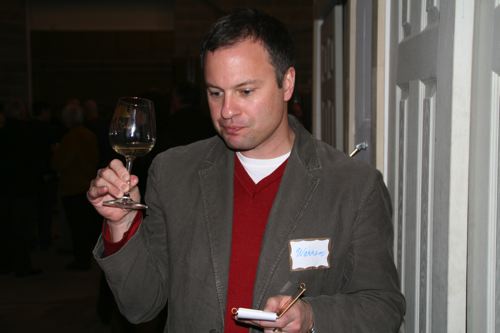 After the barrel tasting we each decided to enjoy a glass of wine while blogging in the loft. Warren favored the crisp 2007 Seyval Blanc with its lemony nose and flavors, vibrant minerality, and refeshing acidity. Paul enjoyed the 2005 Merlot with its cherry vanilla nose, cherry and dried herbs in the mouth, and toffee on the finish. It was a great day and we want to Thank Brian and Sharon for inviting us. Thank you!